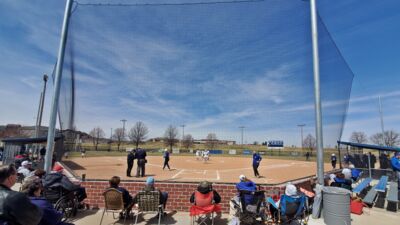 Bright and early this fall, the Concordia University Softball program began to take a new shape under the direction of Head Coach Brock Culler, who spent 10 seasons leading the Grand Island Central Catholic High School softball team. In other words, the adjustment phase is well underway as the Bulldogs work towards forming what their identity will be in the spring of 2023. Just two seasons removed from a national tournament appearance, Concordia has a foundation in place.
Culler's enthusiasm for his new role comes across quite obviously. He's only just begun to see out his vision for Bulldog Softball.
Said Culler, "When I stepped on campus for the first time, I was sold on it. I love the people here. I tell my wife, I get to go to work every day surrounded by people who are working their dream jobs. The energy level here is great. I feed off that and I love it. I love that high energy, wanting to win and that goal-oriented environment. I love the atmosphere here at Concordia."
Since being announced as head coach at the very end of June, Culler has devoted a large portion of his time towards getting to know the student-athletes within the program. He also made a tweak to the fall schedule and held practices at 6 a.m. three days a week. Culler got a good look at the talent on the roster during three fall play dates, including one against the team he formerly assisted, Hastings. It's still early and the job is still fresh for Culler, but he's seeing things the team can build upon.
The first-year collegiate head coach inherits a team that finished last season at 23-24 overall in what was an up-and-down campaign. The Bulldogs will lean upon fourth-year outfielder Caitlyn McGarvie, a two-time First Team All-GPAC honoree who batted .390 last season. Concordia also brings back Kylie Shottenkirk, who went a perfect 8-for-8 at the plate during the 2022 GPAC tournament. However, the slate is wiped clean with a new coach.
Culler watched everyone with a keen eye this fall. Said Culler, "One thing I'm looking at is how they play the game and how they approach the game. Are they having fun? Are they playing at a high level? Do they enjoy what they're doing? Are they competitive? What's their effort look like? Are we making diving plays or are we letting the ball land in front of us? Those are the types of things I'm looking at. Also, how are we interacting with our teammates and coaches? It's a lot of observation. I want to see how they are with their character, but there are some talented softball players here, there's no doubt."
The trick for Culler is unlock the potential of a program that has made national tournament trips in 2014, 2015 and 2021. For any coach, the building of a winning tradition starts with mastering the process behind the scenes. Culler will make character a key component for his program
Explains Culler, "We want to be really good human beings. We want to be good representatives of our families and represent this program and this university really well. We want to be goal-oriented, we want to be driven. Those types of things will translate to good play on the field. They're at this level, they're playing college softball, so they have talent. We want to make sure we're being good people and competitors."
On the field, Culler says Concordia will look a little bit different than most teams in the GPAC, a conference he has great respect for. The plan is to foster well-rounded Bulldog squads that can beat teams with power or with speed and small ball. Culler also wants to develop a deep pitching staff that won't have to rely on a single ace hurler. In that regard, Concordia can depend on veteran pitcher Jerzi Rowe while getting Millard South High School alum Jessie Bestenlehner accustomed to the college game.
More than anything, it seems that Culler is pushing for high energy all the time. He keeps coming back to the word 'overwhelming.'
"Very overwhelming, very fast-paced, very competitive," said Culler of what he wants to see from his teams. "I always tell our team to be overwhelming, be overwhelming. From the word go, we want to have our accelerator stuck. I want to see players that enjoy being at the game and enjoy everything about the game and appreciate the opportunity. I want us to be a very overwhelming softball team."
When Culler first came on board, it was him alone that made up the program's coaching staff. He's added help with assistants Maria Tibbetts and former Concordia softball starting outfielder Jenessa Jarvis (2021 graduate) now working on staff. Tibbetts had also helped Culler at Grand Island Central Catholic. Says Culler, "It's a really good coaching staff we're putting together."
Naturally, Culler wants to keep in-state talent at Concordia. His high school experience gives him an advantage in terms of relationships with coaches and knowledge of the top programs and players. Culler's connections to Grand Island have already helped the program sign Grand Island Northwest's Madison Cushing – but there's more to come.
As the colder months take hold in Nebraska, Culler will push his program forward with indoor conditioning and lifting and with fairly regular individual and team meetings. For Culler, the date of Jan. 9 can't get here soon enough. That's when the Bulldogs will officially begin practice for the 2023 season. Culler will then make his collegiate head coaching debut on Feb. 18 in Kansas City.
If the players take on the same infectious energy as their coach, the Bulldogs will never have to worry about effort or attitude this coming spring. Said Culler, "I'm loving this. I'm in my happy place."