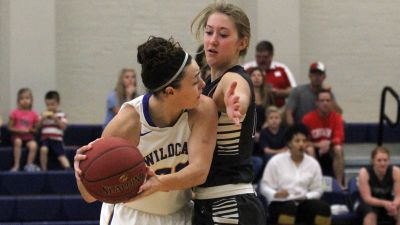 DENVER, Colo. – A day after falling at the hands of the defending national champion, the Concordia University women's basketball team rebounded with an 89-40 thrashing of host Johnson & Wales University (Colo.) in Denver on Saturday evening. The Bulldogs flustered the Wildcats into committing 38 turnovers.
Eleventh-year head coach Drew Olson's squad is now 1-1 after its season-opening trip. Both of this weekend's games were played on the Johnson & Wales campus.
"We did a better job taking care of the ball. I thought we did a lot of the little things that we didn't do yesterday," Olson said. "They weren't a team that pressured us as much, but we took care of the ball and made hustle plays. We just made smarter decisions. That was the big takeaway from today."
Twelve of the 13 Bulldogs to see action registered in the scoring column, including four that reached double figures. In her second game as a Bulldog, junior Dani Anderson rained in 4-of-7 shots from 3-point range and equaled Aubri Bro with a team high 15 points. Freshman Philomena Lammers just missed her first career double-double while totaling 13 points and nine rebounds. Carissa Gutz chipped in 10 points and three steals coming off a deep bench.
Saturday's contest was not in doubt for long. Concordia opened up the action with a 10-2 run and led by 15 by the end of the first quarter. Though the Bulldogs shot only 37.3 percent (31-for-83) from the floor, they took 41 more shots than the Wildcats, who lost to Dakota Wesleyan (100-49) on Thursday and Doane (66-47) on Friday.
Concordia outrebounded Johnson & Wales, 46-34, (24 offensive rebounds) and also went a perfect 14-for-14 from the foul line. Lammers made all five of her free throw attempts. Fellow freshman Colby Duvel went 4-for-4 from the free throw line.
The Wildcats got a team high 12 points from McCorra Ford, though she turned it over seven times.
The Bulldogs will make their home debut next week at the 17th annual Cattle Classic (Nov. 4-5). On day one of the event, Concordia will take on Friends University (Kan.) (0-0) at 6 p.m. CT. The Falcons were listed among others receiving votes in the preseason national coaches' poll. Canned goods will be collected at the entrance for admission. For more information, click HERE.