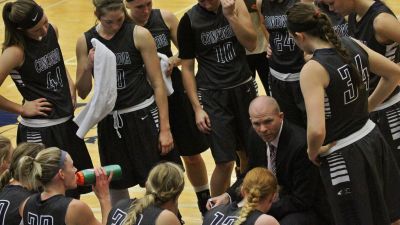 SEWARD, Neb. – The 18th annual Cattle Classic is set to tip off on Friday afternoon inside Walz Arena. The basketball classic features a total of four men's games and four women's games over the course of the two-day extravaganza. The event, co-sponsored by Concordia and The Cattle National Bank & Trust Co., raises money and food for the Blue Valley Community Action's Food Pantry. Pac N Save of Seward will match all canned food donations.
Fans are encouraged to bring canned goods in exchange for admission. Ten canned items will get an adult a weekend pass. Complete admission information for the Cattle Classic can be found HERE.
2017 CATTLE CLASSIC SCHEDULE
Friday, Nov. 3
Women: Doane University vs. University of St. Francis (Ill.), 1 p.m.
Men: Midland University vs. Evangel University (Mo.), 3 p.m.
Women: Concordia vs. Viterbo University (Wis.), 6 p.m.
Men: Concordia vs. Mount Mercy University (Iowa), 8 p.m.
Saturday, Nov. 4
Women: Doane University vs. Viterbo University (Wis.), 10 a.m.
Men: Midland University vs. Mount Mercy University (Iowa), 12 p.m.
Women: Concordia vs. University of St. Francis (Ill.), 3 p.m.
Men: Concordia vs. Evangel University (Mo.), 5 p.m.
The Women's Field
Concordia University
Head coach: Drew Olson, 12th season
2017-18 Record: 0-0
2016-17 Record: 34-3
Conference: Great Plains Athletic Conference
Location: Seward, Neb.
Top Player: Based upon last year's honors, the choice is sophomore Philly Lammers, a second team All-America selection as a freshman. Senior Mary Janovich and junior Quinn Wragge also collected honorable mention All-America recognition in 2016-17. During last season's GPAC championship season, Lammers put forth one of the top rookie seasons in school history. She averaged 13.2 points, 7.0 rebounds and 2.2 steals on her way to being named the conference's freshman of the year. Lammers is the type of player many of Olson's best teams have been missing – a dominant presence in the post. The Omaha native is bound to wreak plenty of havoc on both ends of the floor again in 2017-18.
Overview: Indications from preseason scrimmages are that this team is good, really good. That's to be expected of a squad that returns four starters from a team that reached the national semifinals. For the most part, even when the names and faces do change, Olson has molded teams into GPAC title contenders and legitimate national threats. Other than perhaps a little more depth in the frontcourt, Concordia has all of the pieces to make another lengthy postseason run. Saturday's matchup between the third-ranked Bulldogs and No. 5 University of St. Francis (Ill.) may end up as the showcase contest of the entire Cattle Classic weekend.
Doane University
Head coach: Tracee Fairbanks, 19th season
2017-18 Record: 16-16
2016-17 Record: 0-0
Conference: Great Plains Athletic Conference
Location: Crete, Neb.
Top Player: Senior guard McKenna Dodd stands alone as the only returning starter from last season's team that went 16-16 overall. Dodd averaged 9.9 points but shot only 35.3 percent from the floor as a junior. The Tigers struggled offensively last season even with GPAC player of the year Hannah Barnard (20.9 ppg) running the show. It would be a lot to ask of Dodd to try to impersonate Barnard.
Overview: There are a lot of unknowns facing this year's Doane women's basketball team. Most of its key components will be players that were either in high school last season or had very light roles on the 2016-17 squad. Head coach Tracee Fairbanks relied heavily upon the starting group last season, though role players such as guards Emma Areman and Bailey Zarybnicky are back in the fold. Seward High School product Hannah Core is a freshman on the roster. The Tigers appeared at No. 8 in the GPAC preseason coaches' poll.
University of St. Francis
Head coach: Steve Brooks, 1st season at St. Francis (coached at Indiana Wesleyan for 17 seasons)
2017-18 Record: 34-2
2016-17 Record: 0-0
Conference: Chicagoland Collegiate Athletic Conference
Location: Joliet, Ill.
Top Player: This appears to be senior guard Kamari Jordan's year to shine with the program having graduated first team all-conference guard Charnelle Reed. Jordan should have no problem in a go-to role considering she's piled up 1,146 points over her first three collegiate seasons. She's also knocked down 223 career 3-point field goals. A solid post presence also returns in the form of 6-foot Kaitlin Aylward, who averaged 10.7 points and 5.6 rebounds last season as a freshman.
Overview: St. Francis replaced 2016-17 Chicagoland Collegiate Athletic Conference coach of the year Samantha Quigley Smith with Steve Brooks, one of the most successful head coaches in NAIA Division II women's basketball history. Brooks won national championships in 2007 and 2013 at Indiana Wesleyan University, where he spent 17 seasons. He now takes command of another program with a winning tradition. The Fighting Saints lost a couple of key players from last season's national semifinalist team, but Brooks appears to have inherited a squad capable of making a deep postseason run. Brooks' teams at Indiana Wesleyan were known for playing tenacious defense.
Viterbo University
Head coach: Bobbi Vandenberg, 25th season
2017-18 Record: 3-28
2016-17 Record: 0-2
Conference: North Star Athletic Association
Location: La Crosse, Wis.
Top Player: Sophomore Alyssa Nilssen appears to be a rising star for the V-Hawks. She averaged 12.2 points and 7.4 rebounds as a freshman last season when she earned honorable mention all-conference accolades. She began this season by exploding for 24 points and 11 rebounds in Viterbo's 68-59 season opening loss to 11th-ranked Cardinal Stritch University (Wis.). Nilssen started 29 of 31 games during her rookie campaign.
Overview: The V-Hawks are looking to regroup following a 3-28 season in 2016-17. The biggest issues last season came on the offensive end where Viterbo shot only 33.0 percent from the field and averaged 50.6 points per game. The progression of Nilssen's game provides optimism for the V-Hawks under head coach Bobbi Vandenberg, who is in the beginning of her 25th season in La Crosse. Viterbo was picked eighth (out of nine) in the North Star Atheltic Association preseason coaches' poll. The V-Hawk starting lineup includes two seniors, one junior and two sophomores.