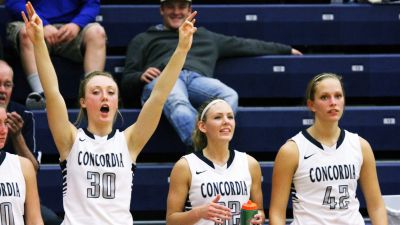 SEWARD, Neb. – A 23-5 run to close the first half allowed the 14th-ranked Concordia University women's basketball team to open the game wide open as the Bulldogs made their home debut in an impressive fashion on Friday night. Torrid outside shooting highlighted the 95-59 victory over visiting Friends University (Kan.), a perennial top of the Kansas Collegiate Athletic Conference contender.
The win moved 11th-year head coach Drew Olson's squad to 2-1 overall on the young season. Concordia is 71-9 in home games since the start of the 2011-12 season.
"It was a great team win. We obviously shot well," Olson said. "I felt like we had a good game plan going into it. We executed a lot of skip passes to go against their zone. Thankfully we were on tonight. I'm really proud of our overall effort. Defensively we did a really good job, especially with adjusting after the first quarter."
Though sophomore Quinn Wragge is the headliner among returning players, the Bulldogs have made it quite clear they will go deep into the bench this season. Friends struggled to handle Concordia's multitude of weapons. Aubri Bro torched the nets by making all four of her first-half shot attempts, including three from long distance. Bro finished with 14 points and was one of 13 Bulldogs to register in the scoring column.
Concordia masterfully moved the ball around while draining 15-of-32 attempts from beyond the arc. Playing in her first home game since transferring from Midland, Dani Andersen canned three treys. The perimeter game, often facilitated by the passing of senior guard Shelby Quinn, also got a boost from Mary Janovich, who poured in 10 points. The selfless Quinn didn't even attempt a single shot from the field, but dropped eight dimes.
It was Brenleigh Daum's (12 points) turn to get white hot in the second half. The sniper wing drilled 4-of-5 shots from long range as part of the fireworks display. One of three standout freshmen, Colby Duvel produced six points and a team high eight rebounds off the bench. There were many other contributions on a night when 13 players saw 13 or more minutes of action.
"There are going to be some games where maybe we have to go with Quinn and Mary a little bit more," Olson said. "This is an awesome team with incredible depth. You just never know who's going to be on that night. That's what makes us a big threat."
After a fairly competitive first quarter, Concordia took off in the second and left Friends in the dust. Over the final 19 minutes of game time, the Falcons failed to cut their deficit down to any fewer than 22 points. The largest lead was 37 points.
Friends is now 0-2 with both losses coming at the hands of GPAC opponents. The Falcons opened their season with a 61-55 home loss to Hastings on Wednesday. Head coach RaeAnne Booth's program has reached the national tournament in four of the last five seasons. Friends, which received votes in the preseason coaches' poll, got a game high 25 points from All-American Shann Sellers.
The 17th annual Cattle Classic continues on Saturday when the Bulldogs take on Oklahoma Wesleyan (2-1) at 3 p.m. CT. The Eagles rallied to defeat Doane, 80-72, in the opening game of the Cattle Classic on Friday. All four of Saturday's Cattle Classic contests can be seen on the Concordia Sports Network. For additional information on the Cattle Classic, click HERE.