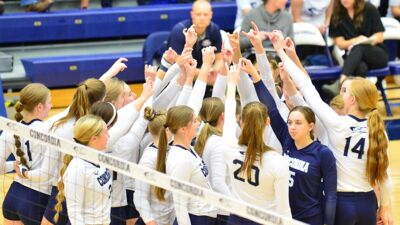 As the program has talked about this spring, it's time for Concordia University Volleyball to 'level up.' That is the team mantra going forward for the 2023 season, one that will arrive with hefty expectations for a group of Bulldogs still focused on taking care of some unfinished business. So much has been accomplished during the tenures of coaches Ben and Angie Boldt, and yet there are still boxes left unchecked. In other words, motivation was easy to come by this past spring semester.
Because of the familiarity and veteran nature of the varsity roster, the program has been able to carry on with a tried-and-true formula. Boldt and company want to use the same process-oriented approach while reaching just a little bit higher than the achievements of the recent past.
Says Ben Boldt, "Our motto for this year that we established at the beginning of the spring is 'level up.' That's a mentality that we're embracing. We're a team that's been knocking on the door with two consecutive conference finals appearances and we've been to two elite eights and two sweet 16s. We're knocking on the door and now we want to bust it down. What can we do to level up? That's the mentality of our team."
Clearly, the spring season gave the sixth-year head coach reasons to believe that big things are in store this fall. Similar to past spring semesters, the Bulldogs first put the focus on individual improvement and skill development before bringing the team together for organized practices and scrimmages. The program hosted another alumni event and took on local NAIA opposition such as Doane and Peru State College. In a matchup that got everyone's competitive juices flowing, Concordia tested itself against the University of Iowa, a former employer of the Boldts. The Bulldogs were encouraged by the way they held their own against a Big Ten foe.
In some ways, it should be no surprise. Concordia is battle-tested and returns each of its six All-GPAC honorees from 2022, including three All-Americans: Bree Burtwistle, Gabi Nordaker and Camryn Opfer. The return of Burtwistle and Opfer for their 'COVID year' of eligibility emerged as one of the major storylines of the spring semester. A detailed look at their decisions can be found HERE. They could not pass up an opportunity to be part of something special for one last year. Burtwistle and Opfer are dreaming big.
"It was a great situation for both of them," Boldt said. "I wanted to make sure they made their decisions for the right reasons. The very first conversation we had with them was them looking us straight in the eye and saying they weren't done playing volleyball. They're coming back for the right reasons. They will give us a great veteran presence for sure."
In terms of on-court production, the most significant losses from the 2022 team were middles Morgan Nibbe and Kalee Wiltfong. With those exceptions, the team on the floor this spring looked quite a bit like the team the Bulldogs trotted out last fall. While the aforementioned All-Americans may have the most accolades to their names, there are high hopes for returning all-conference honorees Rebecca Gebhardt, Ashley Keck and Carly Rodaway – and others. Boldt noted that Keck played particularly well against the Hawkeyes and also discussed how Rodaway has been rested to help her shoulder get back to 100 percent.
The Boldts are now anticipating August camp when they'll have the opportunity to see how all the pieces fit together. The return of Burtwistle and Opfer was a major recruiting win, and so too was the addition of transfer Ella Waters, a 6-foot-3 outside hitter who is set to transfer in from NCAA Division II Washburn University. Waters earned Super State distinction as a prep at Norris High School. How exactly Waters and the incoming freshmen fit in is still to be determined.
"We're excited about what we have, and we're excited to see them get out and compete once we get everyone in the same gym," Boldt said. "I think we got better this spring with the players we had in our gym. We're adding some freshmen we're excited about and we are bringing in Ella Waters from Washburn. She wanted to be closer to home and she's a great volleyball player. We're excited to put it all together. I'm not 100 percent sure what it all looks like right now and what system we're going to run. If we pass the ball really well, I think our offense can run smoothly and we'll have some players at the net who can play defense."
This program is prepared to do what it takes to win a GPAC championship and take this to yet another level. The Bulldogs watched as GPAC rival Jamestown celebrated an NAIA national championship this past season, and they feel they have that same type of potential. Concordia's season-ending loss to Park University (Mo.) at the national tournament should only fuel the fire. That was a moment that helped convince Opfer she needed to seize this opportunity to play one more year.
This program is about more than winning. The team's 3.71 GPA during the spring semester is a testament to that sentiment. Opfer can explain it even further. As the Seward High School alum and now Concordia graduate said back in February, "It says a lot about this program's culture and relationships that make it so hard to leave. Bree and I are very happy we decided to come back because we know it's going to be a good year. Those relationships are going to be there, and the coaching is amazing. Shoutout to Concordia Volleyball for making it hard to leave."
This May, the program celebrated the graduation of eight seniors (including Burtwistle and Opfer). They helped leave a legacy that will last well into the future. As part of this spring, the Bulldogs also made visits to Ridgewood and Greene Place retirement communities and to St. John's elementary school for some fellowship and companionship. From a volleyball perspective, Boldt says they've seen growth across the board when it comes to strength and vertical jump numbers.
Summer means camp season and the chance to impact youth through the sport of volleyball. In a couple of short months, the focus will home in on the 2023 season. Concordia is preparing to meet the challenge that comes with the grind of a season in the GPAC.
Said Boldt, "The GPAC is going to be a bear and a gauntlet again. It will prepare us for the national tournament. Our preseason tournaments will prepare us for the GPAC. Some matchups we're looking forward to are our matchup with MidAmerica Nazarene and we'll be headed to Sioux City again for a preseason tournament. That will be good to see where we're at and what we need to get better at before GPAC play. We'll take some time in the summer to get refreshed and ready to go, but we're excited about 2023. It's the 'Jordan Year' this year. We're excited about that."