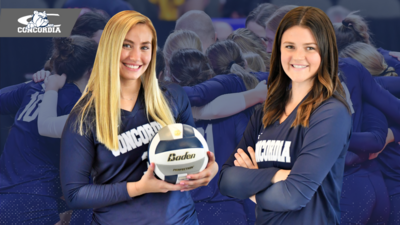 As the dust settled on a defeat that eliminated the Concordia University Volleyball program from the 2022 NAIA National Championship tournament, Bree Burtwistle and Camryn Opfer were hit by a wave of emotions. Sadness and heartbreak but also love and care for the coaches and teammates who have made this journey a special ride. It was undoubtedly the last ride for some seniors and for fifth-year team member Morgan Nibbe.
But was it the final chapter for Burtwistle? For Opfer? The two senior All-Americans had hinted at a possible return but nothing would become official until after the 2022 season had concluded.
Says Opfer, "Once we lost at nationals, I didn't feel like I was done yet. Just talking to my teammates after that, I was just like, 'I can't leave this yet.' There's still more to come. That was the moment I knew I wanted to come back."
Indeed, there is more to come. Burtwistle and Opfer informed coaches Ben and Angie Boldt of their decisions during individual meetings prior to the conclusion of the fall semester. Ultimately, the opportunity to use the extra "COVID year" of eligibility was too good for Burtwistle or Opfer to pass up. Burtwistle will graduate in May with a Bachelor of Arts in Biology (minor in Psychology) and will then pursue a master's in Public Health. Meanwhile, Opfer is on her way to graduating in May with a degree in Accounting and will then work towards her MBA.
In the minds of Burtwistle and Opfer, there's unfinished business to tend to this fall. So many boxes have been checked off by the program over the past four years, but there's one standing goal that has remained elusive. Burtwistle and Opfer both cited a desire to bring a GPAC championship to Seward. It's no small task considering the elite nature of GPAC volleyball. The Stanton, Neb., native Burtwistle still feels like she has a lot to give. The 2022 campaign was her first as a full-time setter.
"Honestly, I think the motivation came from knowing I wasn't done yet," Burtwistle said. "I still wanted to be the best athlete I can be for this volleyball program. We want to try to win a GPAC and a national championship, so that was all the motivation I needed."
Even in the midst of the 2022 season that saw the Bulldogs rise as high as No. 4 in the NAIA coaches' poll, Burtwistle knew. She knew she was coming back – she simply kept it mostly to herself. On the other hand, Opfer waffled back and forth. The Seward High School alum told her coaches she was 50-50 at one point late in the season.
Said Opfer, "One second I was like, I definitely want this, and the next one I was like, I need to move on and get a job, figure my life out. I told Ben and Angie, you need to give me a deadline or I'll go back and forth in my head forever. Ben was like, 'All right, you've got five minutes.' He said that as a joke, but I needed a deadline. I said, 'yes.'"
The next step involved informing the rest of the team. Of course the news was quickly shared with the teammates who room with Burtwistle and Opfer. However, the rest of the team found out in a different manner.
As Burtwistle explained, "Cam and I wanted to surprise the team. We live with quite a few of the volleyball girls so they knew, but the rest of the team didn't know. At the meeting at the beginning of the year to start our spring stuff, we surprised them. Ben said he forgot something in his office and asked (GA) Corina (Beimers) to go get it. Then we came in with Corina to surprise them. I think they were happy."
Ben and Angie Boldt understand how significant these decisions are for the prospects of the 2023 season. Opfer has racked up 1,341 digs and 1,268 kills in her career as someone who barely came off the court over the past four seasons. She was named an NAIA Second Team All-American in 2022. As Ben Boldt said, "Cam does everything for us." A breakout star in 2022, Burtwistle took advantage of her opportunity this past fall and became one of the top setters in the NAIA. She was twice named the NAIA National Setter of the Week and led an offensive attack that ranked No. 1 nationally in hitting percentage for a good portion of the season. Ben Boldt has commended 'Burt' in the past for her ability to "better the ball" at a "really high level."
Said Angie Boldt, "You can't replace fifth-year experience, and to have that in two experienced players, but even more importantly, to have that in two humble leaders, is going to be a great asset for our team and program. They are great players and even better people, who truly live out our program core values."
Added Ben Boldt, "We are excited to have Burt and Cam back to play their fifth year. It's awesome that they want to continue to get better and contribute to our team in 2023."
Burtwistle and Opfer will combine with middle Gabi Nordaker (who enters her fourth season in 2023) to give Concordia three returning All-Americans on next season's roster. Before thinking about the fall, the focus is now about the return to the offseason grind. For most volleyball seniors in the second semester, a major life transition away from the sport becomes reality. No more early weightlifting sessions. No more grueling conditioning. No more practice.
For Burtwistle and Opfer, the volleyball lifestyle carries on. Said Opfer, "That's one of the hardest things – to stay motivated throughout your fifth year. I think you have to think about it in terms of doing it for your teammates and the program. You're bettering yourself and the team." She also joked, "I feel so much older than some of my teammates."
Older, wiser and battle-tested. While it will be Burtwistle's fifth year of college volleyball, it will be her fourth at Concordia. Her freshman season of 2019 was spent at Midland. Said Burtwistle, "I've only been here three years and it just didn't seem like the right time to go. I might as well take the extra year if I can and take advantage of it. I'm going to try not to be an adult for as long as possible."
Burtwistle and Opfer both mentioned the culture of the program as a reason why they couldn't yet part ways with Concordia Volleyball. Fortunately for both sides, everything fell into place from an athletic and academic standpoint. On a walk together before their decisions were made final, Burtwistle and Opfer discussed the pros and cons. There was some initial fear of commitment.
If they were going to go in, they had to be all the way in. The pursuit of a GPAC Championship starts now.
As Opfer stated, "It says a lot about this program's culture and relationships that make it so hard to leave. Bree and I are very happy we decided to come back because we know it's going to be a good year. Those relationships are going to be there, and the coaching is amazing. Shoutout to Concordia Volleyball for making it hard to leave."