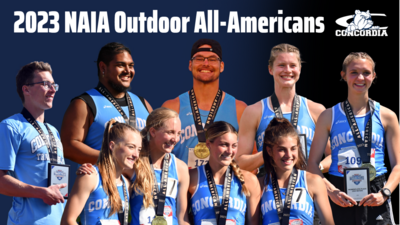 Final 2023 NAIA Outdoor T&F National Championship Results
SEWARD, Neb. – Courtesy of their performances at the 2023 NAIA Outdoor Track & Field National Championships, nine Bulldogs have earned All-America honors (full list below). In order to receive an All-America plaque, a top eight placement at the national championship meet is required. The list of Concordia University Track & Field outdoor All-Americans in 2023 includes pole vault national runner up Josie Puelz. In addition, fellow All-American Rylee Haecker broke a school record while running 4:33.84 in the 1,500 meters.
Among the 2023 Bulldog outdoor All-Americans, Rachel Battershell leads the way in terms of most career All-America awards with 13. Other current Concordia athletes (who took home All-America awards this past week) with multiple career All-America plaques are Rylee Haecker (eight), Josie Puelz (seven), Jenna Esch (three), Trinity Tuls (two) and Zach Zohner (two). First-time All-Americans were Josi Noble, Austen Rozelle and Darien Semedo. Three Concordia national qualifiers concluded their careers in action in Marion, Ind., this past week: Battershell, Erin Mapson (six-time All-American) and Wyatt Loga (two-time All-American).
Head Coach Matt Beisel's squads earned 2023 NAIA outdoor national finishes of tied for 23rd on the women's side and tied for 26th on the men's side. At the conference level, the women won the GPAC title (ninth in a row) and the men placed third.
2023 Outdoor All-Americans
Rachel Battershell
2023 Outdoor Placements: 8th in 400 meters (57.41); 8th in 4x400m relay (3:49.92)
Career All-America Awards: 13 (2 national titles)
National Meet Appearances: 9
Jenna Esch
2023 Outdoor Placement: 8th in 4x400m relay (3:49.92)
Career All-America Awards: 3
National Meet Appearances: 3
Rylee Haecker
2023 Outdoor Placement: 6th in 1,500 meters (4:33.84) *school record
Career All-America Awards: 8
National Meet Appearances: 5
Josi Noble
2023 Outdoor Placement: 8th in 4x400m relay (3:49.92)
Career All-America Awards: 1
National Meet Appearances: 2
Josie Puelz
2023 Outdoor Placement: 2nd in pole vault (12' 9 ½")
Career All-America Awards: 7 (5 national titles)
National Meet Appearances: 7
Austen Rozelle
2023 Outdoor Placement: 6th in discus (165' 7")
Career All-America Awards: 1
National Meet Appearances: 1
Darien Semedo
2023 Outdoor Placement: 6th in shot put (54')
Career All-America Awards: 1
National Meet Appearances: 2
Trinity Tuls
2023 Outdoor Placement: 8th in 4x400m relay (3:49.92)
Career All-America Awards: 2
National Meet Appearances: 3
Zach Zohner
2023 Indoor Placement: 3rd in pole vault (15' 11")
Career All-America Awards: 2
National Meet Appearances: 4