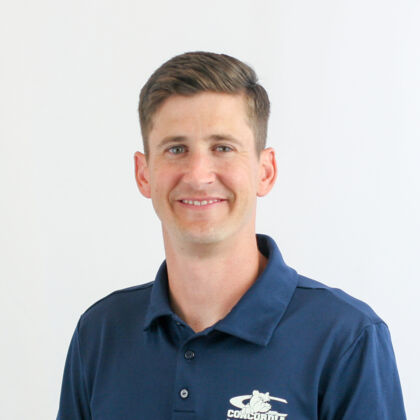 Hometown: Kearney, Neb.
Alma Mater: Concordia University, Nebraska
Jason Weides completed his 15th season at the helm of the Bulldog men's soccer program in 2022. He spent several years as an assistant for the men's team before becoming head coach. Weides is 150-104-33 overall and 78-59-21 in the GPAC in his career.
The 2015 season marked a high point in Bulldog Men's Soccer history as Weides led the program to its first-ever GPAC title and first-ever national tournament appearance. Concordia accomplished those feats by knocking off each of the conference's top-three seeds on the road during its GPAC tournament run that culminated with a 1-0 upset of No. 19 Hastings in the championship game. The 2015 squad finished with an overall record of 11-7-3. The Bulldogs of 2022 reached similar highs under Weides' direction in winning the GPAC tournament and qualifying for the national tournament for a second time. The '22 side went 15-3-3 overall in arguably the greatest season in program history. Concordia spent nearly the entire season receiving votes in the NAIA national poll.
The 2015 group initiated a run of three GPAC title game appearances in a row. In 2017, Weides steered the Bulldogs to a program record shattering 16 victories while marching to another conference final meeting with rival Hastings. A third-place finisher in 2016, Concordia moved up a rung into a tie for second in the final 2017 conference regular-season standings. Over the 2015 through 2018 seasons, the Bulldogs went a combined 6-3-2 in GPAC postseason action.
Under Weides, Concordia won 10 or more games in 10-consecutive seasons from 2011 through 2020 (110-61-22 over that stretch) - a feat only two other GPAC schools accomplished. Weides notched the 114th victory of his head coaching career on Sept. 21, 2019, making him the winningest coach in program history (passing Dr. Jack Kinworthy). Weides reached another milestone in 2022 by collecing career victory No. 150.
The 2017 team broke another school record while winning seven conference games (later reset in 2022 with eight GPAC wins). In 2014, the Bulldogs defeated Doane, 1-0, in the conference tournament to advance to the semifinals for the first time in more than a decade. In the midst of going 22-13-3 over the 2011-12 seasons, Weides guided the Bulldogs to 10-consecutive home wins, a streak that spanned from Aug. 27, 2011, to Sept. 26, 2012. The '21 team went 7-2-2 in the GPAC while tying a school record for number of conference wins in a single season.
From 2010-13, Weides helped develop forward Nathan Douglas into one of the top players in the history of the program. Douglas broke the school's career goals record in 2013, finishing with 43. Douglas earned first team all-conference honors as a junior and senior and was named to the second team as a sophomore. The program placed three players on the All-GPAC first team in 2017: Florian Caraballo, Marcelo Hernandez and Micah Lehenbauer. The '22 team also put three players on the first team: Dominic Abdel-Ahad, Max Bisinger and Carlos Orquiz.
Weides is a native of Kearney, Neb. and an alumnus of Concordia. While attending school at Concordia, he played soccer and was a four-year letter winner for the Bulldogs. He a two-time all-conference selection.
Weides' coaching resume includes serving as an assistant coach at Concordia under former head coach Bill Schranz in 2002. He also spent time at Kearney High School where he was an assistant coach from 2003-05, helping the team to its first state tournament appearance since 1998. During Weides' time at Kearney, he also was the head coach of the Kearney Sublime club soccer team. He then returned as an assistant at Concordia from 2005-08.

Weides has been involved with Athletes in Action and the Seward County Soccer Club. He earned his bachelor's degree in Commercial Art from Concordia University in 2002. Jason and his wife Erin reside in Seward with their son Isaiah.
Bulldogs Under Coach Weides
---
2008: 6-10-2 Overall, 4-6-2 GPAC
2009: 4-13-1 Overall, 2-9-1 GPAC
2010: 7-10-2 Overall, 4-7 GPAC
2011: 11-5-3 Overall, 5-3-2 GPAC
2012: 11-8 Overall, 4-6 GPAC
2013: 10-9 Overall, 6-4 GPAC
2014: 10-6-4 Overall, 5-2-3 GPAC
2015: 11-7-3 Overall, 4-4-2 GPAC
2016: 11-7-2 Overall, 6-3 GPAC
2017: 16-3-1 Overall, 7-2 GPAC
2018: 10-5-4 Overall, 6-2-3 GPAC
2019: 10-6-2 Overall, 5-4-2 GPAC
2020: 10-5-3 Overall, 7-2-2 GPAC
2021: 8-7-3 Overall, 5-4-2 GPAC
2022: 15-3-3 Overall, 8-1-2 GPAC
Total: 150-104-33 Overall, 78-59-21 GPAC (15 years)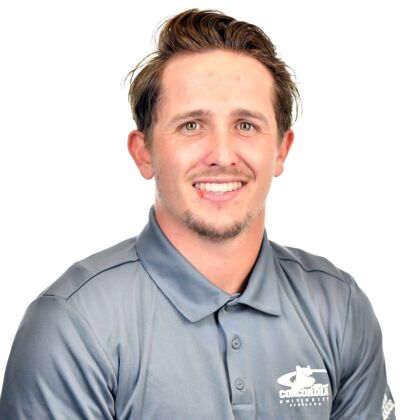 Graduate Assistant Men's Soccer Coach
Email Walz 107C
Hometown: Newport Beach, Calif.
Alma Mater: California State University San Bernardino
Tanner Knorr completed his first season as Graduate Assistant Coach for the Concordia Men's Soccer program in 2022-23. Knorr has several prior years of experience working within the Legends FC Youth Academy in California. Knorr helped the 2022 Bulldogs win the GPAC tournament title and advance to the NAIA national tournament.
A native of Newport Beach, Calif., Knorr began his coaching career in 2019 following his collegiate soccer career. In his coaching roles with Legends FC, Knorr has presided over teams that have won numerous league and showcase championships. Knorr's teams earned status as National Premier League Champions, Silverlakes summer and fall Showcase Champions (multiple times) and California Regional League Champions.
Knorr's coaching career followed his collegiate playing career at both NCAA Division I California State University Bakersfield and NCAA Division II California State University San Bernardino. With the help of Knorr, CSUSB rose as high as No. 5 in the national rankings.
Knorr graduated from CSUSB with a bachelor's degree in Business with a concentration in Finance. He is pursuing his master's in Business Administration with a concentration in Finance from Concordia. Tanner is the son of David and Dina Knorr and has a sister Jordan.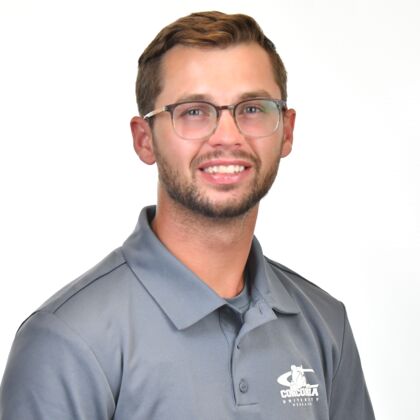 Michael McIntyre
Athletics
Goalkeeper Coach
Email Walz 107C
Hometown: Oak Lawn, Ill.
Alma Mater: Trinity Christian College
Michael McIntyre completed his first season coaching goalkeepers for the Concordia Men's and Women's Soccer programs in 2022-23. As a collegiate athlete, McIntyre played keeper for NAIA member Trinity Christian College (Ill.). McIntyre helped the Bulldog men win a GPAC tournament title and reach the national tournament in 2022. Keeper Gabriel Mendoza was named an honorable mention all-conference award winner.
A native of Oak Lawn, Ill., McIntyre earned Chicagoland Collegiate Athletic Conference Scholar-Athlete honors in both baseball and soccer while competing for the Trolls. McIntyre's experience as a coach includes a run as the goalkeeper coach at Southside Baptist High School in 2019. McIntyre was an all-conference player during his own prep career at Southside Baptist.
McIntyre earned his Bachelor of Science degree in Recreation and Sport Management from Trinity Christian. He is currently pursuing his MBA with a marketing focus at Concordia. Michael is married to Julie McIntyre.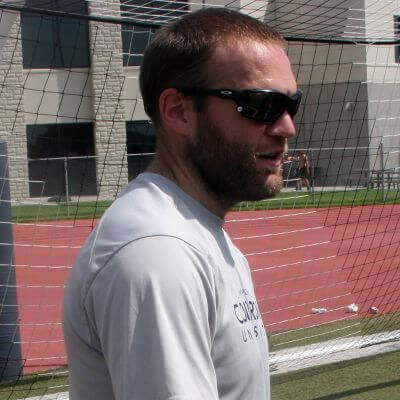 Nick Holmes
Athletics, Registrar
Student Data Analyst, Assistant Men's Soccer Coach
Hometown: Southampton, England
Alma Mater: Concordia University, Nebraska
Nick Holmes completed his 10th season as an assistant men's soccer coach at Concordia University in 2022. He served three years as an assistant for the Bulldog women's soccer program from 2008-10. Holmes was as an assistant for the GPAC tournament championship teams of 2015 and 2022 and for squads that recorded conference tournament runner-up finishes in 2016 and 2017. The 2017 team shattered the program record for wins in a season.
Holmes has also lent his expertise to several local organizations, camps and clubs. He worked as a staff coach for the Capital Soccer Association from 2010-13 as well as a staff coach for Sporting Lincoln FC in 2013 and 2014. In addition, he has served as a residential camp staff coach at the University of Nebraska-Lincoln for three years (2012-14). Most recently, Holmes has been the head coach for Seward High School boys soccer.
Holmes holds a National Soccer Coaches' Association of America (NSCAA) National Diploma and NSCAA Goalkeeping Level I and II diplomas.
A former Bulldog athlete, Holmes played for the Concordia Men's Soccer program in 2005 and 2006. He graduated from Concordia with a bachelor of arts in History and M.S. Family Life.
The native of Southampton, England, resides in Seward with his wife, Jen, and their two sons, Andrew and Samuel.