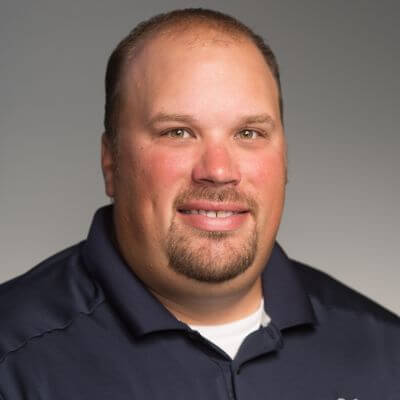 Hometown: Milford, Neb.
Alma Mater: Concordia University, Nebraska
Brett Muller completed his 12th season as Concordia University's head golf coach in 2022-23.
Under Muller's direction, both golf programs have been competitive within the GPAC and have rewritten the school's record book. Muller has coached program career scoring average standard bearers on both sides in Amy Ahlers (2017 graduate), Kendra Placke (2022 graduate) and Nolan Zikas (2019 graduate). Muller has also tutored eventual college golf head coaches and former Concordia grad assistants Shawn Rodehorst (University of Nebraska-Kearney) and Logan Wagner (previously head golf coach at Mount Marty University).
Ahlers (2013-17) served as the the program's top player for all four years. Her most significant accomplishments came as a senior when she won the GPAC individual title, was named the GPAC Golfer of the Year and advanced to the national championships. Ahlers concluded her career with 11 career tournament wins and 32 top-10 finishes. She broke school records for top 18-hole season and career averages. Those records were broken by the Seward native Placke, who finished her standout career in the spring of 2022. Also in recent years, Murphy Sears '20 earned all-conference accolades all four years and was a teammate with Placke, who placed in the top 10 of the GPAC in each of her four seasons. This past 2022-23 season, Emery Custer was named the GPAC Newcomer of the Year.
Muller has also overseen the blossoming of all-conference men's golfers such as Rodehorst (2011-15), Zikas, Drew D'Ercole and Ivan Yabut. Rodehorst broke a then school record for lowest season average (75.15 in 2012-13) and became the first Bulldog to ever win the Blue River Invite. The sophomore moved up from 30th on the GPAC leaderboard after the fall season to top 10 at the campaign's conclusion. Rodehorst also graduated from the program with a record for career average. Rodehorst's single-season program record was broken in 2018 by Zikas (74.69), a four-time All-GPAC performer. Zikas ended his collegiate run with a career scoring average of 74.06 (current school record). A cancer survivor, Zikas was named the David Toms Overcoming Adversity Award winner for 2018. During the 2021-22 season, Yabut broke the school record for lowest single-round score with a seven-under-par 65 at the Siouxland Invite. Yabut went on to place fifth in the GPAC for the best-ever GPAC placement for a Concordia men's golfer. Both D'Ercole and Yabut earned All-GPAC awards in 2023. D'Ercole was also recognized as a Central All-Region golfer by the Golf Coaches Association of America.
Zikas and the men's team placed fifth in the GPAC in 2017-18 while setting a new single-season scoring average standard of 306.88. The highlight of the campaign came on April 17, 2018, when the Bulldogs won a playoff and took first place at the Midland Spring Invitational. Zikas and company also equaled a school single-round record with a 288 in the opening round of the GPAC championships. The 2021-22 men's team became the new school record holder for single-season average at 305.1 before the standard was reset again in 2022-23 (300.3). In the fall of 2019, Placke and the women's team enjoyed a breakthrough by winning the Nebraska Wesleyan Classic. In both 2020 and 2021, the women's program placed third in the GPAC with Placke leading the way. In 2020-21, the Bulldog women won the Matthew Goette Fall Classic and placed second at the Buena Vista Invite. More recently, the men claimed the runner-up trophy at the 2023 Doane Spring Invite.
This is Muller's second appearance at Concordia University. He attended Concordia from 2004-06 and earned his bachelor's degree in Human Performance. Muller also was an assistant coach for the women's basketball program at Concordia from 2004-07. During that time, the Bulldogs advanced to the national tournament three times and the NAIA Fab Four one time. In addition, Muller served as an assistant coach on the men's basketball coaching staff in 2012-13.

Muller got his collegiate career started at Morningside College from 2001-04. He played basketball for two years and was a member of the Athletic Director's Honor Roll during his time at Morningside. Muller was the assistant golf coach at Milford High School in 2010. Milford advanced to the 2010 Class B Nebraska State Golf Tournament. Muller has also worked at the Milford Golf Course.
Brett and his wife Heather reside in Milford with their daughter Braelynn.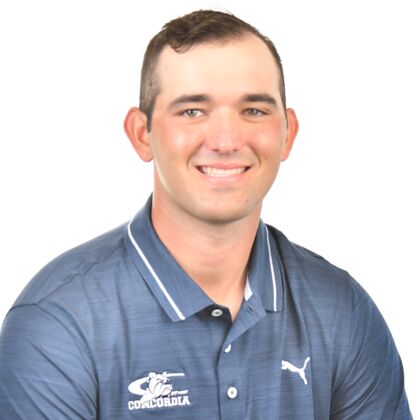 Graduate Assistant Golf Coach
Email Walz
Hometown: Papillion, Neb.
Alma Mater: Concordia University, Nebraska
Drew D'Ercole began his role as Graduate Assistant Golf Coach beginning with the fall 2023 semester. D'Ercole has been a member of the Concordia Golf program since the fall of 2019 when his collegiate athletic career got started.
D'Ercole has starred over the past four seasons for the Bulldogs, earning three All-GPAC awards. As a senior, in 2022-23, D'Ercole hauled in numerous awards while being named All-GPAC, NAIA PING Central All-Region, an NAIA Scholar-Athlete and a College Sports Communicators Academic All-District and All-America honoree. From 2019-23, D'Ercole played in 67 rounds and shot an average score of 76.3. He shaved his average down to a team best 74.2 as a senior. One of the highlights of D'Ercole's career was his individual title at the Doane Spring Invite held in March 2021. D'Ercole helped the 2022-23 Bulldogs break the program record for single season scoring average (300.3).
D'Ercole earned his undergraduate degrees in Recreation and Sport Studies and Business Administration from Concordia. He is currently pursuing a master's in Athletic Administration. Drew is the son of Mike and Kara D'Ercole. Drew's younger brother Josh is a current member of the Bulldog Golf team.