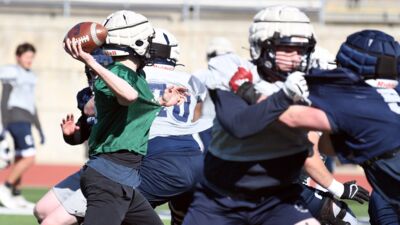 Football may be a first semester sport, but Head Coach Patrick Daberkow has made it a priority year-after-year to bring in student-athletes who embrace the grind of a second semester that comes without gridiron glory. The fruits of the program's spring 2021 labor included a 7-3 overall record and a perfect run against in-state opponents last fall. It was the type of season the Concordia University Football program believes it can build upon heading into 2022.
The actions of Daberkow's squad this offseason have revealed a group not satisfied with settling for 7-3. Looking ahead to his sixth season at the helm of the program, Daberkow sees a program taking shape in many of the ways he had envisioned.
"We've had a very productive spring," Daberkow said. "I really feel good about it. A lot of changes have happened over the offseason with guys working out in the weight room. Our average squat went up 60 pounds across the board, so we're really excited about the progress we made from December through the end of the semester. We pushed spring ball back to April 11 so we could get a little extra time in the weight room. I think it's shown. We're definitely looking forward to that being a launch point into the 2022 season."
The spring practice season was capped off on April 29 with a public practice inside Bulldog Stadium. It happened to be cut short by inclement weather, but it provided a few hundred observers and prospective recruits an early look at the '22 Bulldogs. No longer were fans treated to seeing GPAC Defensive Player of the Year Lane Napier run sideline-to-sideline, but plenty of veteran talent remains on the roster. Concordia finds itself increasingly comfortable in reloading from the previous year, even after it recognized 29 seniors on Senior Day 2021.
Some spring storylines featured the arrival of new full-time assistant coach Trent Laune, the return of several impact fifth-year players, the dynamic of having a new offensive play caller, competition at running back after Jonah Weyand's graduation and the quarterbacking talents of both returning starter DJ McGarvie and University of Nebraska (former walk on) transfer Austin Jablonski. The level of overall talent across position groups stood out in the eyes of Coach Courtney Meyer, who has served the program in many capacities going back to the 1960s.
The skillsets of McGarvie and Jablonski were on display this spring. McGarvie played beyond his experience last season in throwing for 19 touchdown passes as a true freshman. It's been a while since the program has had such a healthy situation at quarterback.
Said Daberkow, "Those guys have really done everything they can to help each other out and share tricks of the trade. It's been cool to see them grow their relationship. They both bring such great things to the table. Both are fine young men who are competitors. They are raising the level of each other's performance and that's always a good thing to see. We have that going on at just about every position group on the team. We're excited to see that competition."
While it's true the program had a large number of seniors this past season, several of them made the decision this spring to return as fifth-year players in 2022. Most accomplished among the fifth-year players will be tight end Garrett Schardt, a 2021 NAIA Honorable Mention All-American. Others who announced they will be returning for a fifth year are cornerback Jayzen Armstrong, receiver Korrell Koehlmoos, center Johnny Robinson III, linebacker Logan Srna and tight end Brandon Vega.
Robinson was named First Team All-GPAC this past season and is a four-year starter on the offensive line. Meanwhile, Koehlmoos ranks sixth on the program's all-time lists for both career catches (126) and career receiving yards (1,870) and has served as the team's punter. The elder statesmen of the program are back because they believe there's more to be achieved.
Said Daberkow of their return, "I think it's always a big deal. Most college football games are won by men. The team that has an older group of guys on the field usually has an advantage. Any time you can have 22-year-olds or 23-year-olds playing, I think you have an advantage over your opponent. We've had teams here who have been full of 18-year-olds and there are some challenges with that. Any time you can have more of a veteran presence in your locker room I think it's a bonus."
A Concordia alum, Laune began re-familiarizing himself with the program this spring. He joins a full-time staff that includes Defensive Coordinator Corby Osten and Offensive Line/JV Head Coach Grady Koch. Daberkow has prepared himself to take over offensive play calling after former Offensive Coordinator Reggie Corbin left to become an assistant at another NAIA program. The offense likely won't deviate from a desire to achieve balance within the pass and run games.
The incoming recruiting class has a chance to impact the 2022 season. An update on recruiting was provided back on National Signing Day (Feb. 2) and can be found HERE. A name to add to that list is Lincoln Lutheran's Jack L'Heureux, a 6-foot-5 defensive lineman with vast potential. Overall, Daberkow and his staff enjoyed many significant in-state recruiting victories while placing an emphasis on student-athletes who fit the culture of Christian character and work ethic in regard to strength and conditioning.
Said Daberkow, "We really feel like we have a tight-knit locker room. Everyone wants to win, but not everyone wants to prepare to win. We have a locker room that loves the preparation. They understand it and they put the work in. When that's the case, I think you have a really high ceiling. We don't have anyone who doesn't enjoy being in the weight room and getting after it. We look for guys like that to fit what we already have."
Some of the position battles that began to play out this spring will intensify when August camp begins. In addition, the 2022 schedule is soon to be announced. As for the summer, Daberkow expects continued individual improvement as the program strives to keep elevating within the GPAC.