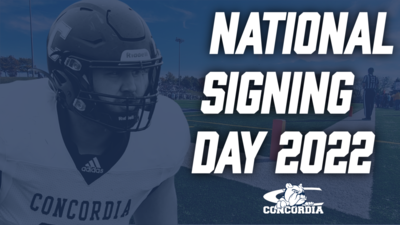 NOTE: Throughout the day on National Signing Day, the Concordia University Football program introduced its class of 2022 via Twitter: @CUNEFootball.
After going 7-3 and sweeping its in-state foes on the 2021 schedule, the Concordia University Football program has attempted to capitalize on that momentum in this recruiting cycle. As Head Coach Patrick Daberkow says, "we'll see how we did in two years" after the recruiting class of 2022 has had an opportunity to make its mark. As of National Signing Day 2022 (Feb. 2), the Bulldogs have announced an initial class of 39 future Concordia student-athletes.
Broken down by state, the group features 27 future Bulldogs from Nebraska, four from Texas, two from Colorado and one apiece from California, Illinois, Kansas, Missouri, New Mexico and Oklahoma.
Daberkow is passionate about sharing the current climate of Concordia Football with prospective recruits. Said Daberkow, "There's so much hype right now around everything with college athletics, and recruiting is a big part of that hype. When I sit down with kids, I think it's important to paint an accurate picture. Yeah, we're trying to find guys who can make an impact right away, but also guys who can be good teammates if they're not immediately playing. I feel like we've done a good job with that. I feel like our locker room is embracing newcomers who will compete with them for playing time. My biggest confidence right now is what is happening in the weight room with our current roster. We don't have anybody who we think is going to play next year who doesn't love the weight room. Our team is really embracing energy in the weight room."
The incoming class will include local talents like Cross County High School's Carter Seim, who rushed for 5,402 yards and 94 touchdowns in his prep career, as well as offensive lineman Carson Fehlhafer from Centennial High School. Like usual, the program has also mined the state of Texas, which is home to recent Concordia starters such as Cayden Beran, Jorge Ochoa and Johnny Robinson III. Like any program these days, Concordia keeps an eye out in the transfer market. Former University of Nebraska walk-on Austin Jablonski (Lincoln Pius X HS alum) has enrolled at Concordia and will participate in spring ball. Jablonski will compete at quarterback.
It's not Daberkow's nature to hype incoming recruits. He would rather talk about his pride in where the program is going and what it means to have the Concordia Experience. That entails playing hard-nosed football and singing The Doxology in the locker room after victories.
"Nothing's ever a given, but we're trying to make sure people understand the amount of work it takes to be competitive and have an opportunity to win," Daberkow said. "I think if you can frame it right from the get-go – if they sign a letter of intent to play football for us, I don't want there to be any surprises after they get here. It's really important to me that a guy can make it here. I want them to have a great experience like I did."
In another recruiting win, the Bulldogs will welcome back NAIA Honorable Mention All-American tight end Garrett Schardt (two-time First Team All-GPAC) for a fifth season. Schardt made 32 catches for 504 yards and five touchdowns last season and will be one of the NAIA's best tight ends in 2022. Daberkow jokes that the program held off the farm life in order keep Schardt around for one more season. Among others, receiver Korrell Koelmoos and center Johnny Robinson III are also planning on returning for an extra season.
They follow the path taken by All-American linebacker Lane Napier, who piled up 535 career tackles in five years with the program. Napier's return in 2021 came from his desire to be around the guys for another fall – and to elevate the program another notch. Recruits have noticed the program's trajectory.
Says Daberkow, "Winning helps. Kids don't want to go to a program and lose games. They want to be part of a place that's dedicated to winning and I think we've demonstrated that. We're not satisfied – we have a ways to go before we feel accomplished with where we're at, but it was a step in the right direction last year. Beating the other in-state teams is always helpful because of our in-state recruiting footprint."
Daberkow and his staff will continue to add to the 2022 class during the spring while also looking ahead to 2023. The spring practice season will get started later this semester.
Concordia Football class of 2022 (as of National Signing Day)
Jarrett Andersen – Wausa HS (Neb.)
Nathan Bash – Plattsburg HS (Mo.)
Raymetrius Benally – Kirtland Central HS (N.M.)
Derek Campbell – Geneva Community HS (Ill.)
Kyle Culbert – Rancho Alamitos HS (Calif.)
Brevin Damrow – Tri County HS (Neb.)
Logan Davidson – Goddard HS (Kan.)
Matthew Davis – Sutton HS (Neb.)
Logan DeCoste – Hay Springs HS (Neb.)
Carson Fehlhafer – Centennial HS (Neb.)
Mason Fortney – Ashland-Greenwood HS (Neb.)
Cayden Gorton – Bear Creek HS (Colo.)
Daylon Henson – Lutheran North Houston (Texas)
Jesse Herndon – Sutton HS (Neb.)
Chase Hofmeister – Pender HS (Neb.)
Grant Huss – Lincoln Southwest HS (Neb.)
Austin Jablonski – University of Nebraska/Lincoln Pius X HS (Neb.)
Carter Johnson – Anselmo-Merna HS (Neb.)
Logan Knaus – Wilcox-Hildreth HS (Neb.)
Braxton Mech – Ashland-Greenwood HS (Neb.)
Lane Meier – Yukon HS (Okla.)
Damon Mickey – Cross County HS (Neb.)
Hunter Mortimer – Weeping Water HS (Neb.)
Kale Nordmeyer – Malcolm HS (Neb.)
Jaden O'Connor – Keller Central HS (Texas)
Paxton Olson – Sutton HS (Neb.)
Brock Ostdiek – Beatrice HS (Neb.)
Jake Peitz – Hartington-Newcastle HS (Neb.)
Kevan Peters – Wood River HS (Neb.)
Collin Reetz – Estes Park HS (Colo.)
Elijah Schmid – Creek Valley HS (Neb.)
Jaden Seier – Kearney Catholic HS (Neb.)
Carter Seim – Cross County HS (Neb.)
Karson Sherman – Sandy Creek HS (Neb.)
Gideon Stark – Concordia Lutheran HS (Texas)
Tyler Thomas – Broken Bow HS (Neb.)
Gavin Weichel – Tri County HS (Neb.)
Cody Wilkerson – Southside HS (Texas)
Ashton Wright – Lincoln Southwest (Neb.)