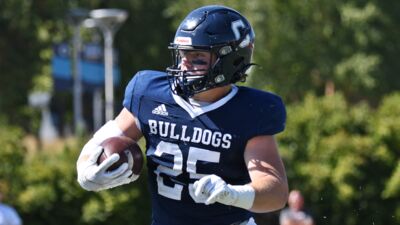 SEWARD, Neb. – Based on the current ratings, the Concordia University Football team has already played the top three teams in the GPAC. The Bulldogs will have an opportunity to show how much they've grown those matchups with three 2020 NAIA playoff teams. Concordia now focuses its attention upon Dakota Wesleyan, Saturday's homecoming opponent. Kickoff is set for 1 p.m. CT from Bulldog Stadium, where the Bulldogs are 1-1 this season.
Head Coach Patrick Daberkow's squad came up empty on two first quarter red zone trips and committed four turnovers last week in a 31-7 loss to No. 2 Northwestern. The Red Raiders pulled away in the second quarter by turning three interceptions into three touchdowns (including one via a pick-six). Concordia has more than held its own on the defensive side of the ball since the drubbing at Morningside in week one. Northwestern managed only seven points after halftime and was held below its season averages of 46.0 points and 438.5 yards per game entering the contest.
Now in his ninth season as head coach, Ross Cimpl presides over a program hoping to move back up the ladder following three-straight below .500 seasons. Dakota Wesleyan enjoyed its best offensive showing so far this season in last week's 27-16 win over Hastings. The Tigers punished the Broncos on the ground as both Jamin Arend and Kiel Nelson went for over 100 yards and a touchdown apiece. DWU overcame a 16-13 third quarter deficit. The Tigers also own a win over Mount Marty.
GAME INFO – Homecoming
Concordia (1-3, 1-3 GPAC) vs. Dakota Wesleyan (2-2, 2-1 GPAC)
Saturday, Oct. 2 | 1 p.m.
Bulldog Stadium | Seward, Neb.
Webcast/Live Stats: Concordia Sports Network
Radio: 104.9 Max Country
Commentators: Parker Cyza and Ross Wurdeman
Tickets: Concordia HomeTown Ticketing
STATISTICAL BREAKDOWN
Team Statistics
*2021 national rankings out of 98 NAIA football programs

Concordia
Offensive PPG: 20.5 (64th)
Defensive PPG: 35.5 (73rd)
Total Offense: 289.0 (70th)
Pass Offense: 193.5 (54th)
Rush Offense: 95.5 (78th)
Total Defense: 400.8 (64th)
Pass Defense: 254.3 (70th)
Rush Defense: 146.5 (53rd)
Turnover +/-: 0

Dakota Wesleyan
Offensive PPG: 15.3 (81st)
Defensive PPG: 13.0 (11th)
Total Offense: 332.8 (52nd)
Pass Offense: 173.3 (64th)
Rush Offense: 159.5 (35th)
Total Defense: 289.0 (17th)
Pass Defense: 188.0 (31st)
Rush Defense: 101.0 (19th)
Turnover +/-: -9

2021 INDIVIDUAL LEADERS

Concordia
Head Coach: Patrick Daberkow (17-25, 5th season)
Passing: DJ McGarvie – 35/77 (.455), 292 yards, 7 td, 4 int, 107.8 effic.
Rushing: Devin Zeigler – 48 rushes, 192 yards, 4.0 avg, 1 td
Receiving: Korrell Koehlmoos – 19 catches, 224 yards, 11.8 avg, 2 td
Defense: Lane Napier – 53 tackles, 1 sack, 1 tfl, 1 pbu, 1 fr

Dakota Wesleyan
Head Coach: Ross Cimpl (51-40, 9th season)
Passing: Kiel Nelson – 43/97 (.443), 561 yards, 5 td, 7 int, 95.5 effic.; 33 rushes, 118 yards, 5.7 avg, 1 td
Rushing: Jamin Arend – 66 rushes, 397 yards, 6.0 avg, 2 td
Receiving: Jakob Oxos – 16 catches, 209 yards, 13.1 avg, 2 td
Defense: Cody Reichelt – 42 tackles, 8.5 tfl's, 3 sacks

SCHEDULE/RESULTS
Concordia (1-3, 1-3 GPAC)
9/4 at (3) Morningside, L, 7-63
9/11 vs. Briar Cliff, W, 61-21
9/18 at (19) Dordt, L, 7-27
9/25 vs. (2) Northwestern, L, 7-31
10/2 vs. Dakota Wesleyan, 1 p.m. (Homecoming)
10/9 at Jamestown, 1 p.m.
10/16 at Mount Marty, 1 p.m.
10/23 vs. Midland, 1 p.m.
11/6 vs. Doane, 1 p.m.
11/13 at Hastings, 1 p.m.

Dakota Wesleyan (2-2, 2-1 GPAC)
8/28 vs. Dakota State, L, 0-6
9/4 at Mount Marty, W, 20-3
9/18 at Midland, L, 14-27
9/25 vs. Hastings, W, 27-16
10/2 at Concordia, 1 p.m.
10/9 vs. Doane, 1 p.m.
10/16 at (20) Dordt, 1 p.m.
10/23 vs. (2) Northwestern, 1 p.m.
10/30 at Briar Cliff, 1 p.m.
11/6 vs. Jamestown, 1 p.m.
11/13 vs. (3) Morningside, 1 p.m.

Fan protocols/ticketing
Concordia is allowing full capacity within Bulldog Stadium and face coverings are optional. Tickets can be purchased at the stadium on game day or by visiting the athletic department's HomeTown Ticketing page. Additional game day information for fans/media can be found HERE.

In the rankings
In the GPAC preseason coaches' poll, Concordia was picked fifth while Dakota Wesleyan checked in at No. 7. The Tigers made regular appearances in the official NAIA top 25 from 2011 through 2017. DWU closed the 2017 campaign at No. 23 in the NAIA poll and has not cracked the top 25 since then. The Bulldogs' most recent top 25 appearance came in November 2017 when landed at No. 25. As for the current Massey Ratings, Concordia and Dakota Wesleyan are ranked within five spots of each other.
Concordia
GPAC preseason: 5th
Current Massey Ratings: 53rd
Dakota Wesleyan
GPAC preseason: 7th
Current Massey Ratings: 58th

Homecoming at Concordia
It's homecoming week at Concordia. Dating back to 2011, the Bulldogs have won nine of their past 10 homecoming games with the exception being the 2018 homecoming matchup versus Midland. During that 10-year stretch, Concordia has beaten three nationally ranked opponents on homecoming, including then seventh-ranked Doane in 2017. This week's opponent, Dakota Wesleyan, held its homecoming last week.

List 10 homecoming games
10/3/20 – Jamestown | W, 23-3
9/28/19 – Briar Cliff | W, 16-14
9/22/18 – Midland | L, 7-35
9/23/17 – (7) Doane | W, 29-18
10/8/16 – Briar Cliff | W, 56-0
10/10/15 – Nebraska Wesleyan | W, 47-14
10/4/14 – Dordt | W, 38-14
10/12/13 – (22) Nebraska Wesleyan | W, 19-3
10/13/12 – (11) Northwestern | W, 17-16
10/8/11 – Briar Cliff | W, 47-12

Special anniversaries
In conjunction with homecoming week, the Concordia Football program celebrates milestone anniversaries for its two most recent conference championship teams – the 1981 Nebraska Intercollegiate Athletic Conference and 2001 Great Plains Athletic Conference titlist squads. The '81 team went 9-1 overall and finished with a No. 12 NAIA national ranking under the direction of Head Coach Larry Oetting. Twenty years later, the '01 team went 10-2 overall while reaching the quarterfinals of the NAIA playoffs and finishing with a No. 7 NAIA national ranking. Courtney Meyer served as the head coach for the '01 team and was the defensive coordinator for the '81 squad.

Last time out
Last week the Bulldogs were defeated, 31-7, by No. 2 Northwestern, last season's NAIA national runner up. The Red Raiders continued their nastiness defensively in limiting Concordia to 200 total yards while forcing four turnovers. All three first-half Red Raiders touchdowns were preceded by interceptions. The Bulldogs got on the board in the second quarter when quarterback DJ McGarvie threaded the needle on a 20-yard touchdown pass to Korrell Koehlmoos. Cornerback and return man Isiaha Conner returned a kickoff 67 yards and an interception 35 yards. The pick set up Koehlmoos' 10th career touchdown reception. Northwestern quarterback Blake Fryar tossed touchdown passes of 32 yards to Michael Storey and 36 yards to Cade Moser.

Napier = national tackle leader
Lane Napier's name is heard frequently over the speaker system every Saturday. In back-to-back weeks, Napier has notched exactly 18 tackles. Those performances have pushed his season tackle total to 53, a figure that ranks No. 1 among all NAIA players. Napier's GPAC all-time record tackle total now stands at 454. Napier's career has also included 35 tackles for loss, 11.5 sacks, eight pass breakups and an interception. He has been named First Team All-GPAC four times. Napier has posted at least 10 tackles 23 times and has reached at least 15 tackles 10 times in his career.

Napier, highest single-game tackle totals in career
23 – Jamestown, Oct. 5, 2019
22 – Morningside, Oct. 27, 2018
22 – Briar Cliff, Oct. 13, 2018
21 – Jamestown, Sept. 15, 2018
18 – Northwestern, Sept. 25, 2021
18 – Dordt, Sept. 18, 2021
18 – Hastings, Oct. 20, 2018

Cox enjoying impressive start
Not to be overshadowed by Napier, Caydren Cox has been a disruptive force at another linebacker spot. Also a fifth-year member of the program, Cox leads the team in both tackles for loss (four) and sacks (three). He ranks second on the team to Napier in tackles with 29. The Beloit, Kan., native emerged with a fourth down stop last week versus Northwestern. Cox has amassed career totals of 86 tackles, 13.5 tackles for loss, five sacks and two interceptions.

Weyand makes return
No. 1 running back Jonah Weyand was sidelined for the home game versus Briar Cliff and the road matchup with Dordt. The Crete High School product returned to the lineup last week and rushed for 102 yards on 16 carries with a long rush of 65 yards. Weyand is closing in on 1,000 career rushing yards. He enters the week with 904 yards on 235 career attempts. The 2020 First Team All-GPAC honoree is looking to find the end zone for the first time this season after totaling nine touchdowns last season. Through four weeks, Devin Zeigler leads the team with 192 rushing yards and a touchdown. Concordia has hopes of increasing its production in the run game. It has averaged 95.5 yards per game and 2.7 yards per carry.

Secondary shakeup
Injuries have forced changes to the secondary. Two-time Second Team All-GPAC performer Peyton Mitchell missed two weeks before returning as a backup safety last week. In addition, starting corner Jayzen Armstrong was sidelined last week. In his place, Carson Core got the nod at corner last week after making the in-season transition from the offensive side of the ball. Core came through with a fourth down tackle in the backfield to stop a Northwestern drive. The secondary has produced four interceptions this season, including two from safety Gabe Knisley, one from Armstrong and one from Isiaha Conner.

D makes strides since season opener
The defense has been solid ever since allowing 63 points and 652 total yards to Morningside in week one. In the weeks since then, the Bulldogs have surrendered 21 points and 154 yards to Briar Cliff, 27 points and 403 yards to Dordt and 31 points and 393 yards to Northwestern. It should be noted that over those three weeks, Concordia opponents have scored two touchdowns on pick-sixes and one on a kickoff return. Last season, the Bulldogs sported conference rankings of fifth in scoring defense (25.4) and sixth in total defense (385.6).

Conner flashes with big plays
Concordia may have found a new playmaker in Las Vegas native Isiaha Conner. He gave the Bulldogs a chance to hang with Northwestern in the first half last week by returning a kickoff for 67 yards and an interception for 35 yards. Concordia wasted the kickoff return, coming up empty despite starting in the red zone. Conner also notched six tackles, including one for loss against Northwestern. In his first collegiate season in 2020, Conner recorded 30 tackles, three tackles for loss and an interception.

Series vs. Dakota Wesleyan
The series has been closely contested with Concordia's all-time record versus Dakota Wesleyan standing at 11-10. The first two meetings occurred prior to the formation of the GPAC in 2000. The Bulldogs defeated the Tigers, 36-29, in 1984 and then fell to them, 28-21, in 1985. The two programs finally met again in 2000 as GPAC members. From 2017 through 2019, Concordia defeated Dakota Wesleyan each year in matchups that took place in Seward. The Tigers got back on the winning side of the series last season with a 28-17 victory in Mitchell, S.D. DWU receiver Spencer Neugebauer caught 10 passes for 118 yards and a touchdown. Meanwhile, the Bulldogs were led by Cayden Beran (eight catches for 108 yards and a touchdown) and Jonah Weyand (79 yards rushing and a touchdown). The Tigers last won in Seward in 2012 (26-23). Since then, they have fallen in four-straight trips to Bulldog Stadium.

Scouting Dakota Wesleyan
At least this season, Dakota Wesleyan has relied more upon defensive grit than the offensive fireworks they were formerly known for. From 2010 through 2017, the Tiger program was blessed with two separate four-year starting quarterbacks in quarterbacks Dillon Turner (10,704 passing yards and 3,215 rushing yards for his career) and Jon Bane (9,224 passing yards, 83 touchdown passes for his career). Since averaging 43.6 points per game in 2017, DWU has posted scoring averages of 20.4 in 2018, 21.6 in 2019 and 20.7 in 2020. So far this season, the Tigers are allowing only 13.0 points per game, led by star linebacker Cody Reichelt (8.5 tackles for loss). Offensively, DWU has had its most success on the ground via the running of Jamin Arend, who has rushed for 397 yards (6.0/carry) and two touchdowns. The best season under Head Coach Ross Cimpl came in 2015 when the Tigers went 9-2 overall and were ranked No. 15 in the NAIA postseason poll.