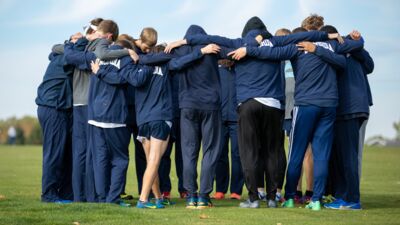 SEWARD, Neb. – For the fourth time in five years, Concordia University Cross Country will open a season at the Augustana Twilight. The 2022 meet will get started with the women's 5k race at 8:30 p.m. CT on Friday (Sept. 2). The men's four-mile run is scheduled to get underway at 9 p.m. Both races will take place at Yankton Trail Park in Sioux Falls, S.D., home to Augustana University. This will be the start of year seven of Matt Beisel's tenure as head coach of the Bulldogs.
Augustana Twilight – Friday, Sept. 2
Yankton Trail Park | Sioux Falls, S.D.
-8:30 p.m. – women's 5k
-9 p.m. – men's 4 mile
-Live Results
-Meet info page (includes course map)
At last year's Augie Twilight, Concordia placed eighth out of 27 teams on the women's side and 12th out of 31 teams on the men's side. Among returners, the top individual finishers for the Bulldogs were Rylee Haecker (19:46.71 / 63rd place of 329) for the women and Camden Sesna (20:44.53 / 35th place of 344). Haecker and Sesna are returning national qualifiers along with Calvin Rohde. This preseason, both the Concordia men and women received votes in the NAIA coaches' poll while being ranked within the top four of the conference poll.
A detailed preview of the 2022 season can be found HERE. Following the Augustana Twilight, the Bulldogs will look forward to the Greeno/Dirksen Invitational on Saturday, Sept. 17. The complete schedule can be viewed HERE.