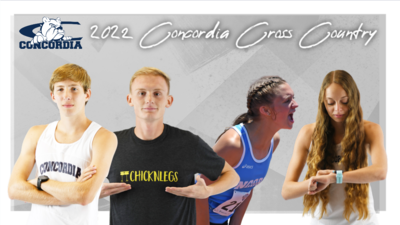 MEN
Head Coach: Matt Beisel (7th year)
2021 Finish: 4th in GPAC
Key Returners: Jack Ellis; Thomas Gorline; Charlie Hayden; Nathan Pennekamp; Calvin Rohde; Camden Sesna; Micah Willweber.
Key Newcomers: Aaron Jendro; Trevor Kuncl; Jimmy Nguyen; Hudson Opp.
Key Losses: Wyatt Lehr; Ethan Pankow; Sam Plante.
2021 All-GPAC: Camden Sesna (7th place); Calvin Rohde (10th place).
WOMEN
Head Coach: Matt Beisel (7th year)
2021 Finish: 5th in GPAC
Key Returners: Kylahn Freiberg; Rylee Haecker; Rhaya Kaschinske; Amie Martin; Katelyn Nix; Kaia Richmond; Courtney Wright.
Key Newcomers: Hannah Beintema; Keegan Beisel; Julie McIntyre; Sammi Vojslavek.
Key Losses: Keri Bauer; Abi DeLoach; Grace Reiman.
2021 All-GPAC: Rylee Haecker (7th place).
Outlook
The road to Tallahassee, Fla., site of the 2022 NAIA Cross Country Championships, is a long one that began back in December when the distance crew at Concordia University laid the groundwork for impressive indoor and outdoor track seasons. The Bulldogs last sent both their men's and women's teams to cross country nationals in 2009. This just might be the year that streak gets snapped as Head Coach Matt Beisel embarks on his seventh season leading the cross country and track programs. Both teams are receiving votes in the NAIA cross country preseason polls while being pegged inside the top four of the GPAC's preseason polls.
All three runners who represented Concordia at the 2021 national meet are back: Rylee Haecker on the women's side and Calvin Rohde and Camden Sesna on the men's side. They are the trusted student-athlete leaders for squads that reported to campus on Aug. 15. The early returns have Beisel beaming. Preseason training has included an encouraging 1,600-meter time trial.
Says Beisel, "I have confidence that we got some things figured out. From what everyone's telling me about their summer training, they're feeling good right now. I think we have a much better chance of getting it right when it counts the most. There are a lot of factors in play, but I'm really excited about what it's looking like right now."
Men's Breakdown
The Concordia men's team placed a solid fourth in the GPAC a year ago and landed in that exact same spot in the 2022 conference preseason coaches' poll. The return of national qualifiers Calvin Rohde and Camden Sesna is a big reason why the Bulldogs collected votes in the NAIA preseason poll. According to the early conference rankings, Concordia will be trying to chase down Dordt, Doane and Northwestern at the top of the GPAC pack.
Not only are proven standouts Rohde and Sesa (both top 10 finishes within the GPAC) back in the fold, the Bulldogs welcome back eight of the 10 runners who competed in the 2021 conference championships. The headlining veterans include the likes of Jack Ellis, Thomas Gorline, Charlie Hayden, Nathan Pennekamp and Micah Willweber. Ellis (40th) and Gorline (42nd) both placed inside the top 50 at last season's conference meet.
Said Beisel, "We're returning all of our impact players on the guys' side and this is arguably the strongest freshman men's class that I have brought in with state champions and state runners up at different levels in Nebraska and elsewhere. They've already shown they have what it takes. My men have never broken into the top three (of the GPAC) in six years. We are overdue, and they are so ready of it. I think that's something that's driving them in a real positive and healthy way. They know the capabilities there and there's a lot of positive optimism about what this season can be."
Concordia hopes to make a claim as a top two conference team, but it especially aspires to knock down the barrier that has kept it out of the top three. The Bulldogs last won the GPAC title in 2012 and now feel determined to make this the big breakthrough. Sesna would like for the whole team to join him at nationals.
Says the fourth-year star from Kearney, Neb., "I think we've got a team that can make it to nationals. That's the biggest goal. For Calvin and I last year it was enjoyable, but it didn't feel quite right only being the two of us there and not the full team. Our goal is to get the whole team to nationals. We have the potential for sure to do it."
Sesna noted that many of the team's competitors ran personal bests during the preseason time trials. Those performances came despite early training designed to help each athlete peak late in the season when the stakes are the highest. Sesna has taken a look around the GPAC and found that most of the competitors have endured more significant roster departures. He sees a team stocked with familiar faces that are combining nicely with the newcomers this preseason.
As for those newcomers, look out for Aaron Jendro, Trevor Kuncl, Jimmy Nguyen, Hudson Opp and others to make an impact. The competition for the 10 spots on the GPAC championship roster will be intense and will play out throughout the regular season.
"We didn't lose much at all," Sesna said. "We've only added to what we had. Last year's fourth-place finish wasn't disappointing, but we were definitely hoping to get second or third. Overall, last year was a great season with a lot of steps taken forward. This year I think it's going to be even better because I think we're going to have a big jump this year from what we've seen so far."
Women's Breakdown
The women's group has become accustomed to winning conference championships considering the women's track & field program has captured seven straight GPAC titles. In addition, current Bulldogs Kylahn Freiberg (maiden name Heritage) and Amie Martin are links back to the 2019 cross country squad that took first in the GPAC and placed 12th at the NAIA National Championships. Historically, this is one of the great programs in the NAIA.
The program's stature made last year's result fifth-place finish in the conference feel underwhelming. At one point in the middle of 2021, the Concordia women had vaulted all the way up to No. 11 in the national coaches' poll. In the offseason, Beisel went to work on tweaking a training plan that the team expects will have it peaking at an opportune time.
"I think they deserve getting some national votes," said Beisel of this preseason's poll. "We did lose a couple of key players, but we return so much depth. We also have some very talented freshmen and transfers who are going to make an immediate impact – that's abundantly clear. I feel like we are a top-two team in the GPAC – no guarantees. I'm cautiously optimistic and excited that the women are in a position to capitalize. I think they want it, and they have quite a bit more experience under their belt than they did this time last year."
A seventh-place individual cross country conference finisher and now a six-time track All-American, Rylee Haecker is the frontrunner for the Bulldogs, who were listed in a tie for third in the GPAC preseason poll. Haecker represents one of the 10 Concordia returners who ran at last year's conference meet. The aforementioned Freiberg was sidelined for most of the 2021 cross country season and is a definite X-factor. She placed as the conference runner up in 2019 and was not far off All-America honors that season. Haecker and Freiberg will be joined in the lineup by returners such as Rhaya Kaschinske, Martin, Katelyn Nix, Kaia Richmond, Courtney Wright and others. Kaschinske, Freiberg and Martin were bunched up tight in last year's GPAC meet, placing in the 29th through 31st spots.
Haecker, a Davenport, Neb., native, provides a strong example for each of her teammates. She's a gamer who placed third nationally in the 1,000 meters at the '22 NAIA indoor meet. Haecker and her teammates are trying to use last year's disappointment at the conference meet as a positive motivator for this fall. Says Haecker, "I think we learned to be patient. If those (rankings) come early, we know there's still a lot left that we can give. Just keep working hard and keep your mind focused on what we need to be focused on."
The veterans will attempt to allow such lessons to trickle down to freshmen like Hannah Beintema, Keegan Beisel and Sammi Vojslavek and transfer Julie McIntyre. Keegan is the daughter of Coach Beisel and helped Seward High School win a state championship. A native of Bettendorf, Iowa, Beintema appears poised to challenge for one of the top few spots in the lineup.
As a leader, Haecker contributes not only to the success on the trail, but also to the team's spiritual development. Says Haecker, "We have a Bible study for the cross country team and every day before practice we pray. It's something to help you re-center as far as why you do it. The success is a platform that He's given me to be able to give glory to His name, and I'm so thankful for that. I wouldn't be here without Him and His grace and strength. It's cool to see Him working through running and the abilities and gifts He's given me. Also with my teammates – just being alongside them and knowing that we're on the same journey of faith."
Final Thoughts
The 2022 season will get started on Friday, Sept. 2 with the Augustana Twilight at Yankton Trail Park in Sioux Falls, S.D. It will be the first of five meets that lead up to the GPAC Championships in Jamestown, N.D., on Nov. 5. While being asked about the possibility of running in North Dakota on Nov. 5 and then at the 2022 NAIA Cross Country National Championships in Tallahassee, Fla., on Nov. 18, Beisel, Haecker and Sesna each got a chuckle out of it.
Remarked Sesna, "There could be the potential for running a meet up in Jamestown, North Dakota, in November in like 10-to-20-degree weather and then going on to Florida two weeks later in like 80-degree weather. It'll be interesting to see how things come around towards the end of the season with how the weather is looking for conference and then hopefully getting down to Florida and running in the heat and humidity. It's definitely something to think about and something we'll be getting ready for once the end of the season comes around."
Coach Beisel provided the following additional thoughts heading into the 2022 campaign:
On the returning national qualifiers: "From a leadership perspective, they're all really strong, positive leaders on the team. Having the athleticism to back that up earns a lot of respect with team members and people look to them. I get asked all the time, 'Hey, what is Rylee doing that's helping her run so well?' They not only made it to nationals in cross country, they then had some of the most amazing performances of their lives in track. Rylee nearly broke several of our school records set by Kim Wood back in the day. We have a supporting group that's right there with them. They're all very healthy and running well."
On forming new team identities: "Every year we are reinventing our team family. We have 31 returners and 19 freshmen and transfers coming in. That's a third of our team. A big part of preseason week is for us to weave new relationships and really get people to know each other and feel comfortable. I feel like this was a superbly successful preseason. We got great training in. Our results of our 1,600-meter time trial, which is a small measurement of where they are, surprised and shocked a lot of them. We came up with a whole list of goals and expectations, but the three things we try to build into our program are competitive greatness, academic excellence and an amazing athlete, fan and alumni experience. These are all tied to the spiritual, faith-filled, Christ-centered experiences the kids have."
To view the complete 2022 Concordia Cross Country schedule, click HERE.