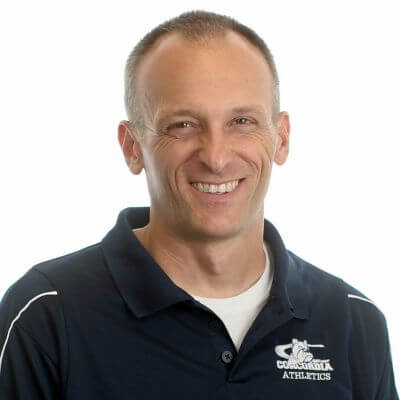 Alma Mater: Concordia University, Nebraska
Matt Beisel officially began his duties as head coach of the Concordia University cross country and track and field programs in June 2016. Beisel is a 1992 graduate of Concordia.
In seven seasons as head coach, Beisel has led his programs to considerable heights. Most recently, the Bulldog women's track program swept 2023 GPAC indoor and outdoor titles and placed sixth in the NAIA at the 2023 indoor national championships behind pole vault national champion Josie Puelz. Beisel is now a 10-time GPAC Coach of the Year (nine times for track and once for cross country) and an eight-time NAIA Midwest Region Women's Track & Field Coach of the Year (as selected by the USTFCCCA). The women's track and field program has won nine-straight GPAC titles while the 2019 women's cross country team broke through with a conference title and 12th-place national claim. Meanwhile, the Concordia men also placed as the 2019 GPAC indoor runners up. Other recent accomplishments on the men's side have included national place finishes of ninth at the 2019 NAIA indoor championships and 12th at the 2021 NAIA indoor championships. Beisel has led the track programs to a combined 14 NAIA top-10 national team finishes.
In his first season leading the track and field programs, Beisel helped guide the Bulldogs to men's national finishes of second for indoor and fifth for outdoor. Meanwhile, the Concordia women turned in national finishes of seventh for indoor and sixth for outdoor. Concordia athletes produced a total of 29 All-America awards, six national titles and 19 GPAC event championships in 2017. The All-America count rose to 37 in 2019 as both programs took a step forward (12 All-Americans at the 2020 indoor meet). From 2019 outdoor through 2022 outdoor, the women's program placed in the NAIA top five at six-consecutive national meets. Adrianna Rodencal swept GPAC indoor and outdor Athlete of the Year awards in 2023. Beisel also coached Emily Sievert to national championships appearances in cross country in 2016 and 2017. Then in 2021, Rylee Haecker, Calvin Rohde and Camden Sesna qualified for cross country nationals. Another distance performer, Taylor Grove won the GPAC 10,000 meter (2018) and 3,000 meter (2019) titles and qualified for nationals in the marathon in 2017, 2018 and 2019. In 2022, the men's cross country team placed second in the GPAC while the women earned an at-large bid to the national meet.
Beisel, who spent six years (2008 – 2013) as head track and field coach at Concordia University-Chicago (CUC), where he also served four years as assistant cross country coach, possesses 23 years of coaching experience. He shifted back to the collegiate ranks after having been the head track and field and cross country coach as well as a science teacher at Valley Lutheran High School in Phoenix, Ariz., from 2014 until moving back to Seward in 2016.
A former all-district runner and national qualifier as a Bulldog, Beisel represents an ideal fit at Concordia. In each of his previous coaching stops he built Christ-centered programs that improved tremendously under his guidance. Beisel inherited an NCAA Division III CUC track program of just 12 athletes. That number grew to 65 (largest roster in school history) by the end of his tenure. The three-time Northern Athletics Conference (NAC) Coach of the Year guided the Cougar women to league titles in 2010 and 2012 and a runner-up finish at the 2012 outdoor conference meet. He coached 56 conference champions at CUC.
While at CUC, Beisel helped develop Antwon James into an All-American long jumper. As head coach of the Cougars, Beisel worked specifically with sprinters and relays groups and as high jump coach. He's spent many years avidly studying and coaching speed and power development of athletes, as well as mechanics.
Prior to his time at CUC, Beisel won three cross country state championships as head coach from 2000 – 2007 at Lutheran High School in Little Rock, Ark. His boys and girls teams swept Arkansas cross country state titles in 2003. Beisel's Lutheran High cross country and track programs recorded a total of seven top-five state championships finishes.
Everywhere he's been, Beisel has increased participation in cross country and track. At his most recent position at Valley Lutheran, he more than doubled the boys and girls numbers in two years. In his first season leading girls cross country in Phoenix, Beisel took the team to its first-ever state championships appearance in 2014. It then placed 10th in the state in 2015.
Beisel graduated from Concordia with a B.S. in Education. He went on to earn his M.S. in Science Education from the University of Iowa in 1997. Matt and his wife Jill have a daughter, Keegan, and son, Jonah.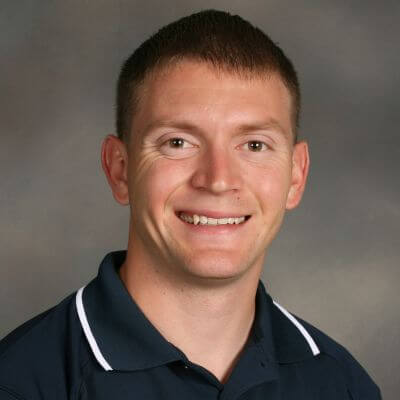 Hometown: Littleton, Colo.
Alma Mater: Concordia University, Nebraska
Mark Samuels completed his 15th season as an assistant coach for the Concordia University track and field and cross country programs in 2021-22. Samuels works primarily with sprints, hurdles, middle distance and relays. He has helped the Bulldogs win team national titles in 2015 (men's outdoor) and 2016 (women's outdoor) and to a combined 13 GPAC team championships. He also works with the cross country teams.
During his tenure, Samuels has worked with numerous GPAC champions, All-Americans and national champions. Some of the latest examples include multi-event GPAC champions Lucas Wiechman (2017) and Cody Williams (2018, 2019, 2021). Wiechman earned GPAC Performer of the Year for both indoor and outdoor in 2017. Williams did the same at the 2019 GPAC outdoor championships. In addition, Samuels helped tutor Jessica Deterding (pentathlon, heptathlon) and the women's 4x400 meter relays to school records in 2019. Then in 2020, Samuels aided in sophomore Rachel Battershell becoming the GPAC Female Athlete of the Year and the 400 meter national champion. Battershell repeated as national champion in the 400 at the 2021 NAIA indoor meet. New school records were turned in during the 2021 outdoor season by the women's 4x100 meter relay and by Emily Loy in the heptathlon. In thrilling moments at the 2022 NAIA outdoor national meet, the men's and women's 4x4's both reset program standards. Also noteworthy, standout freshman Jordan Koepke broke the GPAC meet record in the 400 hurdles and placed as the NAIA national runner up in the event.
Samuels has been on staff for an unprecedented run of success for a program that's roster has grown significantly in recent seasons. Since Samuels joined the staff, Concordia has posted 24 combined top 10 national team finishes and 43 total top 25 national team finishes, in addition to the two team national championships. The women's track program possesses active streaks of seven-straight GPAC titles and six-consecutive top five national meet claims.
Samuels competed at Concordia from 2001-04. He was a four-time NAIA All-American and a four-time GPAC Champion. Samuels was the 2002 National Runner-Up in the 400 meter dash at the Indoor National Meet. For his efforts, Samuels was named 2002 GPAC Indoor Men's Athlete-of-the-Year. He holds five school records including individual indoor records in the 200 meter dash and 400 meter dash. He was also a member of record setting 4x400 meter relay teams in both indoor and outdoor seasons (relay records have since been broken).
Mark resides in Seward with his wife Kari, daughter Jordyn, son Landon, daughter Aspen and son Owen. In his spare time, Mark enjoys fishing, cycling and running.