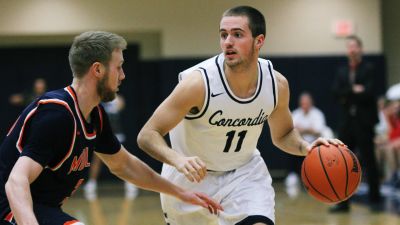 SEWARD, Neb. – The 17th annual Cattle Classic is set to tip off on Friday afternoon inside Walz Arena. The basketball classic features a total of four men's games and four women's games over the course of the two-day extravaganza. The event, co-sponsored by Concordia and The Cattle National Bank & Trust Co., raises money and food for the Blue Valley Community Action's Food Pantry. Pac N Save of Seward will match all canned food donations.
Fans are encouraged to bring canned goods in exchange for admission. Ten canned items will get an adult a weekend pass. Complete admission information for the Cattle Classic can be found HERE.
Friday, Nov. 4
Women: Doane University vs. Oklahoma Wesleyan University, 1 p.m.
Men: Midland University vs. Oklahoma Wesleyan University, 3 p.m.
Women: Concordia vs. Friends University (Kan.), 6 p.m.
Men: Concordia vs. Waldorf University (Iowa), 8 p.m.
Saturday, Nov. 5
Women: Doane University vs. Friends University, 10 a.m.
Men: Midland University vs. Waldorf University (Iowa), 12 p.m.
Women: Concordia vs. Oklahoma Wesleyan University, 3 p.m.
Men: Concordia vs. Oklahoma Wesleyan University, 5 p.m.
The Men's Field
Concordia University
Head coach: Ben Limback, 4th season at Concordia (spent nine seasons at Concordia-Ann Arbor)
2016-17 Record: 1-1
2015-16 Record: 18-12
Conference: Great Plains Athletic Conference
Location: Seward, Neb.
Top Player: Senior Chandler Folkerts has a chance to go down as one of the top players in the history of the program. A 2015-16 NAIA honorable mention All-America selection, the 6-foot-8 Milford native averaged 19.6 points and 8.5 rebounds last season as a junior. At Concordia's season-opening weekend stay in Denver, Colo., Folkerts totaled 30 points and 15 rebounds while going 9-for-17 from the field over the two games. On the program's all-time lists, Folkerts ranks seventh in blocked shots (100), eighth in points scored (1,427) and ninth in rebounds (633).
Overview: Concordia has improved its win total each season under fourth-year head coach Ben Limback, whose 2016-17 squad is breaking in three new starters to go along with Folkerts and sharpshooting senior guard Eli Ziegler. Chaminade University transfer Chris Johnstone and senior Seth Curran have joined Ziegler in the starting backcourt while 6-foot-5 junior Kyle Pierce has gotten the nod alongside Folkerts in the frontcourt. Concordia dug out of an 11-point hole in the second half on the way to a 73-66 victory over Dickinson State University (N.D.) in the season opener. The next day the Bulldogs came up just short in their efforts to rally back from deficits of 15 in the first half and 10 in the second half in the 82-81 loss to Johnson & Wales University (Colo.).
Midland University
Head coach: Oliver Drake, 2nd season at Midland (spent five seasons at Ashford University)
2016-17 Record: 0-0 (Ranked No. 21 in NAIA Division II preseason poll)
2015-16 Record: 16-14
Conference: Great Plains Athletic Conference
Location: Fremont, Neb.
Top Player: Midland's top player, at least in terms of returners, is 6-foot-7 senior forward Alex Starkel, who earned first team all-conference accolades in 2015-16. Starkel enters the season with 1,391 points and 577 rebounds in his career with the Warriors. Last season he averaged 15.5 points and 6.7 rebounds.
Overview: Last season's team finished only two games above .500 overall, but head coach Oliver Drake's program has generated buzz with the transfers he's brought to Fremont. Drake welcomes in both Diamontae McKinley and Damon Overton, both of whom played for Drake at Ashford University. McKinley averaged 15.0 points and was named an honorable mention All-American in 2014-15. Meanwhile, Overton piled up more than 1,000 points while at Ashford. Those additions coupled with the return of Starkel helped Midland earn a preseason national ranking of 21. The Warriors were picked second in the GPAC.
Oklahoma Wesleyan University
Head coach: Mark Molder, 3rd season
2016-17 Record: 1-1
2015-16 Record: 14-16
Conference: Kansas Collegiate Athletic Conference
Location: Bartlesville, Okla.
Top Player: The lone Oklahoma Wesleyan representative on the KCAC's preseason men's basketball team was 5-foot-10 sophomore guard Breiman Alexander, who averaged 14.8 points last season as a freshman for the Eagles. So far this season he's totaled 24 points over two games but has made only 7-of-25 (.280) shots from the floor.
Overview: A perennially strong program, Oklahoma Wesleyan has endured two-straight losing seasons since a 25-10 campaign in 2013-14. That particular team was upset by Concordia in a November matchup before catching fire and reaching the national tournament. The Eagles may be back on the upswing. They were picked by league coaches to finish fourth in the 12-team KCAC. Head coach Mark Molder's squad opened the season last weekend by splitting a pair of games. It beat Ecclesia, 90-67, before falling to College of the Ozarks (Mo.), 69-51.
Waldorf University
Head coach: Nigel Jenkins, 6th season
2016-17 Record: 0-1
2015-16 Record: 16-14
Conference: North Star Athletic Association
Location: Forest City, Iowa
Top Player: Atlanta native June Prowell is the team's leading returner scorer. The 6-foot-2 senior point guard averaged 15.7 points, 5.0 rebounds and 3.9 assists while filling the stat sheet last season. Prowell struggled in the team's season-opening game, going 2-for-11 from the floor in a blowout loss to 25th-ranked Dakota Wesleyan. Prowell came to Waldorf prior to last season as a transfer from Southern Crescent Technical College (Ga.).
Overview: Under sixth-year head coach Nigel Jenkins, the Warriors were pegged sixth in the North Star Athletic Association's preseason coaches' poll. They placed seventh in the nine-team league a year ago. Waldorf is moving on without Erik Brewer, who racked up 1,803 points during his four years in Forest City, Iowa. Last season the Warriors enjoyed some success against GPAC teams, defeating Dakota Wesleyan, Morningside and Mount Marty. In the 2016-17 season opener in Mitchell, S.D., Waldorf fell by a 93-64 score to Dakota Wesleyan.