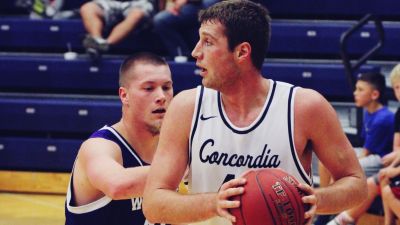 SEWARD, Neb. – The full skillset of senior Chandler Folkerts was on display in the final Cattle Classic game of the day on Friday. The All-American stuffed the stat sheet while leading a 83-76 bounce back victory over visiting Waldorf University in the home debut for the 2016-17 Concordia University men's basketball squad.
Fourth-year head coach Ben Limback's bunch withstood a late charge from the Warriors while running its season record to 2-1.
"I thought Chandler did some good things in the post. Obviously he had 28 points, but the passing out of the post as well," Limback said. "We've just got to have consistency as a team. We had some big flashes. I thought Clay Reimers did some nice things. We just have to have the consistency."
Already one of the most prolific scorers and rebounders in program history, Folkerts went for 28 points, 11 rebounds, three blocks and even sprayed around five assists, often finding shooters like Eli Ziegler and Chris Johnstone for open looks. With Folkerts pounding away inside, the Bulldogs never trailed and built up an advantage as large as 17 points.
But the Warriors (0-2) never went away and made it tense in the final couple of minutes. Following a Concordia turnover, a trey fired by Shay Motter rimmed out with 25 seconds left. Had it gone in, Waldorf would have trailed just 81-77. Instead, Tanner Shuck came up with another critical rebound that helped put the game away. Shuck followed by knocking home a pair of free throws. The freshman from Grand Island, Neb., also got in offensive board and put back in the last minute-and-a-half in what was another clutch play.
"It's fun when things roll on offense," Folkerts said. "When that happens we go inside-out and we're able to get buckets inside and kick out for three. When we're playing well, it's so much fun with these guys."
A 7-0 run that began with Ziegler's trey to beat the first half buzzer and ended with two Folkerts buckets in the second half put Concordia up by 17. Methodical spurts by the Warriors helped them crawl back within seven points on three occasions.
Ziegler piled up 17 points to compliment Folkerts. He went 4-for-8 from long range. Ziegler chipped in four rebounds as Concordia owned a 48-37 advantage on the glass. Shuck and Seth Curran added six boards apiece. Shuck made his first career start and totaled seven points on 2-for-3 shooting from the floor.
Freshman Clay Reimers helped keep Waldorf at arm's length when he poked the ball loose and threw down a two-handed slam in transition. He was one of four freshmen Bulldogs to see action.
June Prowell helped keep the game snug by going for 26 points on 10-for-23 shooting to top the Warriors. Michael Morgan added 16 points.
The 17th annual Cattle Classic continues on Saturday when the Bulldogs host Oklahoma Wesleyan (1-2) at 5 p.m. CT. In the first men's game of Friday's Cattle Classic action, the Eagles were upended by No. 21 Midland, 72-66. All four of Saturday's Cattle Classic contests can be seen on the Concordia Sports Network. For additional information on the Cattle Classic, click HERE.