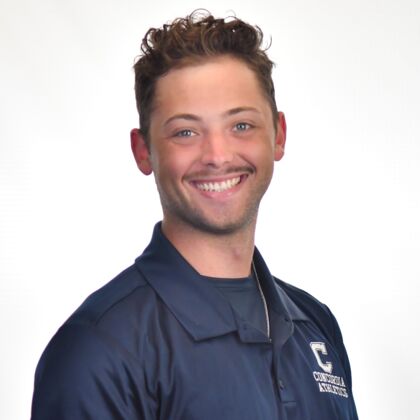 2023: Junior
Made 11 appearances with eight starts on the mound ... posted a 4-0 record and 4.79 ERA in 35.2 innings ... allowed 24 runs (19 earned) on 44 hits and 10 walks while striking out 35 ... threw six shutout innings with four hits allowed (eight strikeouts) versus Dordt on April 7 ... surrendered just one earned run in a seven-inning complete game versus Grand View on March 6.
2022: Sophomore
Equaled a team high with 14 starts on the mound ... posted an 8-3 record and 4.93 ERA in 69.1 innings ... conceded 48 runs (38 earned) on 75 hits and 25 walks ... collected 73 strikeouts and allowed opposing batters to hit .277 ... fired seven innings with no earned runs allowed (three hits) in the win over Cornerstone on March 5 ... racked up 10 strikeouts in two separate starts (wins over Calumet College of St. Joseph and Dordt) ... earned the win with a 6.2 inning outing versus Tabor at the national tournament.
2021: Freshman
Appeared in nine games, making one start ... went 2-1 with a 2.49 ERA while logging 25.1 innings ... struck out 20 hitters and limited opponents to a .232 batting average.
High School
Prepped at Samuel V. Champion High School ... coached by Chuck Foster … lettered two years and started one year for the Chargers … led them to a 35-7 record and a state quarterfinal finish in 2019.
Personal
Born in Las Angeles, Calif. on March 31, 2002 … son of Aaron and Jennifer Bugarske… has two siblings: Layne and Asher.