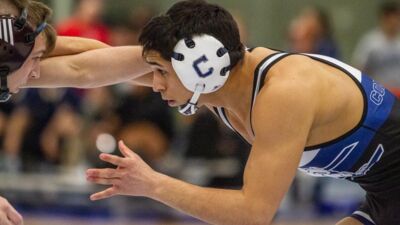 2021-22 GPAC Wrestling All-Conference Team

SEWARD, Neb. – A trio of Bulldogs represented Concordia University Wrestling with 2021-22 all-conference accolades, as announced by the GPAC on Wednesday (Feb. 23). Both Mario Ybarra and Jacob Telles landed on the All-GPAC Second Team while Issiah Burks garnered honorable mention recognition. A total of 34 wrestlers throughout the GPAC received all-conference mention.

A native of Scottsbluff, Neb., Ybarra has been tabbed with an All-GPAC award for the fourth time in his career. He earned first team accolades in 2020 and has twice been named Honorable Mention All-GPAC, in addition to this season's second team honor. At last week's conference tournament, Ybarra placed second at 133 pounds and locked up his third-straight national tournament bid. One of the program's most accomplished wrestlers, Ybarra collected a seventh-place All-America plaque in 2021, won the 2020 GPAC title at 125 pounds and ranks No. 4 on the school's all-time wins list with 75. Ybarra has also been recognized as CoSIDA Academic All-District recipient and NCWCA Scholar All-American.

The 2021 GPAC heavyweight champion, Telles has now garnered one first team and one second team all-conference award in his first two collegiate seasons. The native of Albuquerque, N.M., placed third in GPAC heavyweight bracket at last week's conference tournament and was chosen as a national qualifier for the second year in a row. Through two seasons as a Bulldog, Telles has piled up 53 wins and 22 pins. In 2021-22, Telles (20-7) leads the team in wins and owns a record of 9-2 in duals.

The veteran Burks is a three-time GPAC tournament place finisher. The native of Hemet, Calif., placed fourth in the GPAC at 165 pounds last week and finished this season with a 12-11 overall record. Throughout his career, Burks has accumulated 55 career wins. In 2020-21, Burks went 23-10 and notched 12 pins.

Ybarra and Telles were officially named national qualifiers by the NAIA on Tuesday. For more details on next week's NAIA Wrestling National Championships, click HERE.