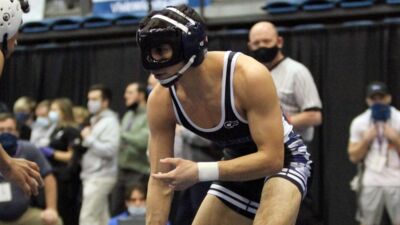 PARK CITY, Kan. – Junior Mario Ybarra already had secured an All-America finish thanks to the work he put it on Friday at the 2021 NAIA Wrestling National Championships (March 5-6). On the second and final day of the national tournament, Ybarra wrapped up the season with a victory in his final match while locking up seventh place at 133 pounds. The Concordia University Wrestling program qualified three competitors for the national event staged inside Hartman Arena in Park City, Kan.
Levi Calhoun has coached four All-Americans during his three years as head coach of the program. As the latest All-American, Ybarra generated the entirety of the Bulldogs' 6.5 team points (team place finish of 35th).
Said Calhoun, "I'm extremely proud of what Mario was able to accomplish. Coming back from the injury he had and becoming an All-American is absolutely incredible. He has worked hard since the day he arrived at Concordia and his success is not a surprise to anyone who knows him. I'm excited for his future as a Bulldog."
A native of Scottsbluff, Neb., Ybarra fell one win short of an All-America award in 2020. This time around, he ensured his place on the podium with a pair of victories on Friday. Ybarra entered day two with a shot at placing as high as third in the bracket. However, he was dealt a 5-2 loss by Alex Pena of Wayland Baptist University (Texas) on Saturday morning.
In the seventh-place bout, the sixth-seeded Ybarra (15-3) drew fourth-seeded Nick Kunz of Montana State University-Northern. Kunz won the 2020 national title at 125 pounds. Ybarra earned a signature win by defeating Kunz in sudden victory, 3-1. The tournament run for Ybarra also featured a triumph over 11th-seeded CJ Shadinger of Reinhardt University (Ga.). The 2020 125-pound GPAC champion had not wrestled since December before jumping into the national tournament. Ybarra wore specialized head gear to protect a surgically repaired broken nose.
In day one action, senior Gabe Crawford (165) and Jacob Telles (285) both went 0-2 and were eliminated from their respective brackets. Crawford won the GPAC title at 157 pounds in 2020 while Telles captured the GPAC heavyweight championship this season.
Ybarra's 2021 All-America award extended the program's streak of consecutive years with at least one All-American to eight. The program's all-time All-America list is included below. Ybarra becomes the 12th different Bulldog to reach the podium. The program history dates from 1962-78 and from 2009-present.
Concordia All-Time All-Americans
Ken Burkhardt Jr. (2015, 2016, 2017)
Giovanni Castillo (2018)
Kodie Cole (2015, 2016)
Tanner Farmer (2020)
Ceron Francisco (2015, 2017)
Alberto Garcia (2019, 2020)
Adam Joseph (2012)
Austin Mogg (2014)
Andrew Schulte (2015, *2016)
Julian Silva (2012)
Jacob Williams (2012)
Mario Ybarra (2021)
*NAIA National Champion