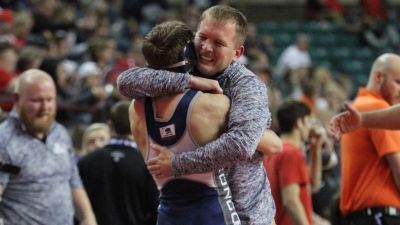 As Andrew Schulte battled for a national championship under the bright lights of the Kansas Expocentre, ESPN3 commentator Jason Bryant sang the praises of the Concordia University wrestling program. Said Bryant, "(Head coach Dana Vote) has done an absolutely amazing job building the community with this school and the wrestling program. He's got the president and everybody involved in this wrestling program. He's doing a phenomenal job building fan support."
Just minutes later Bryant called the first individual national title in Bulldog wrestling history. It was a historic moment in time for a program that continued its ascent during the 2015-16 campaign. Vote's fourth year as head coach brought GPAC dual and tournament championships and an eighth-place national finish, the highest in program annals.
"I think overall it was a successful season," Vote said. "As we look at it as coaches and individuals on this team, we had higher expectations than how we finished. I wouldn't say we had a great national tournament. We had some good performances, but it left us hungry and wanting more. We turned over a stone this year and opened the door to bigger things. We got a taste of what we want. Guys are excited about next season."
The apex of the 2015-16 season, without a doubt, was Schulte's performance that led him to the top of the podium. Schulte enjoyed the best finishing run ever by a Concordia wrestler. He won each of his final 26 matches, including five at the national championships, and did not relinquish a single takedown after shifting back to his customary weight of 141 pounds. Along the way, he broke the program record for wins in a season with 40.
Schulte had already been an All-American and was named the GPAC wrestler of the year prior to the 2016 national tournament. But none of those things will can rival the significance of what occurred on March 5.
"For me it was a moment of pure understanding," Schulte said. "It made sense to me why I sacrificed and trained so many hours of hard work for a moment of being No. 1. That was special to me. I feel it's been a long time coming for someone like myself. I got emotional. It was an unspeakable amount of joy. I would say it again. I can't put into words how much joy I felt."
From a team perspective, the Bulldogs again flexed their muscles inside the conference. They breezed through conference dual action while extending their GPAC win streak to 14. During that stretch, Concordia has outscored opponents by a combined total of 482-123 while triumphing in 107 of 140 individual bouts. At this year's NAIA North Qualifier, made up solely of GPAC teams, the Bulldogs piled up 169 team points to runner-up Morningside's 115.5.
Schulte and three others – Matt Atwood (184), Ceron Francisco (285) and Jr Lule (149) – captured individual North titles and two others reached the finals. Concordia is the clear top dog in the GPAC.
"It's huge. That's one thing that's big to the wrestling program and I think it's big to the university," Vote said. "Being dominant in the conference means a lot to us. It's right up there with performing high at a national level. To be able to go into the conference tournament and win by 50-60 points the last couple years has meant a lot to the kids, coaches and administration as well. We want to continue to build upon that. We can separate ourselves even more."
While Atwood, Francisco and Lule fell short of their hopes of reaching the stand at the national tournament, juniors Ken Burkhardt Jr. and Kodie Cole joined Schulte as repeat All-Americans. Burkhardt Jr. moved up from eighth in 2015 to seventh in 2016 at 197 pounds. Meanwhile, Cole jumped from eighth in 2015 to fifth in 2016 at 133 pounds. Burkhardt Jr. has quietly piled up 86 victories over three seasons as a Bulldog.
Cole's performance was a feel-good story following an up-and-down season. Cole owned a record of 11-9 before going a combined 6-3 at the regional and national tournaments.
"I love the kid to death. He's a great kid," Vote said of Cole. "He had some struggles this year with weight cutting and some different things. We butted heads at times, but things came together and he worked hard. He started believing in the coaches and the system. We got down to the end of the year and he wanted it bad. He had a goal and he fought with every ounce he had. He did a great job. He performed at a high level at the national tournament."
Lule dominated in much the same way that Schulte did for the majority of the season. Lule won 13-straight matches until consecutive losses ended his season at the national championships. During the win streak, Lule wiped out eight opponents by technical fall. He finished 35-9 overall with 14 victories via technical fall.
Arguably the team's biggest breakout performer, Atwood, a senior who transferred from Bethany College, posted an overall record of 25-7 and picked up a national tournament victory with a pin. Atwood was one of eight Bulldogs to reach the 20-win mark.
Atwood and Lule will depart after exhausting their eligibility, but Vote has positioned his program to take another step up as it has every year under the Buena Vista University graduate. Vote says that everyone inside the room is already well aware of what the next step means.
"I think it's pretty clear cut what the next step is," Vote said. "We want hardware at the national tournament. We want to bring a team trophy home and put as many guys in the national finals as we can. It's out in the open now. The guys know what the expectations are. Next year is our year we want a trophy at the national tournament."