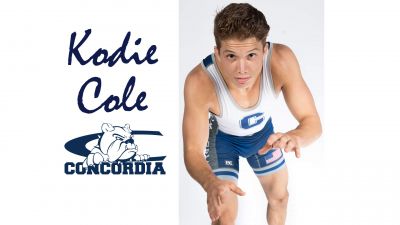 The Oct. 19 unveiling of the NAIA preseason wrestling national rankings came with at least one surprise. Concordia senior Kodie Cole appeared atop the ratings for the 133-pound weight class. This is the same young man who at one time didn't want to go to college. It's also the same Bulldog who struggled early last season. He was 5-6 after his first 11 matches.
He turned it in on a big way, eventually claiming All-America honors for the second year in a row. He's helped put Concordia wrestling on the map. Four years ago he would have had no idea.
"I was a little hesitant at first to make the big move. To be honest, I didn't really know where Nebraska was on the map," Cole said. "A lot of different things influenced me to come here. For one, I didn't grow up with the best opportunities so when one came up like this, I knew I had to make the best of it."
More mature. Wiser. More academically focused. Cole has come a long way in a short time. He's never won more than 18 matches in a single season, but he always seems to hit his stride at just the right time, as his All-America plaques and three national tournament trips would attest. Now he's got a target on his back as a No. 1-ranked wrestler.
Cole has embraced it and he's putting more time in the room than ever before to try to back it up.
"I feel like it puts a bigger bulls eye on my back," Cole said. "That's just going to make me want to work that much harder because everybody's coming for it. It's something I've been dreaming of. I'm finally in a place where I can make dreams reality. I'm really determined to do everything right."
Cole is one of several Bulldogs that regularly get out of bed early to work out with new head coach Andrew Nicola, who has been immediately impressed with the native of Palmdale, Calif. Says Nicola, "Kodie's ranked No. 1 in the country for a reason. That kid is a workhorse."
Cole's ability is undeniable. Even during times when he wasn't getting the results he wanted or was limited by injury, Cole drew the attention of opposing coaches. He had only mild success on the mat last season – until the most important tournaments came about. Elite competition has a way of bringing out the best in Cole.
All he did was take second place at the NAIA North Qualifier and then fifth place at the national championships. Those were the types of performances former head coach Dana Vote expected from Cole. Sometimes the two squabbled, but Vote's wild celebration after Cole clinched All-America honors stood out as one of the lasting images of the 2016 national championships.
"I love the kid to death. He's a great kid," Vote said of Cole following the 2015-16 season. "He had some struggles this year with weight cutting and some different things. We butted heads at times, but things came together and he worked hard. He started believing in the coaches and the system. We got down to the end of the year and he wanted it bad. He had a goal and he fought with every ounce he had. He did a great job. He performed at a high level at the national tournament."
As a youngster, Cole played Pop Warner football. Wrestling had no part in his life until the head football coach at Highland High School told Cole he was "too small" to see any playing time at the varsity level. But the freshman football coach also served as head wrestling coach and saw potential in Cole, who was convinced to make a switch.
This was a watershed moment in the life of Cole, an impressionable young man who admits, "I might have a little different story than others." At just three months of age, Cole was adopted by his grandparents. It's been a unique situation for Cole, who does know his parents. He doesn't see his dad. He also rarely interacts with his siblings. On the other hand, he has visits with his mom "every so often."
"Growing up wasn't bad. It was just different," Cole said. "A lot of people didn't really understand. Through all of that I learned to make the most of what was given to me and to be thankful for that. Not everybody gets the same opportunities that have come my way. It could be a lot worse.
"I'm beyond blessed to have ended up where I am. It's the people who have raised me that have put this head on my shoulders. They showed me right from wrong and taught me many, many things."
Those lessons helped Cole develop a work ethic that has served him well as a wrestler. The Californian fell in love with the sport. While other friends were hanging out on weekends, Cole was grappling at tournaments. It became more and more apparent that he had the ability to wrestle at the collegiate level.
Cole just didn't know for sure if that was what he wanted. The student part of student-athlete was not exactly Cole's favorite aspect of life.
"My senior year didn't end the way I would have liked it to go," Cole said. "I started to fall off all together. I wanted to just work. I didn't really want to go to school anymore. But I kept up with the wrestling world a little bit."
Vote first saw teammates of Cole's at a tournament in Virginia Beach. They raved about Cole, who couldn't afford to be at the tournament. Vote got in touch and mutual interest developed quickly.
Now here Cole is with a target on his back as the top-ranked 133-pound wrestler in the NAIA. Never before has he been in a better spot both physically and mentally. He enjoys seeing his name on the left side of the honor board that hangs inside the Concordia wrestling room. He's proud of being an All-American, but he insists that he also wants to be listed on the right side of the board, which displays academic award winners.
"This is my senior year. This is it," Cole said. "I want to be the best person in all aspects of who I can be. I had never really been big into school. I've never been an academic All-American and I was only a couple points off last year. I want to be on both sides of that board. I don't feel like I'm doing my part because I'm not. That drives me – and so does this whole No. 1 thing."