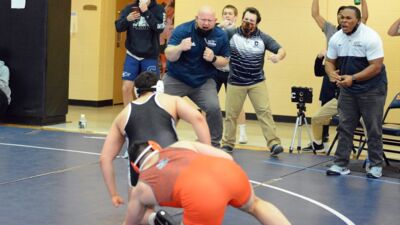 FREMONT, Neb. – It's been a storybook freshman season for Jacob Telles, who ended the long weekend in Fremont, Neb., with a GPAC title to his credit. Telles pulled the upset in the finals of the heavyweight bracket while highlighting the efforts of 11 competitors who represented the Concordia University Wrestling program at the GPAC Championships on Friday and Saturday (Feb. 19-20). Telles was one of five Bulldogs to earn place finishes.
Third-year Head Coach Levi Calhoun's squad finished in sixth place at the GPAC tournament with 70 team points. Concordia could have very realistically placed in the top four of the conference if not for having to hold out its highest-rated wrestler, Mario Ybarra.
"It was a roller coaster," Calhoun said. "I'm elated for some of our guys and I'm heartbroken for others that their seasons ended today. It's never easy. Overall it's been a crazy year. I told the guys this right after the tournament – I was so proud to be their coach and to be with them that everything I've been through. To come back and be with them and watch them put the effort in that they have has been pretty awesome."
Telles is continuing the tradition of big-time heavyweights at a Concordia program that has had two recent national finalists at 285 (Tanner Farmer and Ceron Francisco). By the time the dust settled on Saturday, Telles and teammates Gabe Crawford (165) and Ybarra (133) had earned bids to the NAIA national tournament. Telles and Crawford were automatic qualifiers while Ybarra was selected by coaches as an at-large qualifier.
The roadblocks Telles faced included Doane's Sameul Peterson, Briar Cliff's Matthew Wilke and Doane's Brandon Antesberger. Telles defeated Peterson, 5-0, and then Wilke, 5-1. That set up a clash with Antesberger, who is ranked 10th in the NAIA. One takedown was enough in a 3-1 squeaker over an opponent that had beaten him at the GPAC Duals. That victory marked No. 33 in an astonishing rookie season for Telles.
"We had high expectations for him," Calhoun said. "We knew when we were recruiting him that he could be very good, but he's obviously exceeded expectations as a true freshman – 30-plus wins and a GPAC championship. Beating a couple guys who had beat him earlier in the year was impressive. He works so hard, and we're just excited to see what he does on the national stage in a couple weeks."
A 2020 GPAC titlist at 157, Crawford seemed to wrestle angry after he was beaten by decision in his first match of the tournament. His next three matches went – pin, technical fall and pin. Crawford then avenged his only loss of the weekend with a victory over Dakota Wesleyan's Marcus Urban. Crawford rallied on the back side and was credited with true second.
Additional Bulldog place finishes were turned in by Brandon Gonzalez (fifth at 149), Issiah Burks (sixth at 157) and Mason Garcia (fifth at 197). A junior captain, Burks advanced to the semifinals of his bracket before hitting a wall. He lost his next two matches and settled for sixth as part of an overall stellar season. Meanwhile, Garcia notched all three of his victories at the tournament by pin. He ended his weekend with a fall over Midland's Kolton Kammeyer in the fifth-place match.
Seven Concordia individuals contributed to the team scoring, including Jose Sanchez (157) and Oscar Ramirez-Garcia (184). TJ Huber joined Ybarra as another starter who was unable to compete this weekend.
The field of national qualifiers will gear up for the 2021 NAIA Wrestling National Championships to be held at Hartman Arena in Park City, Kan., March 5-6. This marks the second year in a row that Hartman Arena has served as the national championship venue. One year ago, the Bulldogs placed 15th in the NAIA while Tanner Farmer and Alberto Garcia collected All-America honors.
Said Calhoun, "Anything can happen at the national tournament. We're going to train really hard the next couple weeks to get ready for it."