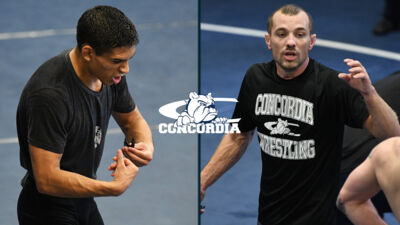 2020-21 Dual Record: 5-11 overall, 3-5 GPAC (T-5th); 6th at GPAC tournament
2021 NAIA National Championships finish: 35th
Head Coach: Myron Bradbury (1st year)
Returning National Qualifiers: 285 Jacob Telles; 133 Mario Ybarra.
Other Key Returners: 157 Issiah Burks; 174 TJ Huber; 197 Mason Garcia; 157 Jose Sanchez; 149 Jeaven Scdoris; 165 Tavoris Smith.
Key Loss: 165 Gabe Crawford.
2021 GPAC All-Conference: Jacob Telles (First Team); Mario Ybarra (Honorable Mention).
2021 NAIA All-American: 133 Mario Ybarra (7th).

Outlook
The Bulldogs return an All-American in Mario Ybarra and the reigning GPAC heavyweight champion in Jacob Telles as part of a roster that remains decidedly youthful heading into the 2021-22 season. The task of molding Concordia University Wrestling into a championship program once again has been handed to first-year Head Coach Myron Bradbury, who knows something about succeeding at the NAIA level. Over five seasons as a full-time assistant at Lindsey Wilson College (Ky.), Bradbury collaborated on NAIA top five national finishes each year (NAIA runner up twice).

The current Bulldog roster features 19 wrestlers who are in either their first or second years as collegiate competitors. Ybarra and Issiah Burks are the mainstays as regulars in the lineup throughout their careers that began with the 2018-19 season. They are playing a big role in the growth process this preseason.

Says Bradbury of his emphasis since arriving just after the start of the semester, "Fundamental skill development – that's kind of the No. 1 thing on my brain. We've got a young team and we've got a few old guys. The No. 1 thing on my brain is to get skill development going and let's learn the fundamentals and go from there. We have a lot of guys coming in every morning for extra work. That's been great to establish that. My No. 2 focus is we have to get in shape. We have to stretch our lungs and improve our breathing capacity."

Prior to Bradbury, Levi Calhoun filled the head coaching role for three seasons. Calhoun has transitioned to Assistant Athletic Director at Concordia while continuing to be involved with the program, which returns Tyree Cox as the lead assistant. The good news for Bradbury is that he won't be starting from scratch. The program celebrated GPAC titles in five out of six seasons from 2014 through 2020. In other words, a high standard has been set.

The Bulldogs have had at least one All-American in eight straight seasons but dipped last season with GPAC finishes of tied for fifth in the regular season and sixth in the postseason tournament. There were some obvious growing pains while the dual lineup often included five or more freshmen. Concordia's young talent also provides optimism that this winter could be different.

"We did struggle a little bit last year just with having a new team," Ybarra said. "It was probably one of our tougher seasons last year but a lot of the young guys we had last year have that year of experience. They know what to expect for this upcoming season. They can start helping out around the wrestling room and start guiding the incoming freshmen that we have this year. They have a lot of knowledge now and a lot more experience. They're ready to go and have a new mindset and outlook on the season. As far as our incoming freshmen, I'm excited to see what they do. They came in ready to go."

Ybarra is exactly the type of leader the Bulldogs need to lift up the underclassmen. The Scottsbluff, Neb., native won the 125-pound GPAC title in 2020 and then wrestled at 133 during a bit of a turbulent 2020-21 season. It didn't always go as planned for Ybarra, who was sidelined by injury for the GPAC tournament. Donning a protective mask, Ybarra made his way back for the national tournament and placed seventh for his first career All-America award. Not only a star on the mat, Ybarra has been honored academically by both the National Wrestling Coaches Association and College Sports Information Directors of America.

Bradbury has personally sparred with Ybarra in the wrestling room while getting an up-close look at a possible national title contender. Said Bradbury, "He's strong as nails. He really is the poster child. He works hard in the room. He gives extra effort. He has good grades. He does community service. He does everything right and is a very, very good face of the program. I think any coach would want 12 Marios. He really is the total package as a student-athlete."
A native of Albuquerque, N.M., Telles grabbed the biggest spotlight among last season's freshmen. He won an impressive 33 matches during a "COVID season." He also came through with an upset in the GPAC heavyweight championship match and qualified for nationals. He was the team's most consistently reliable performer all winter. Three other freshmen posted double-digit win totals last season: Mason Garcia (19-12 at 197), Jeaven Scdoris (19-18 at 141/149) and TJ Huber (16-18 at 174).

Not surprisingly, the team voted Burks (47 career wins) and Ybarra (62 career wins) as team captains. They are joined with captain status by Huber and Telles, creating a unique mix of veterans and underclassmen. Bradbury refers to them as an "extension of the coaching staff." Said Ybarra, "We all lead by our own ways and are strong in certain areas. Whatever we struggle in, we help pick each other up in those areas."

The only significant loss from the program, in terms of career accolades, is Gabe Crawford, the 157-pound GPAC champion in 2020 and a two-time national qualifier. Additional returners (not previously mentioned) who wrestled extensively last season include Cyrus Marshall (197), Jose Sanchez (157), Tavoris Smith (165) and Carter Willis (125). As for the newcomers, Bradbury would rather wait to see what happens in official matches before hyping anyone up.

According to Ybarra, the Bulldogs have hit the ground running this preseason, despite the change in head coaches. Said Ybarra, "He's our new head coach, but it doesn't feel like he's new. He's stepped into this program with good intentions and a good background. It's a different mindset but one that really brings the team together. Honestly, it doesn't feel like he's a new head coach. He came into this program and took the reins. Our team's buying into it and we're all along with it. We're flowing very smoothly for him just being here a couple months. It feels like he's been part of the program for a while. He instantly connected with us."

The overall talent level in the program seems to have been upgraded since last season. Whether Concordia is ready to move back near the top of the GPAC remains to be seen. It's possible freshmen could also play major roles on this year's team. Bradbury will put the focus on maximizing the ability of each individual and let the results fall where they may.

Said Bradbury, "If you have wrestlers that are doing their part to achieve high goals, you know that the team thing will take care of itself. What I told the team was that the goals are your own and expectations are your own. I have my own set of expectations, but it's all about the work you put in and your attitude and your effort. In a sport like wrestling, it's very apparent to see what a kid's goals are. You really shouldn't have to ask them. You can tell by the effort and the work you've put in. If their goals are to skate by, it will be very obvious. If their goals are to succeed, it will be very obvious."

The Bulldogs will officially begin the 2021-22 season on Oct. 30 at the York College Open. They will make their first home appearance on Nov. 11 when Hastings visits Friedrich Arena for a conference dual.