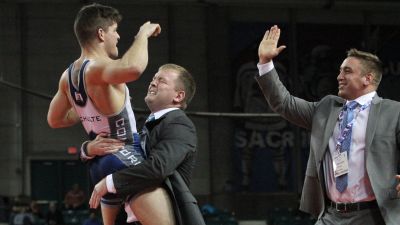 TOPEKA, Kan. – In his typical dominant fashion, junior Andrew Schulte made history on Saturday. Not only the first to reach the national finals, Schulte became the first Bulldog ever to win an individual wrestling national title. The 141-pounder took care of Ottawa University's 12th-ranked Tyler Hinton in 4:19 and then leapt into the waiting arms of head coach Dana Vote.
It was unchartered territory for Concordia wrestling. Standing atop the podium, an emotional Schulte fought back tears while he heard his name uttered in the same sentence as the words 'NAIA national champion.'
"It means everything to me," Schulte said. "It's been my life sacrifices. It all paid off. If I could relive the moment I would. I could just live in that moment forever."
Schulte's perfect 5-0 run through the 141-pound bracket boosted the Bulldogs to an eighth-place team finish, marking the highest in program history. Schulte was joined on the medal stand by fellow teammates and repeat All-Americans Ken Burkhardt Jr. (197) and Kodie Cole (133). Ten total Concordia national qualifiers combined for 54.5 team points at the 2016 championships.
Those accomplishments came on top of GPAC dual and tournament titles for the second-straight year under Vote, who has pumped life into Bulldog wrestling. Vote helped make a believer out of Schulte. Thus, the emotional embrace after Schulte's crowning achievement.
"It was an amazing feeling. I was so happy and so proud for him," Vote said. "He works so hard. He does all the right things. He put it together and it was unbelievable. It was a great experience as a coach and you just feel it for the kid."
Schulte's championship bout was a rematch of a tussle that occurred on Jan. 8. In that instance, Schulte toppled Hinton by major decision, 15-4, at the National Duals. Following an early review in Saturday's final, Schulte went on attack and built a 6-1 lead before wrangling Hinton's back to the mat. It was just the fifth pin of the season for Schulte, who extended his winning streak to 26.
Earlier in the day, Schulte battled third-ranked Tyler Fraley of Williams Baptist (Ark.) for nearly 10 minutes before ending the semifinal bout with a takedown. Schulte then jumped into the arms of Vote and pumped his right fist in salute to the Concordia cheering section. It was only the start of one monumental day.
Building upon last year's eighth-place finish, Cole put together a strong Saturday with wins in two of three bouts. The Palmdale, Calif., native's tournament concluded with an 11-3 win over eighth-ranked Vicente Hernandez of Simpson University (Calif.). Though there were struggles early in the season, Cole again found his groove at the national tournament.
"It means a lot to me," Cole said of reaching the podium for a second-straight year. "I put in a lot of work and a lot of hours in the wrestling room and in my academics as well. So it means a lot to me."
Burkhardt Jr., a three-time national qualifier just like Cole, also improved his position from the previous year. He claimed seventh place by winning his only match on Saturday with a pin of Doane's Chandler Knight. The native of Milford, Neb., brushed aside an early 2-0 deficit and took the lead before wiping away Knight in 4:38. In the process, Burkhardt Jr. recorded his 86th career win and 12th pin of the season.
The work of the three Bulldogs helped ease the disappointment of last year's final day at the national championships.
"We talked a lot about having a better day on Saturday this year," Vote said. "All three of our All-Americans won their last match. If you win your last match of the year you're probably putting yourself in a good situation. (Ken and Kodie) both did a great job."
But what the 2016 national championships will be best remembered for is Schulte's pin underneath the bright lights of the Kansas Expocentre in Topeka, Kan.
"There really are no words," Schulte said. "It's honestly an unspeakable amount of joy and glory."