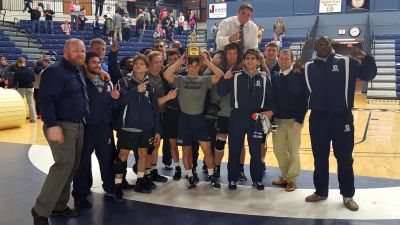 "Don't dwell on the results. Stay focused on the process." That's the company line continually regurgitated by members of the Concordia University wrestling program.
Case in point: upon learning he was chosen as the national wrestler of the week on Jan. 13, NAIA top-ranked 141-pounder Andrew Schulte essentially yawned. Said Schulte, "To be honest, I find it kind of distracting, only because I don't feel the need to celebrate anything yet."
It's that sort of attitude that has provided a foundation for the Bulldogs' reversal of fortunes in a short time under head coach Dana Vote. Last week Concordia celebrated its second-straight outright GPAC dual title with yet another dominant performance – a 32-7 win over Morningside, the program that used to rule the conference. The changing of the guard occurred on Jan. 22, 2015, when the Bulldogs ended the Mustangs' run of 31-straight conference dual wins.
Now Concordia is the one streaking. It's been 733 days since the Bulldogs last dropped a GPAC dual. During its active 14-match conference win streak, Concordia has outscored opponents by a combined total of 482-123 while triumphing in 107 of 140 individual bouts. Stars like Schulte and Jr Lule have made a habit of mocking their conference rivals.
Three years ago Concordia was fortunate just to claim a single GPAC dual victory.
"Coach told me when he first recruited me that everyone here had potential," said junior heavyweight Ceron Francisco. "It's amazing to see how far we've come. We have a lot of juniors on the team who were in Coach Vote's first recruiting class. We just love seeing how much we've evolved. Everything he told us is coming true."
The Bulldogs have become a conference and regional powerhouse, as well as a player on the national scene, thanks to stalwarts like the aforementioned Francisco, Lule and Schulte in addition to others such as Ken Burkhardt Jr. and Kodie Cole. The recruiting class that arrived for the fall of 2013 has formed the backbone of a program that is now collecting rent inside the NAIA's top 10 national rankings.
Then came the massively impactful junior college transfers in Lule and Schulte. An All-American in 2015, Schulte says he decided to come to Seward via Corona, Calif., because Vote believed in him. In his first opportunity as a head coach, Vote has excelled at galvanizing his team in acceptance of a blue-collar approach.
"It was about getting kids to buy in," Vote said following last week's win over Morningside. "I came in with a vision for the program with where we wanted to go. I went out and found kids and told them what our plan was. I told them if you buy in this is what's going to happen. It's a process. I don't think we're where I want to be yet, but we're building in that direction. It's good to see them buying in."
Where they're at is unprecedented for the program. Coming off the highest-ever national finish of 12th at last year's national championships, Concordia currently sits at No. 7 in the national coaches' poll – one spot away from another program best. Even the hard-to-satisfy Schulte can appreciate what it means to be part of the uphill climb to the top of the conference.
"It means a lot honestly," Schulte said. "To be a part of something like this, I'm grateful, period. That's it. I'm just grateful. I can't say enough. I'm really happy to be a part of this program."
GPAC dual titles are to be celebrated, but they are not the ultimate prize. Concordia will host the 2016 NAIA North National Qualifier on Saturday, and it plans to put on a good show.
"We're going to try to get this conference title tournament wise and we're looking forward to March," Francisco said. "We want to get all 12 guys to go and make some noise in Kansas (at the national championships)."
Added Vote, "I'm excited to have the tournament here. I think we're going to have a great crowd and a great atmosphere. We want to make it the best tournament we possibly can and send these seniors out on a high note. Jr Lule has been unbelievable in the conference this year – just dominating everybody. I want to see those guys have a good tournament and enjoy the process."
There's that word again – process. There's nothing exciting or flashy about it, but an intense focus upon it has Vote's program soaring.
In the immediate aftermath of a second-straight GPAC title, Schulte was ready to look forward. Cue the company line. "It's been fun," Schulte said. "I'm not going to think about the wins and losses right now. It's all about the process."