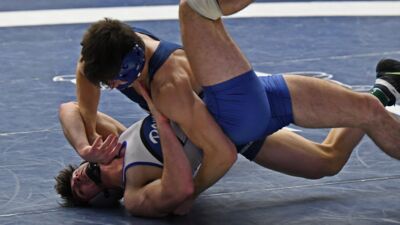 MITCHELL, S.D. – Four Bulldogs remain in the hunt for individual conference titles at the conclusion of day one of the 2022 GPAC Wrestling Championships. Twelve competitors represented Concordia University Wrestling in Mitchell, S.D., on Friday (Feb. 18). Nine Bulldogs continue to have life within their respective brackets, which will be played out to completion on Saturday on the Dakota Wesleyan campus.
Concordia sits in sixth place with 28 points. The top five after one day are Doane (70), Morningside (50), Hastings (44), Briar Cliff (38.5) and Northwestern (36.5). The Bulldogs will attempt to outperform last year's sixth place GPAC finish.
Both Mario Ybarra and Jacob Telles have previously won individual GPAC titles. Ybarra (133) and Telles (285) have made their way to the conference semifinals along with the likes of Issiah Burks (165) and TJ Huber (174). A 2021 All-American, Ybarra is on a mission to return to the national tournament for the third season in a row. In his only match on Friday, NAIA 15th-ranked Ybarra (12-2) claimed an 8-4 decision over Northwestern's Manuel Jaramillo. A 2020 GPAC champion at 125 pounds, Ybarra sat out last year's conference tournament due to injury.
At heavyweight, Telles is also aiming for a return to the national stage. The native of Albuquerque, N.M., is the fourth seed in the bracket after winning the GPAC title a year ago. Telles (18-6) took a 2-0 decision over Ian Howell of Jamestown in Friday's quarterfinal bout. He pushed his team high season win total to 18.
Seeded sixth in the GPAC at 165, Burks (11-9) pulled off the upset of the GPAC's No. 2 seed, Doane's Benjamin Dobler. Burks managed to pin Dobler after just 1:08 had elapsed. A senior from Hemet, Calif., Burks has aspirations of getting to nationals for the first time in his career. The same can be said for Huber (14-9), who picked up a 12-5 decision over Jamestown's Tryston Rogers. Huber has been on a nice roll with four-straight victories heading into Saturday.
The five additional Bulldogs who survived day one and will wrestle on Saturday on the backside of the brackets include Isaac Agabin (125), Conner Burrus (141), Tavoris Smith (157), Jose Sanchez (165) and Hunter Weimer (174). Weimer rebounded from a loss in his first match to earn a pair of victories by decision. In addition, Sanchez produced a win in the first round before being defeated in the quarterfinals. On the down side, Jeaven Scdoris (149), Anthony Perez (157) and Jovon Howe (184) have been eliminated from the tournament.
The action will resume at 10 a.m. CT on Saturday from the DWU/Avera Sports and Wellness Complex in Mitchell. For details on how to follow the action live, click HERE.