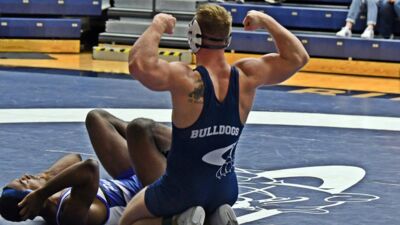 SEWARD, Neb. – The conference dual season continues this week as the Concordia University Wrestling team prepares to go on the road again. The Bulldogs will head to Hastings for a 7 p.m. CT dual on Thursday. The Bulldogs defeated Midland last week in their opening dual of the 2022-23 season while the Broncos have yet to compete in a dual. Head Coach Chase Clasen's first official week of competition also included the Dan Harris Open this past Sunday.
Concordia at Hastings
Thursday, Nov. 10 | 7 p.m. | Kiewit Gymnasium (Fremont, Neb.)
Webcast: https://portal.stretchinternet.com/hastings/index.htm
The first match in the dual at Midland on Nov. 1 was a good omen for what could be in store for this season. Freshman Grant Wells pinned Austin Pimentel in 3:36 while helping set a tone for the evening. Additional Bulldog wins came via Creighton Baughman (pin at 141), Jeaven Scdoris (decision at 149), Issiah Burks (major decision at 165), Jose Sanchez (decision at 174) and Stephen Duffy (pin at 184). The lineup for Concordia also included Thomas Ivey (133), Tommy Wentz (157), Garret Moser (197) and Jack Hedke (285). Wrestlers who made their Concordia debuts were Baughman, Moser, Wells and Wentz.
There are high expectations for Baughman, a two-time NJCAA All-American at Iowa Western Community College. Baughman went 40-11 overall in his two seasons with the Reivers and is currently ranked No. 2 in the GPAC and No. 12 in the NAIA in his 141-pound weight class. In the preseason, there were five other Bulldogs ranked at the conference level: Burks (fifth at 165), Sanchez (fourth at 174), Hunter Weimer (sixth at 174), Moser (sixth at 184) and Clayton Laabs (sixth at 197). Concordia lost its two national qualifiers from last season: Mario Ybarra (133) and Jacob Telles (285).
Hastings finished last season with a 10-6 overall dual record and went 4-4 in GPAC duals (fifth place). The Broncos also have a new head coach as Trey Heckadon has taken over the reins. Heckadon twice qualified for the NAIA national tournament in his wrestling career at Graceland University (Iowa). Hastings has three wrestlers ranked at the conference level. Foremost among them is Jake Patterson, who is rated No. 3 in the GPAC and No. 23 in the NAIA at 157. Hastings emerged from Seward with a 29-17 win last season. The Broncos return one national qualifier from the 2021-22 team in 141-pounder Edrich Nortje.
Concordia ranked GPAC wrestlers
141 – No. 2 Creighton Baughman (No. 12 in the NAIA)
165 – No. 5 Issiah Burks
174 – No. 4 Jose Sanchez
174 – No. 6 Hunter Weimer
184 – No. 6 Garret Moser
197 – No. 6 Clayton Laabs
Hastings ranked GPAC wrestlers
141 – No. 6 Kavika Aholelei
157 – No. 3 Jake Patterson (No. 23 in the NAIA)
197 – No. 3 Evan Morara
After Thursday's dual, Concordia will shift its attention to Saturday's Grand View University Open. The tournament is slated to get underway at 9 a.m. CT from Des Moines, Iowa.