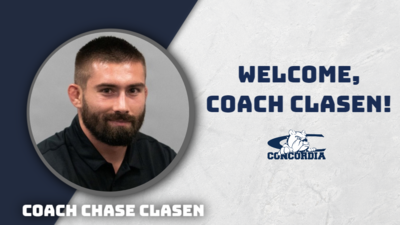 SEWARD, Neb. – A former All-American wrestler at an NCAA Division II school in Nebraska, Chase Clasen is set for a return to the state. As announced on Tuesday (April 19), Clasen has been named the Head Coach of Concordia University Wrestling. Clasen will arrive in Seward after most recently serving as the Interim Head Wrestling Coach at National Junior College Athletic Association (NJCAA) Member North Idaho College. His duties will officially begin on April 25.
A native of Moses Lake, Wash., Clasen will have his first opportunity as a head coach as he takes the reins of Bulldog Wrestling. Tyree Cox remains on staff as Assistant Wrestling Coach.
Said Clasen, "I'd like to thank God and Concordia University for this great opportunity. I have big goals for the program and envision Concordia University as a place where student-athletes can grow as young men, be positive role models in the community, earn a degree and achieve their wrestling goals."
Said Director of Athletics Devin Smith, "We quickly identified Coach Clasen as someone ready to thrive in a head coaching role. His time in Nebraska and experience in other areas of the country have given him a wide range of experiences that will suit him well as he begins to build upon the successes our wrestling program has achieved in the recent past. Coach Clasen represents the type of Christian character and core values we look for in coaching candidates. We are eager to work with Chase and to help bring stability to a wrestling program with great potential for future success on and off the mat."
Clasen spent the 2021-22 academic year at North Idaho College, where he was elevated to the interim head coach role prior to the start of the wrestling season. He led the Cardinals to an NJCAA National Championship finish of seventh place on the strength of six All-America performances. North Idaho also placed fourth at the 2022 NJCAA National Duals and finished as the West Conference runner up.
Prior to his time at North Idaho, Clasen served as graduate assistant coach at his alma mater, Chadron State College, in Chadron, Neb. As part of his position, Clasen filled an academic advising and student-athlete mentorship role. He helped develop five All-Americans for the Eagles.
As a student-athlete, Clasen excelled both on the mat and in the classroom. His collegiate career began at Iowa Western Community College where he earned an associate degree in Social Science. Clasen then made his mark at Chadron State as a 2020 NCAA Division II All-American and two-time national qualifier. He also was a conference champion and a two-time conference finalist at 149 pounds. Clasen was also recognized as Scholar All-American by the NWCA and landed on the dean's list.
Clasen earned his undergraduate degree in Interdisciplinary Studies/Academic Studies from Chadron State in 2020. He proceeded to complete his Master of Science in Organizational Management from Chadron State.