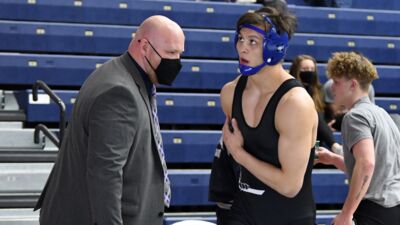 FREMONT, Neb. – Junior Issiah Burks and freshman Jacob Telles remain in the hunt for individual conference championships at the close of day one at the 2021 GPAC Wrestling Championships. The two-day (Feb. 19-20) conference tournament is being staged inside the Wikert Event Center in Fremont, Neb., by Midland. As a team, Concordia University Wrestling has compiled 33 points and resides in fifth place amongst the nine GPAC squads.
Head Coach Levi Calhoun's program captured the 2020 GPAC postseason title when it was held at Morningside. The Bulldogs will make the best of it this weekend while absent their highest-rated wrestler in junior Mario Ybarra (fourth in the NAIA at 133).
A native of Hemet, Calif., Burks (24-8) is on a mission to reach the national tournament for the first time in his career. He went 2-0 in the 157-pound bracket on Friday while claiming a win by decision over Dakota Wesleyan's Coby Eikenhorst and then a pin of Jamestown's Jacob Hamilton in the quarterfinals. Burks entered the GPAC tournament at 165 last season and placed fifth. Burks will draw Briar Cliff's Ben Peters in Saturday's semifinal clash.
Meanwhile, the heavyweight Telles (Albuquerque, N.M.) collected his 31st win of the season by knocking off Doane's Samuel Peterson, 5-0. It was the only bout of the day for Telles, who carries an NAIA national ranking of 15th. Telles will face off with Briar Cliff's Matthew Wilke in the semifinals at 285.
Due to the injury that has sidelined Ybarra, the Bulldogs entered 11 competitors into the conference tournament (each team can wrestles as many as 12 individuals). While Burks and Telles attempt to reach the finals of their respective brackets, seven of the other nine Concordia grapplers remain alive in the consolation rounds. A defending GPAC champion, senior Gabe Crawford shook off a loss in the 165-pound quarterfinals and pinned Midland's Jeshua Castillo in just 1:12.
At 157, Jose Sanchez recovered for a first round defeat by producing two dominant wins – one by pin over Dakota Wesleyan's Ryan McGinnis and another by technical fall over Hamilton. Freshman Mason Garcia kept his season intact at 197 with a pin of Jamestown's Ivan Vargas. Garcia had been pinned in his opening match of the tournament.
Additional Bulldogs who have made it out of day one include Brandon Gonzalez (149), Tavoris Smith (165), Oscar Ramirez-Garcia (184) and Cyrus Marshall (184). On the other hand, freshmen Carter Willis (125) and Jeaven Scdoris (149) saw their seasons end after suffering a pair of defeats apiece on Friday. Scdoris notched 18 victories during a solid rookie campaign.
Session II of the GPAC Wrestling Championships will begin at 10 a.m. CT on Saturday. Matches can be streamed live via Midland's Stretch Internet portal: https://portal.stretchinternet.com/midland/. Automatic bids to the national tournament will be on the line.
Concordia Day 1 Results
133
Carter Willis (8-23)
Champ. Round 1 - Darien Malone (Dakota Wesleyan (s.d.)) 15-10 won by fall over Carter Willis (Concordia (Neb.)) 8-23 (Fall 3:25)
Cons. Round 1 - Carter Willis (Concordia (Neb.)) 8-23 received a bye () (Bye)
Cons. Round 2 - Roman Carrillo (Jamestown (n.d.)) 12-6 won by fall over Carter Willis (Concordia (Neb.)) 8-23 (Fall 1:36)
149
Brandon Gonzalez (1-2) scored 7.0 team points
Champ. Round 1 - Brandon Gonzalez (Concordia (Neb.)) 1-2 received a bye () (Bye)
Quarterfinal - Andrew Shea (Briar Cliff (Iowa)) 16-5 won by fall over Brandon Gonzalez (Concordia (Neb.)) 1-2 (Fall 2:07)
Cons. Round 2 - Brandon Gonzalez (Concordia (Neb.)) 1-2 received a bye () (Bye)
Cons. Round 3 - Brandon Gonzalez (Concordia (Neb.)) 1-2 won by medical forfeit over Steven Aranda (Midland (Neb.)) 4-13 (M. For.)
149
Jeaven Scdoris (18-19)
Champ. Round 1 - Jeaven Scdoris (Concordia (Neb.)) 18-19 received a bye () (Bye)
Quarterfinal - John Diener (Morningside (Iowa)) 19-2 won by fall over Jeaven Scdoris (Concordia (Neb.)) 18-19 (Fall 4:36)
Cons. Round 2 - Chase Peterson (Northwestern (Iowa)) 8-5 won by decision over Jeaven Scdoris (Concordia (Neb.)) 18-19 (Dec 9-4)
157
Jose Sanchez (14-16) scored 4.5 team points
Champ. Round 1 - Thomas Stevenson (Hastings (Neb.)) 13-0 won by tech fall over Jose Sanchez (Concordia (Neb.)) 14-16 (TF-1.5 7:00 (16-1))
Cons. Round 1 - Jose Sanchez (Concordia (Neb.)) 14-16 won by fall over Ryan McGinnis (Dakota Wesleyan (s.d.)) 4-15 (Fall 3:18)
Cons. Round 2 - Jose Sanchez (Concordia (Neb.)) 14-16 won by tech fall over Jacob Hamilton (Jamestown (n.d.)) 0-2 (TF-1.5 6:52 (23-7))
157
Issiah Burks (24-8) scored 8.0 team points
Champ. Round 1 - Issiah Burks (Concordia (Neb.)) 24-8 won by decision over Coby Eikenhorst (Dakota Wesleyan (s.d.)) 7-13 (Dec 4-2)
Quarterfinal - Issiah Burks (Concordia (Neb.)) 24-8 won by fall over Jacob Hamilton (Jamestown (n.d.)) 0-2 (Fall 2:38)
165
Tavoris Smith (12-15)
Champ. Round 1 - Tavoris Smith (Concordia (Neb.)) 12-15 received a bye () (Bye)
Quarterfinal - Caleb Connor (Morningside (Iowa)) 14-5 won by decision over Tavoris Smith (Concordia (Neb.)) 12-15 (Dec 5-0)
Cons. Round 2 - Tavoris Smith (Concordia (Neb.)) 12-15 received a bye () (Bye)
165
Gabriel Crawford (8-7) scored 2.5 team points
Champ. Round 1 - Gabriel Crawford (Concordia (Neb.)) 8-7 received a bye () (Bye)
Quarterfinal - Marcus Urban (Dakota Wesleyan (s.d.)) 13-3 won by decision over Gabriel Crawford (Concordia (Neb.)) 8-7 (Dec 10-7)
Cons. Round 2 - Gabriel Crawford (Concordia (Neb.)) 8-7 won by fall over Jeshua Castillo (Midland (Neb.)) 0-10 (Fall 1:12)
184
Oscar Ramirez-Garcia (8-18) scored 2.5 team points
Champ. Round 1 - Oscar Ramirez-Garcia (Concordia (Neb.)) 8-18 received a bye () (Bye)
Quarterfinal - Luke Jenness (Northwestern (Iowa)) 19-1 won by decision over Oscar Ramirez-Garcia (Concordia (Neb.)) 8-18 (Dec 9-2)
Cons. Round 2 - Oscar Ramirez-Garcia (Concordia (Neb.)) 8-18 won by medical forfeit over Hunter Planansky (Dakota Wesleyan (s.d.)) 12-12 (M. For.)
184
Cyrus Marshall (9-16)
Champ. Round 1 - Cyrus Marshall (Concordia (Neb.)) 9-16 received a bye () (Bye)
Quarterfinal - Tyson Beauperthuy (Midland (Neb.)) 20-1 won by fall over Cyrus Marshall (Concordia (Neb.)) 9-16 (Fall 1:48)
Cons. Round 2 - Cyrus Marshall (Concordia (Neb.)) 9-16 received a bye () (Bye)
197
Mason Garcia (17-11) scored 2.5 team points
Champ. Round 1 - Mason Garcia (Concordia (Neb.)) 17-11 received a bye () (Bye)
Quarterfinal - Kasten Grape (Morningside (Iowa)) 19-6 won by fall over Mason Garcia (Concordia (Neb.)) 17-11 (Fall 6:21)
Cons. Round 2 - Mason Garcia (Concordia (Neb.)) 17-11 won by fall over Ivan Vargas (Jamestown (n.d.)) 5-9 (Fall 4:38)
285
Jacob Telles (31-11) scored 6.0 team points
Champ. Round 1 - Jacob Telles (Concordia (Neb.)) 31-11 received a bye () (Bye)
Quarterfinal - Jacob Telles (Concordia (Neb.)) 31-11 won by decision over Samuel Peterson (Doane University) 10-8 (Dec 5-0)