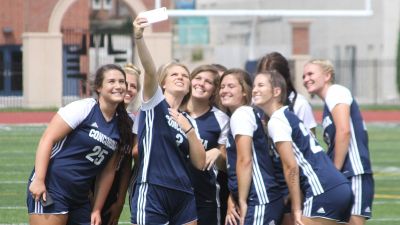 SEWARD, Neb. – The national polls have been another example of the Concordia University women's soccer program's rise under head coach Greg Henson, who is in his sixth year leading the Bulldogs. Concordia will open up 2018 where it finished 2017 – just outside of the top NAIA top 25. The Bulldogs checked in second among "others receiving votes" in the 2018 NAIA Women's Soccer Preseason Coaches' Top 25 Poll released on Tuesday (Aug. 14).
Since the start of the 2014 campaign, Henson's squads have cracked the top 25 of the NAIA poll on seven separate occasions and have made numerous additional appearances in the receiving votes category. The all-time highest ranking in school history is 16th achieved during the middle of the 2015 season. In three of the previous four seasons, Concordia finished their campaigns listed under receiving votes in postseason polls. The 2014 squad that won the GPAC tournament title was the first team out of the 25 in the postseason poll that season.
Picked second in the GPAC after garnering five first-place votes, the Bulldogs are no longer the underdogs in the league. Henson doesn't believe it will change the mindset of his team, which fell short of reaching the national tournament in 2017 after falling in the GPAC championship game in a PK shootout.
Says Henson, "The biggest thing we talk about all the time is the past is the past. Trophies are in the trophy case collecting dust. It's a brand new year. Everyone is 0-0 and everyone has a new look to them. Our team has a new look and new personality. We can't worry about what we've done before. We've really built ourselves on that the last few years."
Concordia returns an impressive nucleus led by the likes of senior captain Maria Deeter along with reigning GPAC Defensive Player of the Year Lindsey Carley and another first team All-GPAC selection in Chelsea Bright. The Bulldogs appear positioned for another run at a championship season.
All-time national rankings
*Have ended a season receiving votes in 2014, 2016 and 2017
2017
Nov. 7 – 21st
Oct. 31 – 22nd
2015
Oct. 6 – 23rd
Sept. 29 – 18th
Sept. 22 – 16th
Aug. 18 – 21st
2014
Nov. 16 – 24th