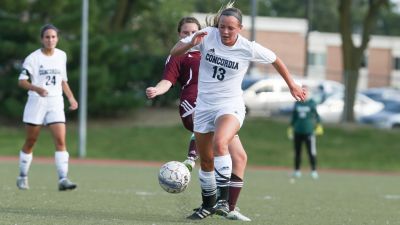 SEWARD, Neb. – A class of seniors that has collaborated on an unprecedented run for Concordia University women's soccer will be honored on Saturday evening as part of Senior Day festivities. Briar Cliff (7-6-1, 3-4 GPAC) will serve as the opponent for the home regular-season finale, which is set to get underway at 5:30 p.m. CT from Bulldog Stadium.
These two sides last met in the quarterfinals of the 2015 GPAC tournament. Seeded fifth, Concordia went to Sioux City, Iowa, and thumped the fourth-seeded Chargers, 4-0. This seems to be about the time of the year when fourth-year head coach Greg Henson has his team at its best.
"If we continue to do the things that make us successful, we're a very dangerous team," Henson said following Wednesday's 4-0 win over College of Saint Mary.
The Bulldogs have recorded back-to-back 4-0 conference victories and now sit in a tie for fifth place at 9-5-1 overall and 4-3 in conference play. If it can take care of business down the stretch, Concordia has a very real shot to vault up to third place.
The soaring confidence of freshmen Sami Birmingham and Rachael Bolin up top is one reason for the Bulldogs to be optimistic about another postseason run. Birmingham now ranks fourth among GPAC players with 14 goals on the year. Four of her goals have been game winners. Birmingham has been on the receiving end of numerous assists from Bolin, who now has seven goals and seven assists.
Goalkeeper Chrissy Lind recorded her third shutout of the season and 23rd of her career on Wednesday. She now has 306 career saves, 21 shy of the program record held by Ariel Harris. Lind and company rank second in the GPAC in terms of fewest goals allowed per game (1.0).
The Chargers have followed up a three-game losing streak by winning three of their last four games, including Wednesday's 3-2 victory over Northwestern. Maddie Neal struck for the game-winning goal in the 81st minute to sink the Red Raiders, who now sit in fourth place in the conference standings. Briar Cliff owns a minus-two goal differential (23-25).
The six seniors that will be recognized on Saturday are Rachel Brandt, Megan Brunssen, Leah Hoffmann, Chrissy Lind, Kristin Manley and Jordan McCoy. All the senior class knows is winning. It has been part of teams that have advanced to at least the GPAC semifinals each season with the highlight being a GPAC tournament title in 2014. The senior class has also helped accumulate the best four-year record in program history: 46-23-9. Lind owns nearly all significant school goalkeeping records such as wins, games and minutes played and shutouts in a career.
The Bulldogs will then complete the regular season next week with trips to Doane (Oct. 26) and Dakota Wesleyan (Oct. 29). The GPAC quarterfinals are set to get underway Tuesday, Nov. 1.