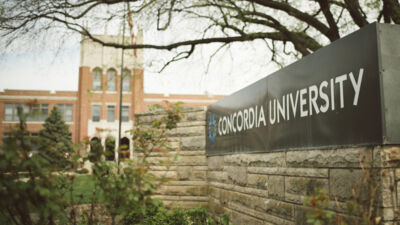 2016 NAIA women's soccer Scholar-Athletes
SEWARD, Neb. – Seven Bulldogs from the GPAC tournament championship women's soccer team have collected 2016 Daktronics-NAIA Scholar-Athlete accolades. The list includes seniors Megan Brunssen, Leah Hoffmann and Kristin Manley and juniors Leigha McConnell, Leah Shohat, Jessica Skerston and Esther Soenksen. Second time award winners are Brunssen, Hoffmann and Manley.
In order to be nominated by an institution's head coach or sports information director, a student-athlete must maintain a minimum grade point average of 3.5 on a 4.0 scale and must have achieved a junior academic status. A total of 578 women's soccer student-athletes across the nation were named 2016 Scholar-Athletes by the NAIA.
Concordia University ranks as the NAIA's all-time leader in number of Daktronics-NAIA Scholar-Athletes with 1,227 and counting (21 so far this fall). The 2015-16 season produced a GPAC best 92 Bulldog scholar-athletes and a national best 20 NAIA Scholar-Teams. The 2014-15 season culminated with GPAC-leading totals of 94 Bulldog scholar-athletes and 17 NAIA Scholar-Teams. During the 2013-14 academic year, Concordia garnered 101 Scholar-Athlete honorees (most in the NAIA) and 17 NAIA Scholar-Teams (tied for fourth nationally).
2016 Women's Soccer Scholar-Athletes
Megan Brunssen, Sr. | Omaha, Neb. | Secondary Education
Leah Hoffmann, Sr. | North Aurora, Ill. | Mathematics
Kristin Manley, Sr. | Omaha, Neb. | Biology; Pre-Veterinary
Leigha McConnell, Jr. | Peoria, Ariz. | Elementary/Special Education
Leah Shohat, Jr. | Lincoln, Neb. | Biology; Pre-Physical Therapy
Jessica Skerston, Jr. | St. Charles, Mo. | Accounting
Esther Soenksen, Jr. | Lincoln, Neb. | Biology