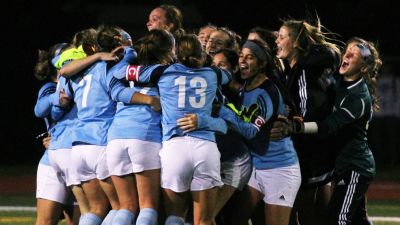 SEWARD, Neb. – The crowd of players that gathered Monday in the Walz conference room on the Concordia University campus burst into cheers of approval upon learning that their journey will take them to West Palm Beach, Fla., for the opening round of the 2016 NAIA Women's Soccer National Championships. The Bulldog women's soccer team is set to take on Keiser University at 12 p.m. CT / 1 p.m. ET in The Sunshine State on Saturday.
The contest will be staged at the home of the Seahawks, Arrigo Vecellio Soccer Field, which features a grass playing surface. Keiser will have a live webcast HERE.
"The goal for our program year-in and year-out is to compete for conference championships and earn a bid to the national tournament," said fourth-year Concordia head coach Greg Henson. "This is something we really strive for and look forward to. Once we achieve that, it's onto the next goal which is to get to the final site of the national tournament. We know have a tough matchup in front of us."
The high of winning the 2016 GPAC tournament championship will carry the Bulldogs into their second national tournament appearance in program history. The 2014 squad, also a GPAC tournament titlist, fell, 4-0, at No. 9 Benedictine College (Kan.) in the opening round of the national championships in what was the first-ever trip to nationals for the Bulldogs.
This time around, Concordia has a much longer trek to meet up with its national tournament opponent. Concordia and Keiser are separated by 1,652 miles. It's a journey that would take roughly an entire 24-hour day to make by automobile. However, the team is making preparations to fly out of Nebraska on Thursday. As custom, a ceremonial banquet will be hosted by Keiser on Friday night.
"It's definitely a long trip," Henson said. "There are a lot of logistics that go into play and getting a team from Nebraska down to the Miami area. It's a great experience and a great opportunity for our players. It's going to be the first time for some of them to get on a plane as a program and fly down there. We've had some great Nebraska weather this year, but it will be nice to be in Miami."
Statistically, the 2016 Concordia team has been better in many respects than the standard-setting 2014 squad. This year's team has broken the program record for best goal differential in a single season. The high-powered Bulldogs average 3.19 goals per game (16th most in the nation) behind first team all-conference freshman Sami Birmingham.
Concordia's active eight-game winning streak is the longest in program history. Over that stretch, the Bulldogs have dominated their conference foes, outscoring them by a combined total of 29-3. Concordia locked up its national tournament bid by knocking off Morningside, 3-1, in the GPAC tournament championship game.
The Bulldogs have never played Keiser, a member of The Sun Conference. The Seahawks were ranked third in the latest MRPI rating. That's also where they landed in the NAIA coaches' poll released on Nov. 7. Keiser (17-1-1), guided by sixth-year head coach Mat Dunn, has lost just once all season. Dunn has helped the Seahawks become a national powerhouse. His career record is 97-19-8.
Concordia's postseason roster includes one Florida native: second team all-conference defender Jeannelle Condame, who hails from Winter Springs, which is approximately 176 miles from Keiser.
The winner of Saturday's game will advance to the national championships final site, Orange Beach SportsPlex in Orange Beach, Ala., where the 16 remaining teams will gather. The Keiser/Concordia winner will play either Reinhardt University (Ga.) or MidAmerica Nazarene University (Kan.) at 6:30 p.m. CT on Tuesday, Nov. 29.