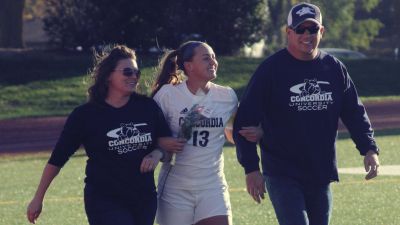 SEWARD, Neb. – The Concordia University women's soccer team flipped a switch after halftime and buried visiting Briar Cliff with three goals in the opening nine minutes of the second half. That flurry lifted the suddenly dominant Bulldogs to a 3-0 win over the Chargers on Saturday evening. Fittingly, the winningest senior class in program history went out on top in its final regular-season home game.
Fourth-year head coach Greg Henson's squad has now outscored its opponents by a combined total of 11-0 over its last three outings. Concordia improved to 10-5-1 overall and to 5-3 in league play.
"At halftime I just challenged them to come out and play the way we're capable of," Henson said. "We did a nice job in the first half of putting the ball on the floor and playing simple. We were just missing that extra little spark – that extra little run. Obviously coming out and scoring in the first 30 seconds of the second half is a game changing situation."
There were just eight combined shots taken in the first half of Saturday's game. But it took only 26 seconds after the break for senior Jordan McCoy to find the back of the net. Goals by junior Jessica Skerston and freshman Rachael Bolin quickly followed. The Bulldogs made several more threats that were narrowly held off by Briar Cliff in a stellar second half. Concordia ended up outshooting the Chargers, 20-7.
Only six of those 20 shots came over the first 45 minutes. The Bulldogs looked like a different team once they reemerged from the break.
"We came out pretty slow and lethargic," McCoy said. "I don't know what was wrong in the first half. We came out and we scored and we scored and we scored again. That's what we needed. We needed some confidence."
McCoy is a central figure for the senior class that now owns a four-year record of 47-23-9. As sophomores, the current seniors helped the Bulldogs win the GPAC tournament title and advance to the national tournament for the first time in school history. All the seniors know is winning.
Chrissy Lind, another senior, recorded the 24th shutout of her career. She made three saves. In addition to Lind and McCoy, the senior class includes Rachel Brandt, Megan Brunssen, Leah Hoffmann and Kristin Manley.
"It's awesome. We've been through a lot together," McCoy said. "We established friendships and it's such a family. It's going to be really sad to see it end."
Briar Cliff (7-7-1, 3-5 GPAC) was coming off a 3-2 win at Northwestern. The Chargers have also defeated Doane and Dakota Wesleyan in conference play. Briar Cliff leading goal scorer Brooke Herbst was held without a single shot on Saturday.
The Bulldogs will close the regular season with a pair of conference road games next week. Up next is a short trip to Doane (2-10-2, 2-4-2 GPAC) for a 5 p.m. CT kickoff on Wednesday. Last season Concordia handled the Tigers in Crete, 3-0.