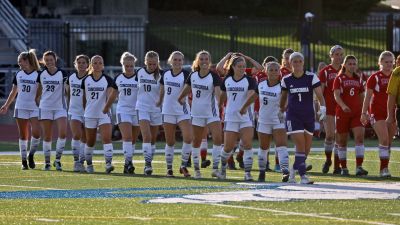 SEWARD, Neb. – A run through an early season slate heavy on Kansas Collegiate Athletic Conference opponents continues this week for the Concordia University women's soccer team. Head coach Greg Henson's squad has been idle since a 1-1 double overtime draw with MidAmerica Nazarene University (Kan.) on Aug. 29. The only other outing so far in 2018 was a 4-1 win over Tabor College (Kan.) on Aug. 25.
The Bulldogs will be at home for the third-straight time to open the season when McPherson College (Kan.) visits Seward for Wednesday's 7 p.m. CT kickoff. Concordia will then be at Kansas Wesleyan University on Saturday. For those planning to travel on Saturday, please note that the location of the game has been moved to Salina Stadium on the campus of Salina High School Central. Start time is 3 p.m. CT.
This week
Wednesday, Sept. 5 vs. McPherson, 7 p.m.
Saturday, Sept. 8 at Kansas Wesleyan, 3 p.m.
Wednesday's action will be streamed live via the Concordia Sports Network. Kansas Wesleyan will have a live webcast on Saturday through its Stretch Internet portal.
Home has been kind to the program. Since the start of the 2014 season, the Bulldogs are a combined 36-6-3 when playing inside Bulldog Stadium. One of those three ties came last week when the Bulldogs were unable to maintain a 1-0 lead that came courtesy of a 26th-minute goal by Victoria Cera. The Pioneers eventually equalized in the 57th minute for the game's final tally. Once again, a second half goal prevented Concordia from earning its first shutout of 2018.
It should be only a matter of time before the Bulldogs put together a clean sheet. They recorded 12 shutouts during last season's run that saw them go 15-2-4 and win the GPAC regular-season title outright. They surrendered just a single goal during conference regular-season action. On the flip side, Henson is still looking for goal scorers to emerge. In the early going of this season, Maria Deeter's two goals are tops on the team. Cera and Kaylee Brown have one apiece. In 2017, Concordia outscored its opponents by a combined total of 56-14.
The Bulldogs will match up with McPherson for the first time since 2010 when the result was a 2-1 Concordia win at McPherson. Also nicknamed the Bulldogs, McPherson (0-2) has already played one GPAC foe in Doane. McPherson fell by a 2-1 final. It also dropped a 4-0 decision to Bellevue this past Sunday. McPherson is coming off a 7-10 mark last fall. Emma Singleton has scored the team's lone goal so far this season.
Concordia is making the return trip to Kansas Wesleyan after the Coyotes visited Seward last September. That match ended in a 2-2 draw. The first road test for the Bulldogs should present a significant challenge. Kansas Wesleyan has already defeated GPAC foes Northwestern, 4-2, and Dordt, 3-1. Michelle Pena is off to a big start in the goal scoring department. She knocked in two goals in both of the aforementioned Coyote victories. Kansas Wesleyan was picked to finish second out of the 13 women's soccer teams in the KCAC.
Next week will bring about the final two nonconference games of the regular season. The Bulldogs will be at Bellevue University on Tuesday, Sept. 11 and at Friends University (Kan.) on Saturday, Sept. 15.