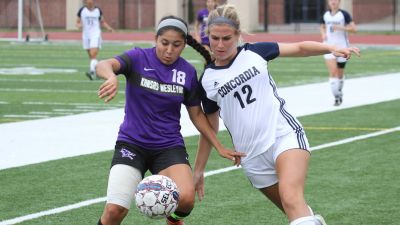 SEWARD, Neb. – A longer-than-expected road trip leads the Concordia University women's soccer team into an important week of conference action. The Bulldogs aspire to close out the month of September with a strong week at home. Concordia opened up conference play on Sunday with a 2-0 victory over Dakota Wesleyan in a contest played at O'Gorman High School in Sioux Falls, S.D.
This week's schedule
Tuesday, Sept. 26 vs. Mount Marty, 5:30 p.m. CT
Saturday, Sept. 30 vs. College of Saint Mary, 1 p.m. CT
The Bulldogs (5-2-2, 1-0 GPAC) are in the midst of an impressive run of success in GPAC play. Henson produced conference records of .500 or better in each of his first four seasons. Since the beginning of the 2014 campaign, Concordia has gone a combined 22-6-4 in GPAC regular season action. The Bulldogs entered this year having recorded exactly seven GPAC victories in each of the previous three seasons. The 2014 team went through the entire campaign without losing to a conference opponent. It went 7-0-3 during the regular season before winning the GPAC tournament title.
The Bulldogs put together their most dominant defensive performance of the season in the win over Dakota Wesleyan. The Tigers took only four shots, all of which were saved by goalkeeper Lindsey Carley, who registered her second shutout of the year. It was a good sign for a squad that ranks sixth in the GPAC in goals allowed per game (1.22). Solid team defense have been hallmarks of the program in recent years. Consider the team's goals allowed per game figures and conference ranks for the previous three seasons: 2016 (0.91, 2nd), 2015 (0.76, 1st) and 2014 (0.86, 4th).
Concordia would like to repeat last season's results in regards to games against Mount Marty (2-4, 0-1 GPAC) and College of Saint Mary (4-5, 1-0 GPAC). The Bulldogs blanked the Lancers, 12-0, and the Flames, 4-0. College of Saint Mary topped the Lancers, 3-0, last week.
Both of this week's home games can be viewed live on the Concordia Sports Network.
Next week Concordia will take to the road with trips to Briar Cliff (Oct. 4) and Northwestern (Oct. 7).