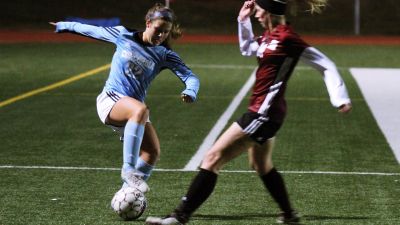 SEWARD, Neb. – The program's first GPAC regular-season title and conference tournament No. 1 seed did not come gift wrapped with a cakewalk of a quarterfinal matchup for the Concordia University women's soccer team. Up against the rival it met in each of the past two league championship games, the 22nd-ranked Bulldogs brushed aside the upset bid of eighth-seeded Morningside by a 2-1 final score in a tense affair inside Bulldog Stadium on Thursday (Nov. 2) night.
Make that four wins in a row by a margin of just a single goal for a team comfortable seeing out closely contested games. Fifth-year head coach Greg Henson's program has now reached at least the GPAC semifinals in each year of his tenure – with postseason titles occurring in 2014 and 2016.
Henson's ninth postseason victory had to be sweated out – even on a night with temperatures in the 40s. Said Henson, "On paper they're an eight seed, but definitely not deserving of an eight seed. They're a much more dangerous team than that. It's always the concern as a coach coming in that you're playing a lower seed and you're going to look past them. I don't think that was the case at all just because our players are very familiar with Morningside."
A surprising number of shots were created by the visitors against a Concordia team that had gone nearly a full month since last surrendering a goal. When pushed, the Bulldogs showed their championship mettle. The game-winning goal in the 64th minute was a beauty. Lauren Martin played a quick touch to Esther Soenksen who tapped the ball right back to a darting Martin, who then drilled a 25-yard strike that left Mustang keeper Niccole McGuire no chance.
Martin is just one of many Bulldogs that knows her role and does it well. The transfer from St. Cloud State University says she and her teammates are unsatisfied with simply winning a regular-season championship.
"It's really great winning the GPAC in the regular season, but it means nothing unless you win the GPAC tournament," Martin said. "Our motivation is to go to nationals and to get further and do better than last year. We're trying to compete with ourselves and our previous years."
The Mustangs (8-10) took the fight to Concordia after a hustle goal by Soenksen put the home team up 1-0 in the 10th minute. Morningside racked up 18 shots, including 10 on goal. What looked like a mostly unthreatening maneuver by Paytn Harmon culminated with an equalizer in the 21st minute.
In a somewhat disjointed performance, the Bulldogs are still difficult to conquer on their home turf. Henson's teams are now 5-0 at home in postseason play. Keeping that unblemished record required solid efforts from star Maria Deeter in the midfield, back line anchor Chelsea Bright and many others. Sophomore goalkeeper Lindsey Carley regrouped after allowing a goal and made nine saves, including a particularly noteworthy leaping denial in the 74th minute.
"In segments we played very well," Henson said. "In some segments it got a little ugly. The last four games in a row we've been in a grind-it-out mode. That obviously served us well tonight."
Concordia certainly had its share of opportunities on the attacking end, registering 20 shots – nine on goal. Soenksen came close to enjoying a multiple goal night. She hit the post on one of her attempts in the second half. She led all players with five shots.
Fifth-seeded Northwestern (11-5-3) stands in the way of the Bulldogs' fourth appearance in a row in the GPAC championship game. The Red Raiders were the only GPAC team to avoid a loss to Concordia during the regular season.
"The best team for 90 minutes is going to win the game on Tuesday," Henson said. "All the history and everything that happened in the past is in the past. We'll come out ready to go and we'll expect a good game from Northwestern."
Tuesday's (Nov. 7) kickoff inside Bulldog Stadium is slated for 7 p.m. CT. The winner will play either second-seeded Hastings (15-2-2) or third-seeded Midland (14-2-2) in the championship game on Friday, Nov. 10.