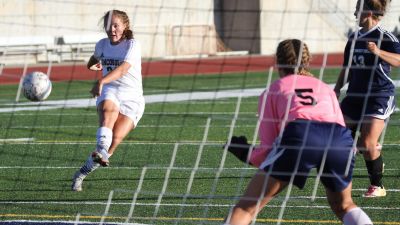 SEWARD, Neb. – Freshman Sami Birmingham set the tone with a goal less than two minutes after kickoff and the Concordia University women's soccer team rolled to a breezy 12-0 victory over visiting Mount Marty in a homecoming Saturday contest. Seven different Bulldogs registered in the goal scoring column while taking advantage of a short-handed Lancer team. Birmingham and fellow rookie Rebekah Freeman both went off for hat tricks.
Fourth-year head coach Greg Henson's squad improved to 6-1 at home this season. Concordia moved to 7-4-1 overall and 2-2 in conference play.
"We challenged our starting lineup to get out early, get some goals and put the game away," Henson said. "We wanted to go deep into the bench and get a lot of players minutes. Then we challenged our subs to continue to play and keep the pace of play and work rate up."
The Bulldogs dominated just the way they hoped to, outshooting Mount Marty, 55-0. The Lancers (0-8, 0-5 GPAC) still have yet to put a goal on the board in 2016. They spent the entire evening chasing the ball on Concordia's attacking end. No one was more active than Freeman, who seven shots on frame.
Scoring goals has not been a problem for Birmingham, who netted a pair of goals in the first half and then another in the second while recording the first hat trick of her young career. The native of Johnston, Iowa, leads Concordia with 11 goals on the year.
Jessica Skerston joined Birmingham and Freeman as Bulldogs with multiple goals. It was an all-out assault on the Mount Marty goal, which keeper Katrina Ilkow attempted to protect. But Freeman and company kept getting loose.
"She's a good talent for us," Henson said. "We look forward to her having a very good career. Tonight you saw some flashes of what she's going to be able to do in the future. That's definitely a bright spot for us."
The 12 goals scored were by far a season high for the Bulldogs. Not only that, the performance equaled a program record for most goals in a single game. Concordia also accomplished that feat in 2000 and 2004.
One goal apiece was notched by Rachael Bolin, Maria Deeter, Lauren Martin and Esther Soenksen. Bolin and Deeter both assisted two goals.
The Bulldogs will be back at home on Wednesday when Midland (9-4, 3-2 GPAC) pays a visit to Seward for a 5:30 p.m. CT game time. The Warriors, who triumphed over Dakota Wesleyan 2-0 on Saturday, received votes in the most recent NAIA national coaches' poll. Concordia hopes to duplicate the 2015 result that saw it defeat Midland 2-0 in Seward.