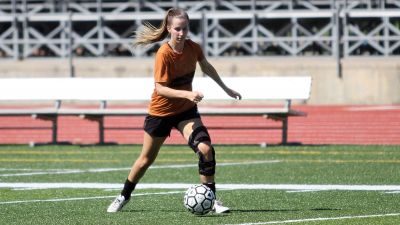 Michaela Stevens is the latest in a line of Concordia women's soccer players in recent years to battle through significant knee injuries. Unfortunately, Stevens knows way too much about leg injuries. Broken ankle. Ligament tears in the ankle. Then ACL and meniscus tears. Such misfortunes have followed Stevens from high school to college.
You're forgiven if you are having trouble picturing Stevens and her contributions to last year's run to the GPAC championship game. She retreated to the sidelines having played in just two matches all season. It was the rookie year that never was for the native of Mesa, Ariz.
Said Stevens, "I ended up not redshirting because I felt like I was ready. I obviously wasn't. My confidence wasn't there yet. It's taken a while, but I think I've gotten it."
There Stevens was on the first day of preseason (Aug. 13) sporting a brace on the left knee that underwent surgery just before Christmas 2015. The best-case scenario is that Stevens will return to the form that made her a highly-regarded recruit out of Red Mountain High School. She's right in the mix for a spot at center back for a Bulldog squad expected to again be a top-of-the-GPAC contender.
Right now Stevens' story is one of a student-athlete in the process of making her way back. Fast forward another year and it may be something completely different. By then she will have hopefully put behind the trials and tribulations she's been dealt. She appears to possess the attitude and the talent to do it.
"It was hard last year because I came in with that injury," Stevens said. "I was expecting to play, but that second day of preseason I got hurt. Then I had surgery later on down the road. It threw me off. That brought my confidence down. After that I had my ACL and then I really couldn't play. A second ACL – you don't want a second ACL. It's been a challenge."
Three major surgeries in roughly 14 months is enough to understandably hinder an athlete's development. Head coach Greg Henson says this preseason is crucial for Stevens in her aim to regain the conditioning and stamina needed to be effective in a 90-minute game. Henson knew of the injuries Stevens had already suffered entering her college career, but she displays potential too exciting to ignore. Said Henson, "We had high hopes for her coming in as a freshman. She was someone we were really looking forward to getting into the program."
Stevens came back to Seward a few weeks prior to the start of this preseason to get prepped for what will feel like a freshman campaign. Talk to her about all the hours spent rehabbing and you'll have difficulty sensing any sort of woe-is-me sentiment. She's more about looking ahead to three fruitful years left at Concordia.
"She's been frustrated obviously," Henson said. "She wants to be on the field. It became her focus to get ready and get herself back on the field. She was away a little bit in the spring. She really dedicated herself to getting back. She's done everything that she's needed to do. The real focal point is getting her back into soccer shape."
Her spirits lifted by the positive energy of her teammates, Stevens hardly gave quitting much thought, though she did question herself at times. But the pull of soccer and team answered those questions.
Says Stevens, "There are times when you think, 'Can I do this again? Is it worth it?' But I always think it is worth it. I've gone through it this long. I'm not going to give it up now. I love this sport. I love my teammates. I'm not prepared to give it up. I still have three more years."
The center back position has been an area of strength for Concordia, which has broken the school record for fewest goals allowed in three successive seasons. Stevens wants to be the next great Bulldog center back following recent first team all-conference defenders such as Jordan Donohoue and Rachel Mussell. Truth be told, it's too early to tell what heights Stevens is capable of reaching. Said Henson, "This is really the most extensive period of time that we've had her on the training field. It's like having another newcomer in fall camp."
Stevens knows she has to prove herself. She feels she's ready to make that happen. She has less than two weeks before the season opener to get back in the groove, but she's making it her mission to have her named called during starting lineup introductions on Aug. 26.
"It means a lot to me," Stevens said. "My confidence is there now and I'm trying to push myself as hard as I can to get that spot. I just have to be the leader I know I can be and be the person I was brought here to be."