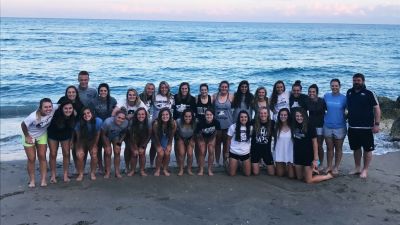 2016 Women's Soccer Season Recap Booklet | PDF
Concordia women's soccer wasn't invited to the party in 2014 in what amounted to a program changing season that altered the mindset within the locker room. A high school senior at Lincoln Lutheran at the time, Seward native Maria Deeter has a keen sense for the change in climate.
"Before I got here you got the feeling that Concordia wasn't expected to be there," said Deeter, who gave her commitment to the Bulldogs before the 2014 successes. "At the start of this year, I think everyone expected to be in that final game and expected for us to compete and get to nationals. Instead of it being a main goal, it's almost an expectation that we get there. If not, we have to fix things."
Deeter's comments are now representative of a program in the midst of an unprecedented three-year run orchestrated by head coach Greg Henson. An unexpected GPAC tournament title run in 2014 led into another conference championship game appearance in 2015 and then another postseason championship crown in 2016. The last three seasons have produced two national tournament trips, a national ranking as high as No. 16 and a total of 43 wins.
There have been many memorable moments along the way, perhaps none more unforgettable than the thrill that took place on Nov. 10, 2016, when the program staged the GPAC championship game for the first time ever. No member of the team was quite prepared for the crowd and electricity that would greet them that night. Bulldog Stadium roared in ways that shamed the gatherings at the 2014 title game at Hastings and the 2015 championship tilt at Morningside.
When the clock hit zeroes with the scoreboard showing a 3-1 Concordia advantage, droves of fans poured onto the turf. An on-field celebration that lasted well after the final buzzer was just getting started.