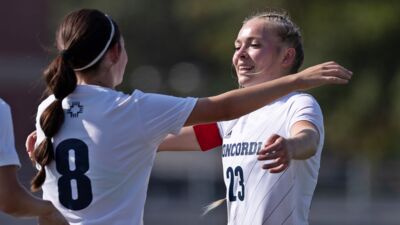 In late August of 2019, Grace Soenksen spent the first 90 minutes of her collegiate soccer career watching from the bench as the Bulldogs hosted Missouri Valley College. Grace wasn't used to this and she allowed a bit of doubt to creep in, if only for a moment. Four siblings before her proudly wore Concordia blue: Timothy, Kevin, Gideon and Esther. Both Gideon and Esther spent the entire four-year careers as starters and were a tough act to follow.
At a time when Grace was still finding her role and her voice, she used her actions to show that she belonged in the starting XI. The head coach for the 2019 season, Chris Luther, took notice.
"When I came as a freshman, I didn't know what to expect," Grace said. "I thought maybe I might get some playing time at the beginning. Then I wasn't starting. I think it was the first two games that I didn't even play in or had very limited minutes. That was kind of a wake-up call for me. I made a big effort to focus on the position that I wanted and what Luther at the time was telling us. I eventually got my spot."
Soenksen seized that spot and never let go, like a squirrel with an acorn. Ninety-two games and four First Team All-GPAC awards later, the Lincoln Lutheran High School alum can humbly say that she left a lasting legacy on Concordia Women's Soccer. As a cap to her incredible career, Grace was recognized as the 2023 GPAC Defensive Player of the Year. She's only the second player in program history to stake that claim and the very first Bulldog to snag four first team all-conference mentions.
When people talk about leaving things better than they found them, they aspire to achieve in the way that Grace did. The program went from going 6-11-2 in 2019 to winning the GPAC tournament championship in 2020 and then to finally placing second in the GPAC regular season standings in 2023. Should Head Coach Nick Smith's Bulldogs ascend to the heights they aspire to reach and celebrate a GPAC championship in 2024, Grace will have had a hand in making it possible.
"Grace is someone I could talk all day about," Smith said shortly after the season's final game. "The biggest accomplishment we had as a coaching staff this past spring was persuading Grace to come back and give us that fifth year. To have someone back who has played in as many games as she has is invaluable and to have someone with her experience to rely on was really important. It's so clear that she plays at a high level. She is someone we are going to miss moving forward, but her influence is found throughout this team."
It's high praise for someone who wasn't the flashy goal scorer. That wasn't her role, although Grace did contribute six goals over the course of her career. It was Soenksen's job to prevent the opposition from scoring goals, a task she handled with aplomb. As a mainstay at center back, Soenksen helped Concordia limit its 2023 opponents to just 16 goals over 20 games. Soenksen consistently made life difficult on opposing strikers and sometimes was moved forward in the formation when called to do so by Smith.
The 2023 season that saw the Bulldogs win 13 games was the most enjoyable one yet for Grace, who originally thought her college experience had come to an end when Concordia was defeated in the 2022 GPAC quarterfinals. Once Smith was announced as the program's new head coach in March, he began to gauge Grace's thoughts on a potential fifth year. While still undecided, Grace went through spring training and eventually made the call to return.
"I felt a lot more free," Grace said of her final season. "I don't know if that's because I just had more freedom in general. I was mostly working and playing soccer. I feel like our culture grew and people were a lot closer. Coach Nick helped promote a great culture. It made things a lot of fun to be here for a fifth year."
Smith could not have asked for a better leader for a young team that leaned heavily upon the freshman class. There were only three fourth-year seniors on the '23 roster: Hannah Haas, Kassidy Johnson and Bradi Ore. The small-in-quantity senior class made Soenksen's decision that much more important. While the rest of her fellow classmates moved on, Grace came back as the unquestioned captain and leader. As much as her game expanded over five years, Grace grew even more considerably in her ability to inspire others around her. In the pregame player-led huddles, Grace's younger teammates looked to her for a pep talk. Grace came to realize that when she exuded confidence, her teammates did the same.
"I had to find my voice," Soenksen said. "As a freshman, I didn't really talk. That was a big thing I would be yelled at for. Once I found my confidence, I learned that people would follow if I talked. A couple years ago, an upperclassman told me out of the blue – 'I like it when you say stuff before the game, because people listen.' That was something I remember. I was like, 'Oh, people listen to me.'"
Grace commanded instant credibility as someone who had been through the ups and downs and the highs and the lows that come with being a student-athlete. From a team perspective, there were good years and there were bad years. She was recruited by one coach, then played for three different head coaches for a program that has come to expect to compete with the top teams in the GPAC.
From Grace's perspective, the '23 team was as cohesive and as consistent performance-wise as any she played for at Concordia. With that extra year came the strengthening of and development of new relationships. Smith helped Grace rekindle her love for the game.
Says Grace, "When he was asking me to play (a fifth year), he had done some research and knew who I was, even though he hadn't met me yet. It was cool that he wanted me back so badly. That was nice. He made me see a different side of soccer that I hadn't seen in a long time. It was something that was missing for me. I needed a coach like him and I'm glad I got him for at least one year."
Her decision allowed her to treat her parents, Philip and Linda, and eight siblings, to one more season of watching her play. One of Grace's sisters messaged the sibling group chat when the GPAC Defensive Player of the Year award was announced. There was no doubt Grace was going to be in the running for that honor, but it wasn't something that was on her radar. As she says, "I was not expecting that. I think there were a lot of people that could have been considered, so I feel very honored."
The Soenksen name is synonymous with Concordia soccer, and Grace did the name proudly. The doubts she may have had as a freshman gave way to confidence and the type of excellence that won't be replaced. There is only one Grace Soenksen.
"I was kind of scared when I came here because there had been others with my last name here and they left a lasting impact," Grace said. "It was like, can I live up to that? It was a little scary at first. I'm glad I'm in that group (with my siblings)."
Smith will likely look back years from now and be thankful for that one year that Grace helped lay the groundwork for the type of special seasons the Bulldogs believe are on the horizon. Says Smith, "It can't be overstated – she's going to go down as a legend in the Concordia Women's Soccer program."