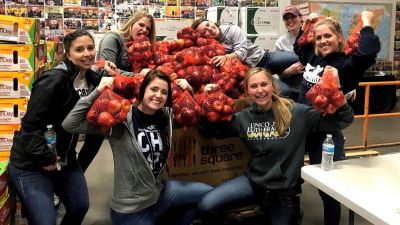 Six members of the Concordia University women's soccer program spent their spring break in a place known as Sin City, but there was nothing nefarious about this journey to Las Vegas. Eyes were opened during an adventure that included mission work along the Vegas strip, interactions with area homeless communities and a five-night stay in a newly refurbished house.
There are many ways to enjoy a spring break. For star Bulldog soccer captain Maria Deeter and some of her closest friends, this was an opportunity that could not be passed up. Deeter was joined on the trip by fellow junior teammates Kaylee Brown, Taylor Roby and Hannah Sain and by freshmen Chelsea Bright and Jennika Chapman. They were accompanied by assistant volleyball coach Abby Pollart, who Deeter praised as a newfound mentor.
Said Deeter, "The most rewarding thing about this trip was just being able to help so many different organizations. Every place we went there was some sort of physical success seen whether it be food packaged, clothes sorted and lives touched through prayer and organization. The impact also went far beyond people's lives. It helped us grow closer."
Deeter and her classmates were determined to go on some sort of mission trip. They researched different possibilities until coming up upon Urban Plunge, based out of the organization Christ for the City of Omaha. The group of teammates originally hoped to travel internationally to serve others abroad. Deeter called the change of plans a "God thing" because Vegas "seemed like the place we were supposed to go."
The soccer six helped out wherever they could during their time in Vegas, which began on March 6. Like a NASCAR pit crew, the Bulldog bunch completely reorganized a children's clothing section of a thrift store in under four hours and aided in packing 8,800 lunches for kids in support of Nevada's largest food pantry, Three Square. Along the way, they worked with organizations such as Project 150 (collects donations and operates a children's boutique) and Opportunity Village (operates thrift shops). Additional activities included praying with community members, working at a soup kitchen, preparing of sanitary kits for homeless and sorting of clothing.
Many sights reminded the Bulldog student-athletes that this wasn't Seward anymore. They were struck by the poverty and misfortune that surrounded the Strip. Everywhere they looked, there was opportunity to impact the lives of others.
"The experiences that I came home with were something I will never forget," Bright said. "I went with friends and came home with family. My eyes were opened to how much the world needs our help, not only in Vegas but also in our backyards where people are struggling each day. Taking a second and helping others will only make you a better person."
An Omaha native, Roby experienced Vegas for the first time. She says she looked forward to the opportunity to escape her comfort zone while doing so with good friends.
"This was my first time in Vegas, and some things were just as I expected while other things were vastly different than my expectations," Roby said. "The thing that surprised me most was that the Strip was just a stone's throw away from some of the most impoverished neighborhoods in Nevada. The contrast of extreme wealth and devastating poverty in such close proximity was like nothing I have ever seen."
Roby and company could not complain about their accommodations in Vegas. The Christ for the City organization put them up in a house that included an outdoor pool and hot tub. On most evenings, they were able to unwind and enjoy the amenities. One particular night, the crew even experienced the bright lights of the Strip while never losing sight of the purpose of the trip.
"The entire experience was eye-opening," Deeter said. "We got to see the needs of people there and help improve their days with different activities. It was very humbling to see but also impactful to see how blessed we are. There are a lot of people struggling."
It's clear that the impact of the mission trip will be long lasting for the soccer six, who are now thinking about what they can do to be positive, Christ-like members of their own communities.
Said Bright, "We were very close before but after experiencing the things we did, it only brought us closer. Most importantly it helped us think about what we learned and what we could bring back to Concordia with us to positively impact our campus."
Added Roby, "I could not pass up the chance to serve with some of my best friends and teammates. I am so blessed, and I want to help bless others in whatever ways I can."