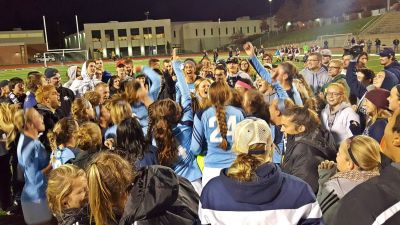 Head coach: Greg Henson (55-23-7, four years)
2016 Record: 15-6-1 overall; 7-3 GPAC (3rd); GPAC tournament champion
Key Returners: F Sami Birmingham; D Jeannelle Condame; MF Maria Deeter; D Ashley Martin; MF Lauren Martin; D Leah Shohat; MF Esther Soenksen
Key Newcomers: D Chelsea Bright; MF Victoria Cera; MF Michaela Twito; F Sarah Wuthrich
Key Losses: D Megan Brunssen; GK Chrissy Lind; D Kristin Manley; MF Jordan McCoy
2016 GPAC All-Conference: Sami Birmingham (first team); Maria Deeter (first team); Rachael Bolin (second team); Jeannelle Condame (second team); Chrissy Lind (second team); Ashley Martin (second team); Jessica Skerston (honorable mention); Esther Soenksen (honorable mention)
Season Outlook
No GPAC school has won more postseason games over the past three seasons than the Concordia women's soccer program, now firmly established as a league power. During what is far-and-away the winningest three-year stretch for the program, head coach Greg Henson has led the Bulldogs to two GPAC tournament titles, two national tournament appearances and a total of 45 victories.
The only thing anyone inside the program knows is winning. Last November, Concordia hosted the GPAC tournament championship game, which resulted in a 3-1 triumph over Morningside in front of perhaps the most frenzied soccer crowd ever seen at Bulldog Stadium.
"It was a great environment for our players and something I know they'll never forget," Henson said. "Hopefully we can put ourselves in position to host playoff games again and hopefully recreate that environment. It goes back to what we talked about four or five years ago when I first arrived that we wanted to get to that setting and that stage. I promised the girls that if we got there the fans would show up. I was really excited when they did."
What's reasonable to expect for an encore? Winning any kind of GPAC title is never a walk in the park, but Henson believes the talent inside the program is only on the rise. Plenty of the familiar names from last year, like first team all-conference performers Sami Birmingham and Maria Deeter, return this fall. The unknown is at goalkeeper, a spot held down for four years by Chrissy Lind, owner of the majority of the school's major goalkeeper records.
Offsetting Lind's departure is a trio of players that posted seven or more goals in 2016: Birmingham (20), Esther Soenksen (8) and Deeter (7). The 67 goals tallied by Concordia last season ranked as the second best single-season total in school history. Its prowess on the attacking end helped the Bulldogs break a program record for best goal differential (+41).
Led by Deeter, the Bulldogs have earned a reputation as a hard-working "blue collar" team that knows how to hang in there against elite competition. Somehow, they've always played their best soccer down the stretch.
"I feel like with hard work you can beat teams that might have more talent," Deeter said. "We have talent this year like we have in the past, but if we can add that hard work day-in and day-out we can scrap some victories that maybe we shouldn't have."
A Seward native, Deeter has been a starter from day one. She's a bona fide star and a marketable player who Henson trusts to routinely interact with recruits that visit campus. Selected as a captain in the spring of her freshman year, Deeter is a scorer – or whatever she needs to be in the middle of the field.
"It's not just about her individual play," Henson said. "We want her to continue to evolve as a leader. We've seen such big strides from her over the last few years. We essentially made her a captain second semester of her freshman year and put some pressure on her there. She rose to the occasion and passed the test with flying colors. She continues to guide this program and this team. Hopefully as the years go by it gets a little easier for her."
Like Deeter, Birmingham (Johnston, Iowa) adapted quickly to the college game. Not only did she score often, she scored in big games. She put away two goals in the GPAC championship win over Morningside. Said Deeter, "She's kind of quiet and goes about her business. At game time, she's ready to go score goals and help us win. She's a huge asset for us."
A total of five seniors appear on the 2017 roster. Four-year players in outside back Jeannelle Condame and forward/midfielder Esther Soenksen entered the program and immediately found themselves in the starting lineup. The group also includes Abby Goeckeler, Leigha McConnell and Leah Shohat. Soenksen surfaced with the golden goal in last season's GPAC semifinal overtime win at Midland and has been a dependable performer. Meanwhile, Condame is known for her dangerous placement on corner kicks.
Goeckeler is one of three goalkeepers hoping for an opportunity to replace Lind. The goalkeeper competition is the most important position battle looming for this year's team. The other keepers are Lindsey Carley and Jessica Knedler, both sophomores.
"The No. 1 thing is finding a goalkeeper," Henson said. "That's something we talked about in the spring after Chrissy Lind graduated. It's a big opening on our roster. We have three very talented goalkeepers that will be challenging for that position. It's an open competition and it's going to be very interesting to see how that competition plays out during preseason."
Though headlined by Deeter, the junior class also includes the Martins, Ashley and Lauren. Ashley has earned second team All-GPAC accolades in each of her first two collegiate seasons. Lauren joined her sister in Bulldog blue last fall, transferring in from St. Cloud State University.
Henson's fifth team at Concordia will be bolstered by a class of newcomers capable of providing immediate help. Midfielder Michaela Twito contributed to a state championship team at Ames High School (Iowa). Her classmates include the likes of defender Chelsea Bright (Van Meter, Iowa), midfielder Victoria Cera (Las Vegas, Nev.) and forward Sarah Wuthrich (Encinitas, Calif.).
"Overall this is going to be the deepest roster that I've had at Concordia," Henson said. "We have a great incoming class and we had a strong spring season. We're really excited to see how some of these competitions play out this fall."
With the talent on board, Henson says another top four conference finish "at minimum," should be expected. If things shake out favorably, perhaps the Bulldogs could even make a run at a GPAC regular-season title. That will require knocking Hastings off its perch. The Broncos visit Bulldog Stadium on Oct. 25 for the final match of the regular season. No matter the opponent, Concordia knows it no longer has to worry about flying under the radar.
"It's fun to know that people look at Concordia as a big game," Deeter said. "We take pride in that and in the hard work we put in to get here. It's fun to kind of be the big dog sometimes."
A new season is set to officially get underway on Saturday, Aug. 26 when Avila University (Mo.) rides into Seward for a 1 p.m. kickoff.