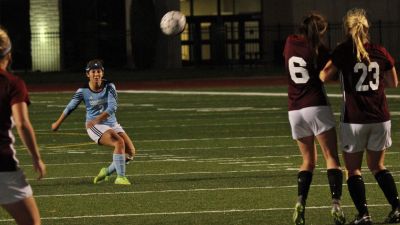 SEWARD, Neb. – In celebration of senior night, the Concordia University women's soccer team kept its conference unbeaten streak alive. Three different Bulldogs notched a goal apiece while fueling a 3-0 win over visiting Morningside on Saturday evening. The battle featured the 2015 and 2016 GPAC tournament finalists.
Fifth-year head coach Greg Henson's program is on an active unbeaten run of 15 (14-0-1). On the year, GPAC front running Concordia stands at 10-2-3 overall and at 6-0-1 in conference play.
"We knew it was going to be a tough matchup," Henson said. "We've played Morningside now five times in the last three years, including the two championship games in the tournament. We got the early goal from Sami Birmingham, but we knew Morningside wasn't going to go away. There were some scary moments at time for us defensively, but I thought we did well to keep those few and far between."
The Bulldogs enjoyed a lead for more than 82 minutes of Saturday's contest. Sophomore Sami Birmingham found the back of the net after a scramble in the box late in the eighth minute. Concordia waited until the 74th minute to add an insurance goal. That's when senior Jeannelle Condame did what Jeannelle Condame does. She drilled a free kick from about 35 yards out into the back of the net.
Five-and-a-half minutes later, Concordia celebrated a Lauren Martin goal that sealed the win. Martin simply took advantage of misplayed ball by the Mustang back line and tapped into an empty net. With Martin's exclamation point, the Bulldogs have now outscored conference opponents by a combined total of 24-1.
Impressively, Concordia has earned shutout wins over five GPAC opponents. Lindsey Carley got the start in goal and was called upon to make just two saves in her 83 minutes of playing time. The Bulldogs outshot Morningside, 14-9 (7-2 in shots on goal).
It was fitting for Condame to score a goal on a free kick on a night when she was honored along with four other seniors. The current seniors have made up the winningest four-year group in program history with an overall record of 55-16-9. They have won two GPAC tournament championships and have made two trips to the national tournament. Condame is joined in the senior class by Abby Goeckler, Leigha McConnell, Leah Shohat and Esther Soenksen.
"It's always exciting to score a goal," Condame said. "Scoring a goal in front of my family and a lot of my friends was really a big moment for me and really sentimental. A lot of my sisters' friends are here and the seniors when we were freshmen are here. It was just a really great moment."
Including the GPAC tournament last season, the Bulldogs have not lost in any of their last 15 games against conference opponents. Their most recent defeat at the hands of a GPAC foe occurred Oct. 12, 2016, when Midland got the upper hand, 3-1.
An exciting stretch run awaits as the Bulldogs hunt their first regular-season conference championship. Concordia will play at 18th-ranked Midland (10-1-2, 4-0-2 GPAC) for a 5 p.m. CT kickoff on Wednesday (Oct. 18). The Warriors will be seeking revenge for the 1-0 overtime Bulldog win that resulted in Fremont in last season's GPAC semifinals. "We know it's going to be a tough matchup," Henson said. "They have a lot of speed up front. They have some dangerous goal scorers."