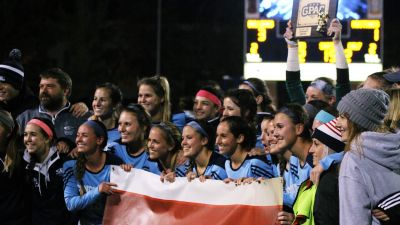 2016 NAIA Women's Soccer National Championships (Opening Round)
Concordia (15-5-1) at No. 3 Keiser University (17-1-1)
When: Saturday, Nov. 19 | 12 p.m. CT / 1 p.m. ET
Where: West Palm Beach, Fla. | Arrigo Vecellio Soccer Field
Webcast: Stretch Internet
What's next: Tournament Bracket
The second ever national tournament game in the history of the Concordia women's soccer program will kick off at 12 p.m. Nebraska time on Saturday. As of Thursday (Nov. 17) afternoon, the Bulldogs were in the process of making their way down to south Florida for a trip that will cover more than 1,500 miles.
Fourth-year head coach Greg Henson's squad is flying high after winning its second GPAC tournament title in three seasons. Though the Miami area may be unfamiliar to some, the intensity of the national tournament won't be lost on more than a handful of Bulldogs who saw action in the 4-0 opening round loss at No. 9 Benedictine College (Kan.) in 2014. Four current players started in that game: Jeannelle Condame, Chrissy Lind, Jessica Skerston and Esther Soenksen.
"I think it's definitely helpful, at least for me," said Condame of having past national tournament experience. "When we first went, we had never been there before. We're like, 'This is crazy. This is fun. We'll just show up and play.' As Coach said, it's a business trip, not a vacation. We have to go and work hard and try to win, or it almost isn't worth it."
Henson and his team are well aware of the challenge that awaits. The Seahawks, a member of The Sun Conference, are 9-0-1 at home this season. They are unbeaten (13-0-1) over their last 14 games played at Arrigo Vecellio Soccer Field, the site of Saturday's opening round contest. In September of 2015, Keiser hosted eventual GPAC regular-season champion Hastings and toppled the Broncos, 4-0. This year's Seahawk team has triumphed over four nationally-ranked teams and has outscored its 19 opponents by a combined total of 58-10.
On the other side, Concordia also has reason to be confident. It owns an active eight-game winning streak. During which, the Bulldogs have outnumbered their foes, 29-3. The 2016 Concordia team is as dangerous as any in program history in terms of putting away goals. The Bulldogs' 67 goals are the second highest single-season total in school history. They rank 16th nationally in goals scored per game (3.19).
Johnston, Iowa, native Sami Birmingham has had little trouble adapting to the college game. She tallied four of her team high 20 goals during the GPAC postseason championship run and was named first team all-conference. Four other Bulldogs have at least seven goals this season: Skerston (11), Rachael Bolin (10), Soenksen (8) and Maria Deeter (7)
A sophomore captain and first team All-GPAC choice, Deeter put Saturday's matchup in perspective
"It's going to be a tough game, but I think as long as we're in the right mindset we can definitely compete," Deeter said. "We have the ability. You realize that they're going to be better in some areas because they're used to being in this position and have played against top 10 teams. We have to focus on the little things. I think we definitely have the ability to compete against them."
Formerly known as Northwood University, Keiser has been a women's soccer powerhouse for many years running. Sixth-year head coach Mat Dunn (97-19-8) has cultivated a program with national championship aspirations.
Slaying a giant won't be easy, but Henson and his squad are packing the sunscreen – and a positive outlook while making the trek to the Miami area.
"We know we have a tough matchup in front of us," Henson said. "Keiser has been ranked in the top five all year and is an annual favorite every year within women's soccer at the NAIA level. But it's a great opportunity to go out and play. The great thing about soccer is anybody can go out and win on any given day. We'll prepare our team to make the most of this opportunity."
Just for a moment, Deeter allowed herself to think about what a national tournament win would mean to the program.
"I think it would be a huge step. I think we're pretty close," Deeter said. "We just have to get over that hump. It's a good challenge. You just have to get the ball rolling. That's the next big step for the program."
Concordia: 15-5-1 (MRPI: 83rd)
Head coach: Greg Henson (52-23-9, 4th season)
Goals scored/game: 3.19 (*16th)
Goals allowed/game: 0.86 (*34th)
Top goal scorer: Sami Birmingham (20 goals)
Goalkeeper: Chrissy Lind (.920 GAA, .846 save percentage, 99 saves, 6 shutouts)
National tournament history: 2nd appearance (0-1)
*National rank
Keiser: 17-1-1 (MRPI: 3rd)
Head coach: Mat Dunn (97-19-8, 6th season)
Goals scored/game: 3.05 (*T-19th)
Goals allowed/game: 0.53 (*10th)
Top goal scorer: Johanna Engberg (14 goals)
Goalkeeper: Elsa Netz (.540 GAA, .767 save percentage, 33 saves, 8 shutouts)
National tournament history: 11th appearance (12-10; two semifinal advancements)
*National rank