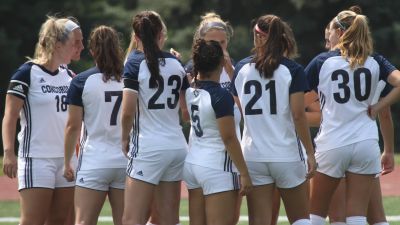 SEWARD, Neb. – The Concordia University women's soccer team has a win under its belt in 2018, but it hopes for a sharper performance on Wednesday night (Aug. 29) when MidAmerica Nazarene University (Kan.) visits Bulldog Stadium for a 7 p.m. CT kickoff. The Bulldogs will then have the weekend off before continuing their run of three-straight home games to open up the season. Wednesday's contest will be carried live via the Concordia Sports Network.
Sitting just outside the NAIA's national preseason top 25, Concordia entered 2018 with expectations as sky high as they have ever been for the program. The Bulldogs seemed to back up the preseason rankings by building a 2-0 lead in the opening nine minutes of last week's 4-1 season opening win over Tabor College (Kan.). Senior captain Maria Deeter earned credit for both of those goals, which were the 24th and 25th of her career. Fellow senior Lauren Martin notched three assists in the victory.
Sixth-year head coach Greg Henson believed his team had the ability to put more goals on the board in the opener. The hope is for a prominent goal scorer to emerge up top and take some burden off of Deeter, an essential figure in the team's offensive and defensive efforts. Unfortunately, an injury to sophomore Kaitlyn Radebaugh could leave her sidelined for a significant period of time. On the plus side, Concordia appears to have another staunch defensive squad, led by the likes of goalkeeper Lindsey Carley and young center backs Chelsea Bright and Cheyenne Smith. Tabor managed only one shot the entire game on Aug. 25.
Wednesday's battle will be a rematch of a 2016 tussle between Concordia and MidAmerica Nazarene. That matchup resulted in a 2-2 double overtime draw. That 2016 squad went on to win a GPAC tournament title and reach the national tournament. The Pioneers, a member of the Heart of America Athletic Conference, will be opening their season on Wednesday night following a 9-7-2 overall record in 2017. They return their leading goal scorer Savannah Moxley, who tallied nine goals last fall.
The Bulldogs will be back at home next Wednesday (Sept. 5) to play host to McPherson College (Kan.) before traveling to Salina, Kan., to take on Kansas Wesleyan University on Sept. 8.