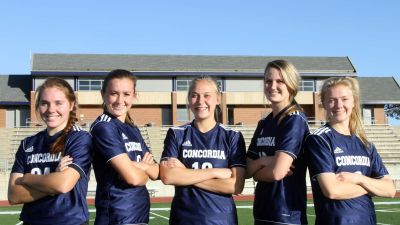 Led by a star freshman striker who played goalkeeper for her club team, the Concordia women's soccer squad is blowing away conference opponents like never before seen in program history. Fourth-year head coach Greg Henson's bunch faced an early deficit in Tuesday's GPAC quarterfinal, only to burry Briar Cliff with another dominant performance that marked Concordia's sixth-straight win.
Even the 2004 team that pelted the back of nets with a school record 82 goals didn't have this type of offensive success against conference opponents. Neither did the 2014 GPAC tournament championship team, which averaged less than two goals per game.
Said sophomore captain Maria Deeter, "We're scoring goals left and right, which is awesome." When it comes to putting away goals, this team is an elite company, ranking 15th in the nation in goals per game.
"I knew we had a couple dangerous goal scorers coming in with (freshmen) Sami Birmingham and Rachael Bolin," Henson said. "They've really added some firepower for us. Then you have Jessica Skerston in the midfield. She doesn't get quite as many looks, but she's still a focal point that other teams have to take care of. We have a bunch of other weapons as well with Esther (Soenksen), Deeter and (Jordan) McCoy. I knew we had the weapons to score goals."
It didn't take long at all for Birmingham and Bolin to adapt to the college game. The two have combined for 27 goals and 16 assists as rookies. The Killer B's sting – and they sting often. Birmingham's 18 goals rank as the second highest total ever for a Concordia freshman (Jennifer Davis had 23 as a freshman in 2002). A Johnston, Iowa, native, Birmingham has been a consistent force, scoring at least one goal in 12 of 19 games this season.
"Sami's a good player," Henson said earlier this season. "We knew that when she was coming in. She had a really good high school season this past spring and knew she was a proven goal scorer. We asked her to play a different role to start the season, but she wound up back up front which is really her natural position where she feels most comfortable."
The quintet of Birmingham (18), Skerston (11), Bolin (9), Deeter (7) and Soenksen (7) has combined for 52 goals alone. Eight GPAC squads haven't even reached that total as a team.
It's scary – for opponents anyway – to think of what could transpire over the next few seasons as Birmingham and Bolin wreak havoc on the attacking end.
"At the beginning of the year we were kind of shy towards each other," Bolin said of the connection between her and Birmingham. "But we've gotten closer throughout the year. We really like working up top together. We hang out on the weekends and stuff. We've gotten really close."
In Tuesday's GPAC quarterfinal victory, Birmingham tallied two more goals in what was her fifth multi-goal game of the season. Would you believe she played goalkeeper for her club team? It's true. It's also true that she's the fourth most prolific goal scorer in the GPAC this season.
"I just want to score and help my team out," Birmingham said after an early-season victory. "It's really different from high school. It's a lot of competition. I just try my best every day in practice and games and it works out well for me."
Amid the hoopla of the work of the freshmen, it would be foolish to forget about Skerston, who wasn't bad as a rookie herself in 2014. That season she notched 17 goals, including the game winner in the GPAC tournament championship upset of Hastings. She's back on a goal scoring binge having netted seven goals over the past four games. The run included her first career hat trick in the road blowout of Doane.
Says Henson, "She's one of those players – a lot of coaches in the conference understand as well – that you give her the ball inside the 18 and most likely it's going to end up in the back of the net."
In conference games only, the Bulldogs have upped their average to 3.6 goals per game. They hope to keep the offensive surge going on Saturday when they travel to Fremont for the GPAC semifinals where they will meet second-seeded Midland. Both teams are red hot. The Warriors have won seven in a row. Meanwhile, Concordia has a six-game win streak.
The most recent Bulldog loss came at the hands of Midland, but Henson believes his team is playing at a higher level now. It will take a high quality performance to emerge from Fremont with a win, but the confidence and goal scoring ability are in place.
Said Deeter, "There's a lot of confidence on this team."