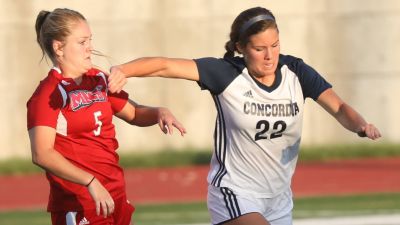 BELLEVUE, Neb. – Head coach Greg Henson expected his team to be involved in several defensive battles this fall. The latest outing proved to be the opposite for the Concordia University women's soccer squad. Despite holding a 2-1 advantage late in the first half, the Bulldogs dropped a 4-3 decision to in-state rival Bellevue University while playing on the grass at Bellevue Soccer Club on Tuesday (Sept. 11).
The result means that Henson's program has suffered an official loss for the first time since Sept. 9, 2017. Concordia is 2-1-2 overall this season.
"It was a typical Concordia-Bellevue game and unfortunately the outcome was not in our favor," Henson said. "It was a fast game between two good teams going at it. It was similar to four years ago (also a 4-3 loss). Every time we play them here it seems like there's not a lot of defense played. The positive was getting three goals on the board.
"They exposed some weaknesses in some things we have been trying to fix but had been getting away with early in the season. Those are things that are all repairable."
Lauren Martin did her best to supply the necessary offensive firepower. She didn't miss a beat after not making the trip for the 1-1 draw at Kansas Wesleyan University over the weekend. She had a hand in all three Bulldog goals on Tuesday, adding her seventh and eighth assists of the season (keeping up her average of 2.0 per game). She also gave her side a fighting chance by cutting a two-goal deficit to one with a score in the 66th minute.
For most of Henson's squads, including three that have won GPAC titles, a three-goal outburst has essentially been money in the bank. Now Concordia goes back to work on tightening up some defensive issues while trying to maintain its current rate on the attack.
"Having her back was a huge boost from an offensive standpoint," said Henson of Lauren Martin. "We have to continue to find more opportunities for players to get forward and score goals. Averaging three goals per game is not a bad thing. We have to get a clean sheet at some point. We just have to find ways to be more consistent."
Martin's corner kick set up Maria Deeter for a goal in the sixth minute. It tied the game, 1-1, at the time. Martin again put the Bruins (2-2) in a danger with a corner kick that resulted in a Victoria Cera goal in the 23rd minute. The Bulldogs took a 2-1 lead that would not hold. Bellevue got a pair of goals from Maria Tome Flores and one apiece from Emily Weyant and Morgan Sheard.
The Bruins have had Concordia's number in recent years. The Bulldogs clipped Bellevue, 2-1, in 2015 but have dropped the last three in the series. Oddly enough, Henson's 2014, 2016 and 2017 teams that won GPAC championships all lost to Bellevue.
Said Henson, "It seems like Bellevue has been the turning point for us in past years and hopefully it'll be the same for us this year. The game really mirrored that 2014 game and after that we really came together as a team."
The Bulldogs will be on the road again this weekend for a trip to Wichita, Kan., where they will play at Friends University (3-2) for a 12 p.m. CT kickoff. The two sides last met in 2016 in Seward with the result being a 2-1 double overtime win for Concordia thanks to Deeter's golden goal. Saturday's contest will be the final nonconference action of the regular season for the Bulldogs.