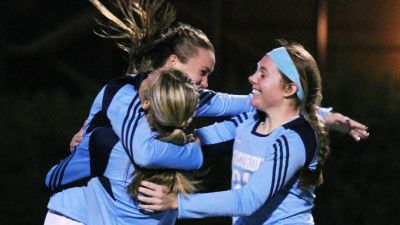 NOTE: A version of this story first appeared in the winter edition of Concordia University's Broadcaster magazine.
Concordia women's soccer wasn't invited to the party in 2014 in what amounted to a program changing season that altered the mindset within the locker room. A high school senior at Lincoln Lutheran at the time, Seward native Maria Deeter has a keen sense for the change in climate.
"Before I got here you got the feeling that Concordia wasn't expected to be there," said Deeter, who gave her commitment to the Bulldogs before the 2014 successes. "At the start of this year, I think everyone expected to be in that final game and expected for us to compete and get to nationals. Instead of it being a main goal, it's almost an expectation that we get there. If not, we have to fix things."
Deeter's comments are now representative of a program in the midst of an unprecedented three-year run orchestrated by head coach Greg Henson. An unexpected GPAC tournament title run in 2014 led into another conference championship game appearance in 2015 and then another postseason championship crown in 2016. The last three seasons have produced two national tournament trips, a national ranking as high as No. 16 and a total of 43 wins.
There have been many memorable moments along the way, perhaps none more unforgettable than the thrill that took place on Nov. 10, 2016, when the program staged the GPAC championship game for the first time ever. No member of the team was quite prepared for the crowd and electricity that would greet them that night. Bulldog Stadium roared in ways that shamed the gatherings at the 2014 title game at Hastings and the 2015 championship tilt at Morningside.
When the clock hit zeroes with the scoreboard showing a 3-1 Concordia advantage, droves of fans poured onto the turf. An on-field celebration that lasted well after the final buzzer was just getting started.
"It was crazy," Deeter said. "I remember when we went to Morningside, it was pretty intimidating being on the other side of it. I was really hoping the crowd would turn out, and it blew my mind. It was crazy. I didn't expect that many people to come. It's so fun to be able to play in front of all the people you know and all your supporters. To get the win makes it that much better."
The women's soccer program has been all about blowing away expectations. When Henson took over the program in the summer of 2013, Concordia had been coming off a mostly forgettable 2012 season that ended with a 6-9-1 record after a brief stay in the conference tournament. Henson saw more than one eyebrow raise when he told players and parents at a 2013 preseason gathering that he believed conference championships and national tournament berths were on the horizon.
Henson didn't stutter when he uttered those words. He said them with the type of conviction that demanded his players buy in.
"That was one of the first things we talked about was competing for conference championships, then getting to nationals and what we had to do to make that happen," Henson said. "There were a few chuckles and a few strange looks on the players' faces like, 'This guy is a little crazy.' Quickly there was the buy in once we laid out what we were going to be about. It was a process. You have to learn how to win, which is definitely a skill and a talent."
There was no championship or trip to nationals in 2013 when Henson's first team went 9-9-2 overall. But the wheels were beginning to turn. The 2013 squad won three of its last four regular-season games (the lone loss was a 1-0 double overtime defeat at Hastings) and then advanced to the GPAC semifinals.
In retrospect, the 2014 team had more substance than anyone realized. A squad picked fifth in the GPAC in the preseason had an army of battle-tested seniors who were gritty, unselfish and unified. Above all else, the senior class, which included the likes of Meredith Hein, Rachel Mussell, Marcie Sindt, Ashlie Sklenicka and Melissa Stine, was heavy on leaders.
A first team all-conference performer at center back for the 2014 group, Mussell (now Sievert) said, "I think that offseason my junior year was really the turning point. We said, 'Hastings is no longer going to be the only team that runs the GPAC.' They're going to have someone that they need to watch out for every season. I think the girls have done that since my senior year on."
An unsuspecting Hastings squad, then 8-0 in conference play, paid a visit to Bulldog Stadium on Oct. 29, 2014. The Broncos had lost to Concordia only once, ever. That fact made this particular night even more special when Mussell and the Bulldogs celebrated a 2-1 upset of 16th-ranked Hastings.
"When we ended the game I think we were all a little in shock because Hastings had always been an opponent we could never get past," Mussell said. "I remember being in the locker room like, 'We just beat Hastings. We just beat Hastings.'"
Something big was happening. Perhaps for the first time in the program's history, it suddenly didn't seem so silly to think that Concordia had a shot at reaching the national tournament. Henson's words prior to the 2013 campaign had become prophetic.
Players quickly came to realize they could trust Henson, a St. Louis native who had previously helped build up the girls' soccer program at Lutheran High School in St. Charles, Mo. If Henson says something, you can believe it. That quality is one of Henson's biggest strengths and something Mussell picked up on immediately.
"He just tells you how it is," Mussell said. "He wanted to take the program where it was supposed to be. I think it was really cool for him to come in and say, 'We're going to make this happen.' What he said, he did."
Peaking in November has become a hallmark of Henson's teams. Though midseason struggles have at times surfaced over the past three seasons, the Bulldogs have continually righted the ship on their way to the 'ship.
In the same season that Concordia may lose to or draw with a team of lesser talent, it knows it can come right back and beat a team like Hastings. That's been proven. The Bulldogs were disappointed to be a No. 5 seed making a road trip for the GPAC quarterfinals in 2015, but they never sulked or gave up. They blew away Briar Cliff in the first round and then clipped Hastings in a penalty kick shootout in the semifinals. There's now a pattern of November success.
"We have to be playing our best soccer in November," Henson said. "We have to make sure we're focused at that time. The nonconference is kind of an extenuation of preseason. We want to be playing our best soccer come conference time and then take it up another level for the conference tournament. The college soccer season's a grind. It becomes a job at times. Sometimes we've had that midseason lull where things haven't quite gone our way. It's just a matter of using those as learning situations."
What the entire GPAC has learned is that Concordia, no matter the regular-season standings, cannot be discounted come playoff time. The championship trophies that rest inside the Walz Human Performance Complex will serve as reminders of a special time for Bulldog women's soccer.
But it's the people that made it happen. There's pride in the program like never before. Though no longer in Nebraska, Sindt offered her support before the 2016 title game with a tweet that showed her dog decked out in Concordia women's soccer gear. Somewhere, Rachel Mussell and the rest of the 2014 senior class was also smiling as a new wave of stars like freshmen Sami Birmingham and Rachael Bolin celebrated with a large throng of students on Nov. 10, 2016.
With that win came a trip to south Florida for the opening round of the national tournament. A moment at practice leading up to the second national championships appearance in three seasons brought a smile to Henson's face. Said one Bulldog player, "Thanks for taking us to Miami." Henson quickly responded, "You guys are taking me."
No longer the party crashers, Concordia women's soccer is the life of the party.